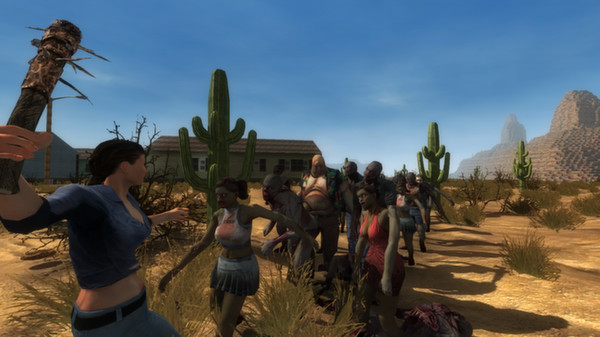 Building on survivalist and horror themes, players in 7 Days to Die can scavenge the abandoned cities of the buildable and destructable voxel world for supplies or explore the wilderness to gather raw materials to build their own tools, weapons, traps, fortifications and shelters.
Post Date: 16:06 23-06-2015
Rating: 10
Author: axwellshm
Comment: Combination between rust and minecraft but with some epic added graphics and elements. I like the game. It has really good gameplay. Maybe a bit to expensive but it's cool 10/10.
Post Date: 21:02 28-04-2015
Rating: 5
Author: hotlh2015
Comment: Horror for a game, looks like interesting
Post Date: 09:18 11-04-2015
Rating: 10
Author: LosmiK
Comment: So I've had the game for a few weeks now and I love it. It's something between Minecraft & State of Decay or DayZ. The crafting is becoming better with every update. World generation is not added but planned.

The first thing everyone notices about this game is the price. But what is early access?

Early Access is commonly accepted to mean you are paying the developers and funding the game development. You are not "buying" the game but rather helping to further the development and help pay bills.

So is the price something that should cause you to forget this game?

Answer: Yes & No. It depends how you think about Early Access. With the description above, I see no room for complaints, you are supporting development with your wallet. As a reward you get the game free when it is released. Since you also get the game early, as in right away, you also can help bug test and report issues to the developers.

So yes, the money is a high price to pay. Was it worth it? Yes. I would buy a second, third or fourth copy if I had friends/family interested in playing.

Will this be the next Minecraft craze? It could be, but the price holds it back, the multiplayer in general is a disaster unless you play with friends only.

Multiplayer is what Minecraft multiplayer would have been if there were not plugins.

Now, the building in this game can be hard, it is what I had always hoped for in other crafting/building games. The blocks all have physics, which means buildings can fall and crush your face. But as in real life, if you provide the proper supports you wont have a problem.

The mining in this game leaves much to desire, it's rather slow, and is based on Stamina & Tool damage points, which drain from every hit. Water refills stamina but your tools will require repairing or replacing.

The good point with mining though, there are not caves to search, you just start digging down and you will start finding ores. Which is great, it's not realistic in anyway but is a improvement over Minecraft's mining in a lot of ways, (which was not realistic either.)

Overall you have both Multiplayer and Single-player and both are great in there own ways.

You have many options when starting a game and they can be changed at anytime before starting one of your saves.

If you don't want to play with giant wasps and hordes of zombies tearing through your walls ready to eat you, you don't have too.

Play in a war torn landscape as the soul survival or join MP and find other survivors and rebuild civilization.

Build a giant bunker underground or a giant castle. Build a wall with many traps and defenses surrounding a small town and build a community. It's all up to you and as any role-playing game with unlimited replay-ability it is up to you to find the fun. It's yours for the taking.
Post Date: 19:31 12-03-2015
Rating: 10
Author: StEvA
Comment: One perfect game,this is just one awesome game.
This game got a special athmosfere. They are a lot of survival games, and lot of zombie games, but the combination does not exist, just in this game, so this game is worth to buy when you love survival games
And i like it so im giving my vote: 10/10 🙂
Post Date: 10:08 14-11-2014
Rating: 8
Author: arZ
Comment: 7 Days to Die is an open world game created and developed by the company "The Fun Pimps" end of December 2013. This game is available on the steam. The games genre is survival horror game, first person shooter. Its a
combination from fighting, shooting and survival game with a special crating, looting mining mode.

This game got a special athmosfere. They are a lot of survival games, and lot of zombie games, but the combination does not exist, just in this game, so this game is worth to buy when you love survival games
and scary zombie games. Really unique game. The danger in this game is so unique, you literally fight in this game for your life and that is why this game is so cool. 7 Days to Die got a interesting story. Its the third world war end and no one knows why the world war begins or
end. Some people think because of radiation, but an unknown virus transform the humans in to a big army of a zombies, and the games starts. You are controlling a survival in that zombie world and you need to fight and survival in this world. The longer you live in the
world the zombies get more aggressive and angry. You could never survival without a house or a building, so the games gives you the mode to craft and to build different buildings or walls. The game is features a day and night cycle. In the daylight you need to build
barricades, walls or some structures to hide from the zombies and in the night the zombies are attacking you and are much more aggressive then in the daylight. The game got a special system where you need to eat and drink water. So you need to cook , and you need to find
all think that you need for cooking a tasty dinner. When you are carrying some tasty food the zombies can easy find you and attack you because of the smell of the tasty food. And for building different structures you need first to find material on the map to build something.
The zombies in the game can dig, climb, destroy windows, walls, door they can do everything to get you and kill you. The best way to kill the zombies are different defensive trap around your building or walls.
Multyplayer game is allowed too. You can play and have fun with your friends. At this moment they are two modes in 7 days to die. Survival and creative mode. Its interesting game.

This game is really fun to play. Its unique game where you can build different structures and then fight against angry zombies. Dont forget to cook some tasty food, eating and drinking water are really important in this game. The graphic in game is balanced, sound is cool to.
Game play is really unique. When you like to build and to fight zombies this game is for you and i recommended it for all. I rate this game with a note 8/10.
Post Date: 20:20 09-11-2014
Rating: 8
Author: Mihajlo
Comment: 7 Days to Die is survival-FPS-RPG game. Similar to any other survival game, goal is to survive. It's easy to avoid zombies in the day and it's great time to search for resources, real surviving challenge begins at night. Game graphics are great and i'd recommend it to any survival fan, my vote is 8/10
Post Date: 15:20 28-06-2014
Rating: 8
Author: 420Hairlyman
Comment: Awesome horror-zombie game. I must admit that I've never tried it but the trailers really look amazing. Graphics and sounds are really well incomponated with the storyline and the zombie theme. I must try it out!
Post Date: 11:32 05-06-2014
Rating: 8
Author: bloga99
Comment: Very good zombie game 🙂
Post Date: 04:43 15-05-2014
Rating: 10
Author: ivekvv256
Comment: Cool game where you must survive. You have to look for supplies, but you can also for example drink from a lake instead of wasting supplies. You can also build tools, weapons shelters to keep yourself safe from zhe zombies. 10/10
Post Date: 16:06 10-05-2014
Rating: 5
Author: Frozen
Comment: Nice new zombie game! 🙂
Post Date: 17:51 30-04-2014
Rating: 8
Author: doca8
Comment: Good game, Texas Zombies 😀
Post Date: 15:56 31-03-2014
Rating: 7
Author: Gavra10
Comment: Great game 😀
Post Date: 19:11 22-03-2014
Rating: 7
Author: PELIC
Comment: This game could be popular when the actual realise comes