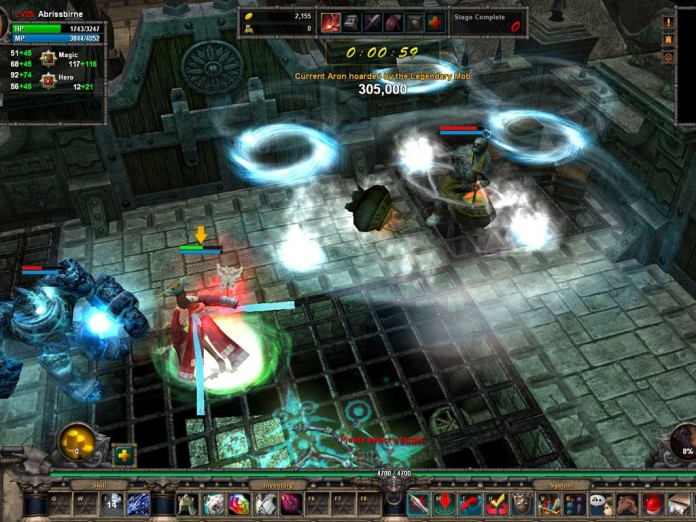 Avalon Heroes is both a tactical game and a battle game with exciting online DotA matches. In the Battle Mode you can compete against the other faction in an exciting battle game. In the Arena Mode, you need the perfect Hero strategy to beat the Legendary Mob. Gather up to eight friends and defeat the strongest boss monsters in the Adventure Mode tactical game. Relax and talk to your friends in the Plaza Mode, create a guild or upgrade your equipment to get ready for the next battle.
Post Date: 21:25 24-05-2015
Rating: 7
Author: LosmiK
Comment: Not a bad game, it could have been much better, but it does not matter, can be played.
Post Date: 08:41 23-01-2015
Rating: 7
Author: arZ
Comment: Avalone Heroes or better known as Avalon online, the developer from this game is a company "We Made Enterteinment" and the publisher from Avalon Heroes ins the company alaplaya. The game was released for personal computer begin of the year 2010. Its a free to play
multiplayer online battle arene (MOBA). This game is based on the popular Warcraft 3 mode Defense of the Ancients. Avalon is much more popular in Asia then in Europe or America. We talk later about why is this game just popular in Asia and not whole over the World like
other popular mobas. So lets talk about the game play.Avalon heroes is one of the new MOBA games. The game play is really simple. Its the same like the other popular MOBAS ( DOTA or League of Legends ). Two teams are fighting each other on a map 5v5. You can pick one of the 35 at this moment play able heroes or champs. Every champion got his unique skills ad abilities. They are different kind of champs. Tank, caster mage, marksman and support. They are three lines and jungle on the map. Every lane is spawning minions. For killing minions you get experience and gold. For experience you can level up your champ and level up one of your skills to be more
powerful. For gold you can buy some cool items to buff your champions. Every lane is defending by powerful towers. Destroying tower the whole team get bonus gol. For killing enemy champion you get much more gold and experience. The point in this game is to destroy the enemy base, and the enemy town hall. Who destroy the town hall first is the winner of the game. Not so hard to play, easy to learn. The game got few different modes. Like normal game, games with bots and ranked game system is avilabe to. And there is a cool single mode. That is unique. I dont know another MOBA game that got a single mode in a game.The game got really nice graphic and the sound effects are really cool to. The game got solid online ranked system, cool champions pool and every month they are
releasing new champions. Unique single player game mode, and nice practice mode. The cons in this game are the balance between champions. They need to work on it.
And the English translations is really bad too, because this game was made for Asia. Really nice game, who love MOBA games he would love this game too. But this game
was "shut down" the servers does not exist any more. The true reason is that this game could not be so popular in Europe and America, and lack of players in Asia. The game was official shut down on 8th of February 2013. I rate this game with the note 7/10. Sad that its shut down, because it was really cool, and I really loved the unique single player game mode in this game.
Post Date: 18:33 31-10-2014
Rating: 8
Author: Mihajlo
Comment: Avalon Heroes is free to play fantasy MOBA. There two factions – Oriens and Aeonia, over 100 different characters with 4 unique spells. Game is easy to get into and fun to play. I rate this game 8/10
Post Date: 13:15 14-09-2014
Rating: 0
Author: kiki2204
Comment: it is really bad in 3rd person view.
Post Date: 11:59 05-06-2014
Rating: 10
Author: Shokata
Comment: Awesome , just awesome !
Post Date: 11:27 05-06-2014
Rating: 8
Author: htsUNL1MITED
Comment: Very nice game i recomended this game to all of you 🙂
Post Date: 11:22 31-05-2014
Rating: 9
Author: bloga99
Comment: Very good game 🙂
Post Date: 08:35 20-05-2014
Rating: 8
Author: NoVaZz[E]
Comment: Avalon Heroes is a free tactical MMO game and a battle game with exciting online matches inspired by DotA.Didnt play too much but its good game.
Post Date: 15:19 28-04-2014
Rating: 8
Author: Aki013
Comment: Good game.So i love MOBA i love moba games so i love Avalon Heroes.Its just bad because there is some kind a kid graphic..And its based on DOTA.8/10
Post Date: 21:50 03-04-2014
Rating: 7
Author: pajaxconquest
Comment: Nice game 😀
Post Date: 12:13 30-03-2014
Rating: 5
Author: medin
Comment: Avalon Heroes is one of the many "new" fantasy MMOs that are based off the popular Warcraft III mod Defense of the Ancients (DOTA). The gameplay in Avalon Heroes is incredibly similar to other Aeon of Strife titles like League of Legends, Heroes of Newerth and DotA. Two teams of up to five players on each side choose from one of many playable 'heroes' and duke it out across numerous maps. The game's most defining feature is its massive list of playable heroes, which should spice up the gameplay and keep things fresh; but with so many playable heroes comes imbalances, which will likely take the game's developer years to iron out. Currently there are 35+ playable heroes, with more being released each month.
Post Date: 09:26 23-03-2014
Rating: 10
Author: axwellshm
Comment: Graphichs are good kinda similiar to World of Warcraft, but it's really good! I recommend to all to play it!
Post Date: 22:39 21-03-2014
Rating: 10
Author: coa994
Comment: Similiar to World of Warcraft for me. It's good and anyone should try it!
Post Date: 20:17 19-03-2014
Rating: 5
Author: Hihlo
Comment: cool
Post Date: 09:45 19-03-2014
Rating: 5
Author: ukirose325
Comment: Niceee
Post Date: 23:56 15-03-2013
Rating: 8
Author: Mordekaiser
Comment: Avalon Heroes is a very fun and popular game the graphics are great it takes a little getting used to controls and other things but it works out after you play for a while also there are alot of heroes to play somthing like 40 i think i could be wrong i recommend playing this game for sure its not like most mobas
Post Date: 20:41 14-03-2013
Rating: 8
Author: PolanWalker
Comment: Avalon Heroes is a very popular Fantasy based 3D game. In this game players are choosing from 35 heroes. When we will choose our hero we can start fighting against other players:) Game is based on very popular Warcraft III mod 'Defense of the Ancients' just like in DotA. We are playing as one of five players in team against other team. Which team will win get all exp and other stuff. Game have nice graphics and sound. Also gameplay is very simple and give fun from playing. For me game is preety good made idea but like many others is a copy of DotA. I rate this game 8/10.
Post Date: 23:25 03-03-2013
Rating: 9
Author: Mordekaiser
Comment: This game is a different type of MOBA it is more like a MOBA MMORPG if you ask me there are alot of heroes no play tons of super powerful monsters and you can do eight player raids also the graphics are top notch very good
Post Date: 20:28 20-02-2013
Rating: 7
Author: PolanWalker
Comment: This production is 3D Fantasy MMO game. In game we are able to choose one of 35 heroes and fight it out with with many enemies in game. This battles are individual matches which can be win or lose. Game in mainly based on very popular mod for Warcraft III 'Defense of the Ancients'. I must say that this game is very good made. There are great graphics and good gameplay. Overall this game is awsome 🙂 i rate this game 7/10 🙂
Post Date: 15:00 04-11-2011
Rating: 8
Author: dmt_2000
Comment: This game is a tactical game It is like League of legends
If you like tactical games or League of legends Then you should try this game out