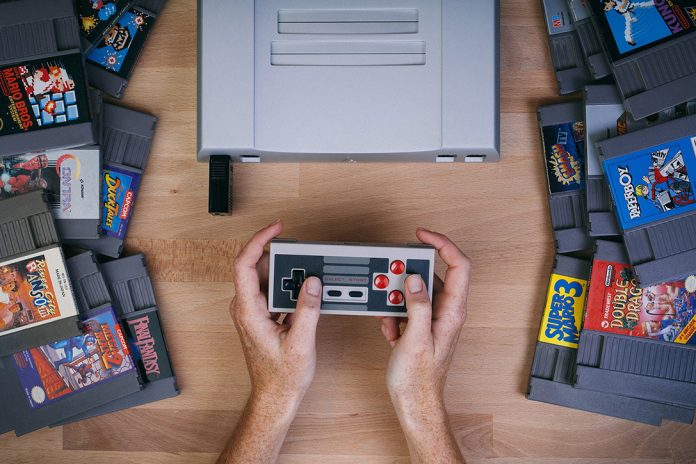 Technology moves so quickly we now have a huge range of games consoles to choose from. Some modern machines are ultra-sophisticated with realistic HD graphics and incredible 3D effects, but sometimes you just want some classic gaming with a retro console without all the bells and whistles. Read on for some of the best retro consoles for modern gamers looking for a nostalgic blast from the past!
Super NES Classic
Nintendo's Super NES Classic is an oldie and a goodie. Although hard to find now, it can still be tracked down – or dust yours off from the loft and get playing those classic games. There are 21 games loaded onto it from the get-go, so you can get started without having to buy anything extra. You'll find some great retro games here, including Super Mario Kart. An alternative console from Nintendo today is the Nintendo Switch console, for which you can get even more games, such as four types of bingo games.
Atari Flashback 8
The Atari went through many re-inventions and most gamers remember their favourite. Who can forget the Atari ST? Gamers are sure to love the Atari Flashback 8, which comes with many of its own games, giving you a massive 105 classics to choose from. The Gold Deluxe edition is a special case as this also comes complete with wireless joysticks and pad controllers. Retro gaming doesn't get much better than this!
Retro-Bit Super Retro-Cade
Perhaps less well-known than the others in this list, the Retro-Bit Super Retro-Cade is a great alternative to the Super NES Classic. You will find 90 games on here with video console titles and classic arcade games so you can play whichever style you fancy. This comes with gaming pad controllers in white and red. The games look great on your HDTV so you can add some modern tech to your classic gaming session.
Neo Geo
This classic games console was also an arcade classic machine hugely popular among arcade players. You might remember some great titles such as Blazing Star and Metal Slug from the early nineties, well you can now play them at home with the Neo Geo. Although massively expensive when it first came out, you can find some top games on the Neo Geo X console for much less and it contains 23 games pre-loaded.
Sega Dreamcast
The Sega Dreamcast is a classic console and slightly more modern than the others, giving you an option to straddle the 80s machines and modern consoles. This was ahead of its time when its last version came out in the late nineties and it even offered online playing capabilities before PlayStation and Xbox came onto the scene! The controllers have their own screens with mini games available and don't forget all the great games, such as Sonic Adventure.
Retro games consoles can be combined with modern TVs to give you the best of both worlds, whether you are looking for a classic arcade game or a video game with an exciting storyline. Check out some of these fun retro consoles and enjoy a retro gaming session this weekend to turn back the gaming clock to the glory days of the eighties and nineties!