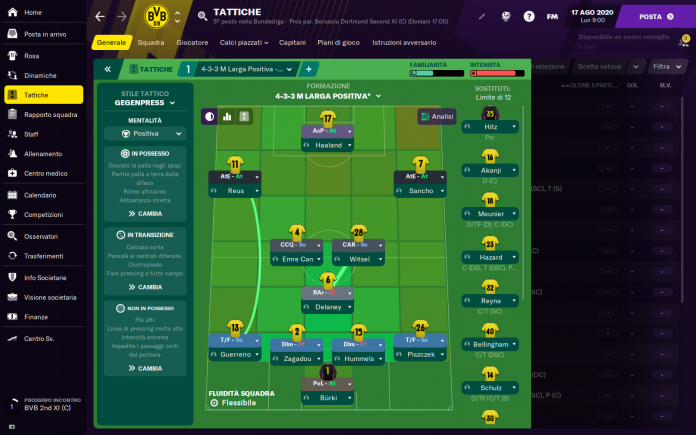 Nothing quite beats the feeling of celebrating an important goal or touchdown in a stadium, surrounded by jubilant fans of your local team. Unfortunately though, those moments of jubilation are few and far between for many sports fans.
Our sporting fandom could best be described as intense periods of drought sporadically interspersed with brief moments of belief and hope. If you're growing tired of waiting for your team to upset the odds and land that dream season, maybe it's time to look to video games to fill the glory void.
Below are 5 of the best video games for sports fans to play, so whether you call it football or… football we've got you covered. Read on to find out your next fix.
#1 Football Manager
Do you ever find yourself sitting in the stands utterly perplexed at the substitutes made by your team's manager, or do you constantly bore your friends by explaining to them how a 3-5-2 would make up for your team's lack of creativity?
If you do, Football Manager on PC is the perfect game for you to try out. Starting out you will create your own manager, decided what coaching and tactical attributes he possesses and decide upon his reputation and qualifications.
From there you'll be able to take charge of any club in the world, whether it be Real Madrid or FC Halifax Town. You'll be responsible for team training, individual training, transfers, and contract negotiations and of course, in-game tactics.
If you fail and end up getting sacked, there'll only be one person to blame…
#2 NHL '21
Ice Hockey is one of the most popular games in North America so NHL '21 is naturally an incredibly popular video game. Produced by EA Sports this game is ideal for casual and more hardcore fans of the sport.
If you're a Buffalo Sabres fan you can take control of your team in a full season and maybe, just maybe, experience what it feels like to win a game (sorry Sabres fans that feels too harsh.)
Or if you're more interested in how a career in professional ice hockey would have suited you, you can use the Be a Pro mode and take your young and inexperienced player from rookie levels to international stardom. 
#3 FIFA '21
Think NHL '21 but with football/soccer, but with a much, much bigger playerbase and more game modes to get excited about.
If you like the Be a Pro aspect of NHL '21 you'll love Pro Clubs on FIFA, a game mode where you can take your individual players development onto the online multiplayer scene. Create a club with your friends and take on other teams of individuals in a race to Division 1.
If Pro Clubs doesn't suit your game style, what about Ultimate Team? In this game mode you open packs that assign you random players from all over the world. Your task is to make a team from them that is capable of winning games and coins, which can be used to make transfers.
If you want Ronaldo, Messi, Haaland or Mbappe, you'd better get a time machine and start saving up for them in September 2020. 
#4 Stick Cricket
The best video games aren't necessarily blockbuster titles on the latest consoles or even based on the most popular sports. Sometimes, a golden game comes along that goes against the grain and still manages to become an instant classic.
Stick Cricket is one such game and you can play it right now by clicking this link or by downloading it on your mobile device. It can be played for free although there are paid for versions available on mobile.
In the game you'll control your team in any format of cricket you desire using just the directional keys on your keyboard. It may not sound too appealing but trust us, give this game a go and you'll soon find yourself addicted! 
#5 Rocket League
Cars and a football don't sound like a good idea, unless you're a former producer of the hit show Top Gear or Corey Davis, the designer of Rocket League.
Released in 2015, Rocket League is a free to play game that was originally described as 'soccer, but with rocket-powered cars'. To be honest, that's a much more succinct and illustrative description of the game than we could come up with.
If you like chaos, fun, cars and football then you'll love this game. Don't think that it'll be easy though, Rocket League has a tricky physics engine that will take time to get used to and eventually master.
There you have it, our list of the 5 best sports games to play right now. Haven't seen your favorite title discussed? Let us know what we've missed out in the comments section below.