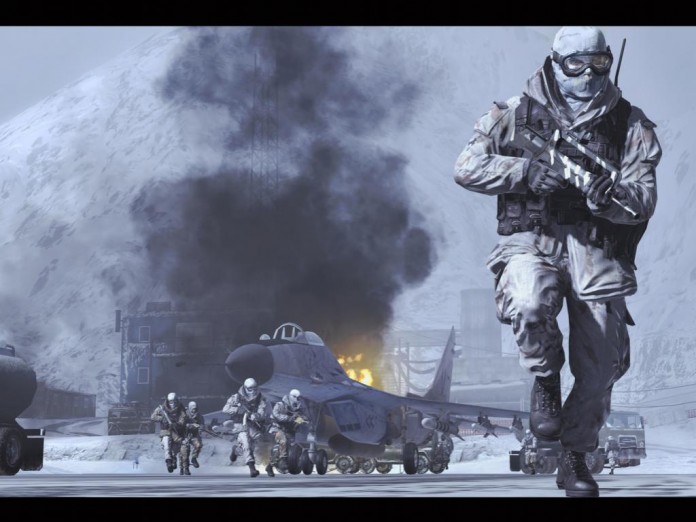 The most-anticipated game of the year and the sequel to the best-selling first-person action game of all time, Modern Warfare 2 continues the gripping and heart-racing action as players face off against a new threat dedicated to bringing the world to the brink of collapse.
Post Date: 17:27 01-07-2015
Rating: 9
Author: LosmiK
Comment: Awesome game, The single player is short but so exhilarating, some excellent actions scenes and the story line is believable enough. Multiplayer is very good too(never had lag).
The PC version of Modern Warfare 2 is identical to the console versions in almost every way, and that's actually the problem. PC gamers have a certain expectation for online shooters. Removing dedicated server and user mod support from a game that's already $10 more than its predecessor seriously hinders the long term appeal for me.
Post Date: 14:38 27-02-2015
Rating: 10
Author: axwellshm
Comment: So I am going to say something about the Call Of Duty franchise, and to make a whole turnover on the all Call of Duty series. So this game which is developed by Infinity Ward is a game that I kinda don't like (when we talk about the singleplayer). This few words will explain you why I'm saying this.Well the whole game is just a pure perfection. I really like every Call of Duty expansion but I'm not satisfied when we are talking about the campaign. I love the part in this game when you are in the museum, and you can shoot at Cpt. Price or Soap, and then all of them will rush on you. Really love that part. But let's get back on the campaign. The worst is that is so damn short. I was like so pumped when I saw the game. I was like "Oh hell yeah, this is a whole new level of gaming now, I will be so happy when I download this". Since it is a expansion of Call of Duty Modern Warfare, i thought that this expansion would be even better. So when I downloaded it, I started [laying it. In the begging the adrenalin that hitted me was aaah. I was so happy. The whole story, the graphics, sounds was just perfect. And then, after about 3hrs of constant playing I finished it. I was like, is this a joke or smth. I was so angry because of it. I remember that when I played Call of Duty Modern Warfare I was playing about whole day. And I couldn't even expected the ending will come. But this game, this game, uhhh…. I couldn't resist that end has come.Man passing the whole Russian army, just walking straight to them .. Oh it was perfect. I remember the detail where your glasses were freezing. DAmnn… that was perfection.
Also a moment where i cried is when you (playing as Roach) died side-by-side with Ghost. The feeling was , I was in the game….

And about all Call of Duty games, i am so into them, I have the feeling that I am out there, shooting the bad guys, knifing Shepard and saving Price is just bang.

The mulitplayer is in the other case a really good thing that this game made. 9 modes in which every one beats other made a game so much better.
Shadows, flames, realisation of the whole graphic sequel is just amazing. I mean, since Call of Duty Modern Warfare, they improved the game by at least 70%.

I think I said everything about the game and just a few details you should know about the whole Call of Duty franchise. Hope you guys liked my review. Yeah, just one more thing, i forgot to give the rate. The rate that i give to this game is 10/10 because of the superior gameplay, graphics, and the whole impression of the game will not be ruined by the campgain where they didn't made what i desired.
Post Date: 21:01 01-12-2014
Rating: 9
Author: Mihajlo
Comment: Call of Duty: Modern Warfare 2 is FPS game developed by Infinity Ward. MW 2 features 9 multiplayer modes (Free For All, Search and Destroy, Demolition, Sabotage, Domination, Team Deathmatch, Mercenary Team Deathmatch, Headquarters and Capture The Flag) as well as co-op mode named Special Ops. Graphics are amazing, huge variety of weapons and awesome killstreak bonuses. I rate this game 9/10
Post Date: 07:27 30-07-2014
Rating: 4
Author: ivekvv256
Comment: Sorry to say this, but this game has really dissapointed me. Even though I played it and have some fun shooting, the story of about this game wasn't fun at all to me. I liked the previus Modern Warfare more, so I'll rate it 4/10 just becouse it's CoD.
Post Date: 12:34 30-05-2014
Rating: 7
Author: NeSsQQuiCk
Comment: Modern warfare is another great COD game althought I like COD 2 a bit more this one is ma
Post Date: 20:54 08-12-2012
Rating: 9
Author: PolanWalker
Comment: For me this is the best part of CoD series 🙂 We are special forces soldier that have to do his mission only one way:) Killing all enemies who we will meet 🙂 Great choose of weapons, possibility of picking up other weapons are nice for me 😀 Game have grea graphics and sounds 😀 Game play and fun from play is awsome for me 😀 I rate this game 9/10 :d
Post Date: 20:12 15-07-2012
Rating: 8
Author: Dmt_2000
Comment: This game is great its Better Then Number 1 of you ask me Cause there's more guns and better Graphics but there both good
Post Date: 19:28 13-07-2012
Rating: 10
Author: PolanWalker
Comment: Best present times shooter game. Misions are very impresive and full of great effects. Best mission near Czarnobyl.
Post Date: 08:36 24-04-2012
Rating: 9
Author: KuroTsuna
Comment: Call of Duty Modern Warfare 2 is a popular shooting game. Everybody know this game and it's good. The graphics are good and the designs are very realistic for this game. The gameplay is awesome and easy to learn how to play it. Spending hours makes you very good in this game.
Post Date: 06:22 24-04-2012
Rating: 9
Author: Thedarkboy
Comment: I really liked this game.. I like MW3 a little more though. But it's still very entertaining. I used to play it with my friends all the time.. But we don't anymore because like all other games it got boring when you played it for a long time.
Post Date: 23:56 21-10-2011
Rating: 8
Author: lumlehsumleh
Comment: really fun. the weponds you can unlock adds to the intesity. also, it's a good game because being a higher level only gives you a small advantage over new people.
Post Date: 09:18 14-06-2011
Rating: 10
Author: Steelcraft
Comment: This beats all the cods in many ways better maps, better storyline and much better customization!
Post Date: 15:56 17-04-2011
Rating: 10
Author: Lions
Comment: CoD4 was great. This is better. The graphics, the special ops, and the multiplayer are all put to perfection. The maps are fantastic as well.
Post Date: 09:46 01-04-2011
Rating: 10
Author: dantabletennis
Comment: This game is much better than Black Ops also has more sellers! Maps are great, the only bit is that Black Ops has zombies!
Post Date: 19:52 22-01-2011
Rating: 9
Author: Adrian
Comment: This one isn't as great as its predecessor MW, I find that the multi-player is lacking. Although the single player missions are fun too play.
Post Date: 13:40 13-12-2010
Rating: 10
Author: firekid
Comment: its cool online becaus i will download it
Post Date: 20:36 30-05-2010
Rating: 8
Author: BT786
Comment: Kick ass game with a horrid online community. Alot of players are outmatched and there is no ranked online gameplay so expect to be owned alot in those first few months.Single Player Campaign is the bomb.
Post Date: 04:17 20-04-2010
Rating: 8
Author: Veldomort
Comment: Lack of motivation in the campaign mode, except for the last mission. The multiplayer was fun, with all the new perks and all. Spec Ops was a nice addition, and clearly was a single-player alternative to the campaign, for those who feel like Multiplayer has gone bland.
Post Date: 16:47 10-03-2010
Rating: 9
Author: jared
Comment: The Single player is very short witch kinda sucked because i was looking forward to it but then i played its multiplayer 😀 the multiplayer was awesome 😀 the graphics are awesome and i love the Spec ops modes its briliant 9/10
Post Date: 01:59 29-01-2010
Rating: 10
Author: Estadic
Comment: CODMW2 is rated high cuz it has awesome graphics, a killer story, and pwning multiplayer.
Post Date: 17:09 21-01-2010
Rating: 0
Author: Mighty t
Comment: Why is CODMW2 rated so high??
Post Date: 02:02 21-01-2010
Rating: 10
Author: drakin
Comment: Love it. I can't see how anybody can hate on MW2. So what that it don't have dedicated servers and mods. Get over it.
Post Date: 17:28 14-01-2010
Rating: 9
Author: awesomedrako
Comment: Near FPS Perfection. However, I"m only talking about Modern Warfare 2″s multiplayer mode, and spec-ops mode.If you"re just looking for a great single player FPS, you"re better off looking elsewhere. The first time Infinity Ward made a modern FPS game (Call of Duty: Modern Warfare), the single-player campaign was short (and it still is in Modern Warfare 2), but it was filled with great cinematics, incredibly emotion stirring moments, and fun FPS action. This time, the fun FPS action return. The cinematics are also back. However, how Infinity Ward have executed the cinematics and emotional stirring (supposed to stir emotion) moments is not very well done at all. In the first Modern Warfare, there was a moment when the player dies (spectacular death, but I won"t spoil it by saying what it is). So what do Infinity Ward do in the second game? They make the player die. Multiple Times. The multiple times is important, because it means that all this dying gets old. Fast. Another poorly executed moment is the airport scene (i.e. No Russian). I am sure everyone has heard of this moment from the internet before they even played the game! Basically, in this level, you are a CIA agent undercover amongst Russians, and they tell you that you have to kill lots of civilians in an airport. But, in real life, a CIA agent wouldnt kill any civilians, theyd break cover first and risk death to save them! You are not allowed to shoot at the Russians in this level, and, guess what, they kill you at the end anyway. This level probably intended to be an emotion stirring moment, but it fails in this because of how it is executed.Now, for the good part. If youre looking for a great multiplayer FPS experience, look no further. Infinity Ward have taken the multiplayer in the first Modern Warfare (which many had already said was FPS perfection), and made it even better! New kill-streaks (which are awesome, I dont think theyre overpowered), death-streaks to help out new players, better graphics (one example is blood splashing across your face when you are hurt, clouding vision, and being more realistic), new perks, equipment, and weaponry. It is VERY rewarding and addicting (with challenges, levelling up etc), very tactical, and excellently implemented. Spec-ops is also a great highlight. It means teaming up with a friend to complete a pre-set level. And though it isnt as cinematic as the single-player, it is arguably much more fun and better than it. Cooperation with a friend is very fun, and if youre using mikes, its fun to coordinate your attacks with each other. Also, the spec-ops missions arent all just Kill X amount of enemies with a team-mate. One sees you trying to get from A to B while being swarmed by enemies and a helicopter. Another sees you fending off waves of increasingly tougher enemies. One even has you race your team-mate on snowmobiles, combining shooting stuff with racing!

In conclusion, Modern Warfare 2 is a VERY good multiplayer FPS, and has VERY good co-op. However, as a single-player game, its not the best out there. There are plenty of better single-player FPSs in the market. I give this game a 9/10, which would have been 10/10 had the single player been better.

9/10