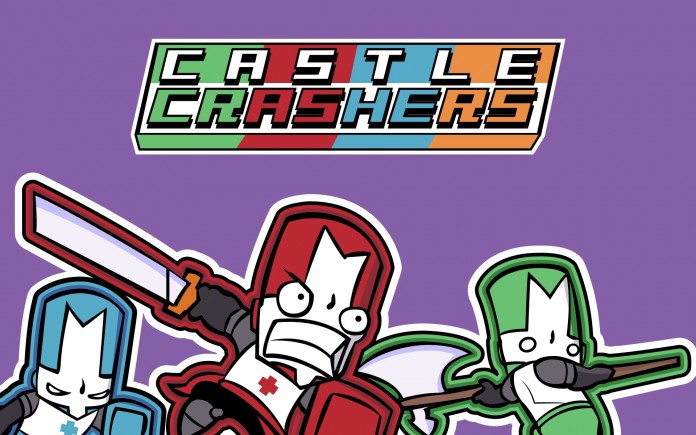 Hack, slash, and smash your way to victory in this award winning 2D arcade adventure from The Behemoth! Featuring hand-drawn characters, Castle Crashers Steam Edition delivers hi-res visuals like nothing you\'ve seen before. Four friends can play locally or online to save your princess, defend your kingdom, and crash some castles!
Post Date: 10:47 19-06-2015
Rating: 7
Author: dragosbuzz
Comment: Castel Crashers is a Indie game very addictive and fun,with simple combo.First time I play this game i found it strange and I thought I would get bored quickly but actually it was not so.I recommend this funny weird game 🙂
Post Date: 11:57 08-11-2014
Rating: 9
Author: arZ
Comment: Castle crashers is really cool and funny game. You need to crash the enemy castle and defend your own. Crashing, smashing, thats the point in this game, alone or with your friends. Cool game. I rate it with 9/10
Post Date: 17:40 25-09-2014
Rating: 9
Author: Garagos
Comment: Castle Crashers is funny game. You crash, smash, destroy words which are the most used in this game. 🙂 Enjoyed while playing game 🙂
Post Date: 18:09 17-08-2014
Rating: 10
Author: FrendlyLeBlanc
Comment: Really funny mini game.. Recc to all.. 10 🙂
Post Date: 14:47 17-08-2014
Rating: 7
Author: sole!
Comment: Mini game that is really funny!
Post Date: 06:16 05-08-2014
Rating: 7
Author: ivekvv256
Comment: It's a good mini game, and if you want to have little fun playing this is a game for you. Also you can play it with friends, which is even better. Graphics aren't the good side of this game, but that doesn't really matter since it comes up to gameplay to fix that. I'll rate it 7/10 becouse it has got things it needs to be improved.
Post Date: 22:11 23-01-2013
Rating: 10
Author: Mordekaiser
Comment: Great game graphics are great i really didnt expect what i found when i played this game i had no idea that this game is that good tons of fun funny also there is tons to do lots of guys to unlock and you can do awesome stuff dont really need a good pc to play it but if you have a bad pc dont play it on high qual worth buying for sure this game really need more players
Post Date: 06:33 30-12-2012
Rating: 8
Author: buzzsaw
Comment: I only played on the Xbox. CC is a fun game if you want to goof off with your friends. I would recommend it.
Post Date: 20:16 25-11-2012
Rating: 8
Author: PolanWalker
Comment: Whole story starts in old times pub where we are with our friends. Suddenly from stairs fall dead guard. We are going to check out up stairs and see the band of evil characters that came here to kill rub and destroy. After they run we must to find them bring back kidnapped ladies and find stolen crystal.

This game supose to by played with big group of friends becouse only then we will get fun from it 🙂 If we are playing alone all our expirience per level is losing. But when we play with friends we can came back to this moment in game when we died and recive our items back 🙂

Overall this game is very nice and simple production that can be interesting for big amount of people. I can recommand it to everyone 🙂 My rate is still 8/10 🙂
Post Date: 22:29 22-11-2012
Rating: 7
Author: Mordekaiser
Comment: This game is very good you can play it on the XBOX and PS3 and the PC the game play is good and the art style and graphics are very good so if you want to try a new game or you are new to gaming or if you have kids then this is a great game for you
Post Date: 20:35 22-11-2012
Rating: 8
Author: PolanWalker
Comment: Very nice 🙂 8/10
Post Date: 07:18 22-11-2012
Rating: 8
Author: Thedarkboy
Comment: When I first tried this game, I thought that this game was very weird. But after I had played it a while it actually got pretty addictive, even though it got boring after a while. But it's a pretty good game to try, even though it might not look like it's very fun.