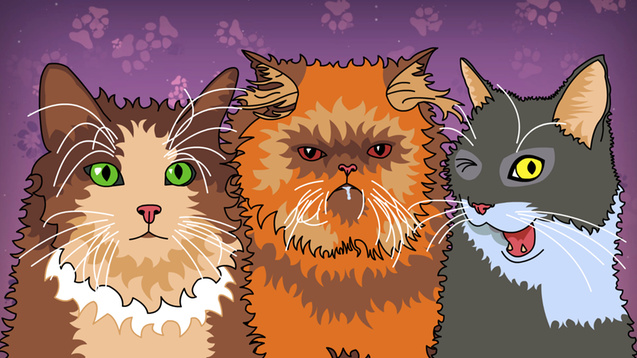 Cat Dating Sim claws it's way through Steam Greenlight
Purrfect Date climbs to the 64th spot on Greenlight in just 24 hours
​
After announcing their debut title, Purrfect Date, Oliver Age 24 and his girlfriend Ruby have managed to make it 100% of the way to the Top 100 on Greenlight in just 24 hours. It's potentially some sort of Greenlight record… but it hasn't been fact checked or Googled, that part could be a complete lie.​
Overview Of The Game
Feline lonely? Well look no further! We have a whole island populated entirely (well, mostly) by single cats for you to purruse. We have cats for all types people, regardless of whether you're male, female, gender-neutral or undecided.
As a budding young scientist at a research facility on Cat Island, you have the opportunity to seduce up to six, yes, as many as SIX, cats! Now you may be asking yourself, "Is this not an entirely disgusting, perverted, thinly veiled bestial cash grab as well as grossly unprofessional?" I don't know! You'll have to vote for the game to find out.
Choose your own catventure in this visual-dating-novel-simulator while making sure not to die of sleep deprivation or get fired due to negligence, or gross misconduct by diligently juggling your stats as well as maintaining a flourishing professional life.
Aside from the fact that this is obviously one big excuse to make cat puns, the plot to this game is actually surprisingly in-depth and emotionally stirring and the writing itself is Shakespearean in verbosity, even if we do say so ourselves (which we totally do, duh). Beneath this kawaii façade lies the dark, brooding mystery of Cat Island, which can only be discovered after multiple playthroughs and careful analytical scrutiny.
Features
6 loveable main cats!
Multiple entertaining endings!
A perplexing mystery!
An infinite amount of amewsing cat puns!
A whole bunch of science!
Madcap hijinx and shenanigans for cat-lovers everywhere!
Visit the Greenlight Page
Vote on Steam: http://greenlightpurrfectdate.oliverage24.co.uk/
Vote in your internet browser: http://steamcommunity.com/sharedfiles/filedetails/?id=607799232
About Us
This is the debut game from The Bae Team, which consists of Oliver Age 24 and his Bae. Oliver has, as the Content Producer at Bossa Studios, worked on titles such as I Am Bread, Surgeon Simulator and Worlds Adrift. His bae is super into cats.
This game is dedicated to Little Edie and Lush. May their food bowls forever overfloweth with mackerel (they're both still alive btw).