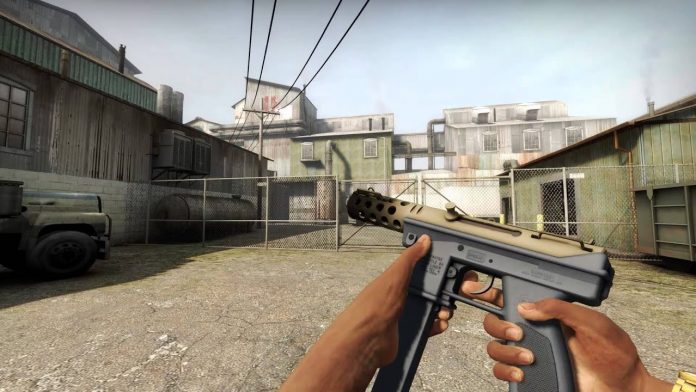 A weapon exclusively designed for CS:GO Terrorists, the Tec-9 is officially described as an ideal pistol for players who are constantly on the move with lethal effects in close quarters and high magazine capacity.
No matter how bad your budget might look, skins of this kind with Factory New and Minimal Wear quality can be purchased for a few dimes. In this article, you will discover the cheapest options for Tec-9 skins on CS:GO.
What Are the Best Low-Budget Tec 9 CSGO Skins? – 2022 Updated
While many CS:GO players dream to get a nice drop on cases or score with Key Drop promo codes to get some skins, this list will show you that you can literally buy multiple items for a single dollar.
Here's a compilation of the cheapest Tec-9 skins in 2022:
Tec 9 Tornado
Available for several weapons like the AK-47 and the Galil, the Tornado finish was launched as part of the "Alpha Collection." Best described as an "almost-vanilla" gun, this skin has an industrial blue base with a greyish barrel on top.
Considering there's nothing fancy to talk about the Tec-9 Tornado, the price range could not be more affordable. A Factory New item can be found on different marketplaces within a price range from $18 to $25. 
Pieces with superior levels of wear are not aesthetic at all due to the excessive abrasion, but you can find Well-Worn items selling for as low as $0.90.
Tec 9 Army Mesh
CS:GO players who want something "guerrilla-looking" for a Tec-9 can give the Army Mesh finish a try. All covered in a camouflage pattern of stripes painted in muddy brown, military-grade green, and sandy grey, this skin will make you look like an authentic Vietcong.
Considering you're playing as a Terrorist (T), the experience surely will not bother you. This Consumer Grade gun is part of the "Safehouse Collection" launched in 2013, which means it was one of the original CS:GO skins available on Steam.
A Factory New version can be bought for a mere $0.20. The advantage of this piece is that it looks deadlier with superior levels of wear, so you can purchase a Well-Worn or Battle-Scarred version for less than $0.05. Souvenir versions are more expensive, with Minimal Wear items selling for around $100. 
Tec 9 Groundwater
Launched as part of the "Italy Collection" in 2013, the Tec-9 Groundwater features a design fully painted in a greyish tone of military-grade green. Overall, the weapon is so simple that you will certainly wish to apply a few stickers here and there.
With a broad float range, it is available in all exterior qualities. Pieces with a higher float show elevated levels of abrasion but do not affect the weapon's "resistance warrior" vibe.
Depending on the purchaser's viewpoint, Well-Worn and Battle-Scarred items can look even cooler. Factory New items can be acquired for $0.15, which makes this one of the cheapest skins in the entire game.
Tec 9 Urban DDPAT
Covered in pixelated camouflage-painted design all done in a mix of grey and black, the Tec-9  Urban DDPAT is the perfect skin for players with higher levels of nostalgia about Counter-Strike 1.6.
Similar to the Groundwater finish, this piece looks cooler with stickers as well. Items with higher float index are almost non-recognizable if compared to newer ones, but it is so cheap to buy a Factory New item that you can buy several ones.
With no exaggeration, a Factory New Tec-9 Urban DDPAT can cost between $0.21 and $0.34. 
Are You Out of Money to Buy Expensive CSGO Skins? – Just Follow Our Recommended Tec-9 Selection
Overall, the Tec-9 has some of the cheapest skins in the entire game. For example, the most expensive Tec-9 skin available on Steam costs around $89.00 for a special edition.
This weapon is an excellent choice for players who live on a tight budget and cannot afford to buy expensive skins, especially as the price range for all these skins is always below $100 (with rare exceptions). 
In terms of effectiveness, a CS:GO Tec-9 can potentially get you $300 prizes for kills in competitive matches and $150 prizes for kills in casual matches.