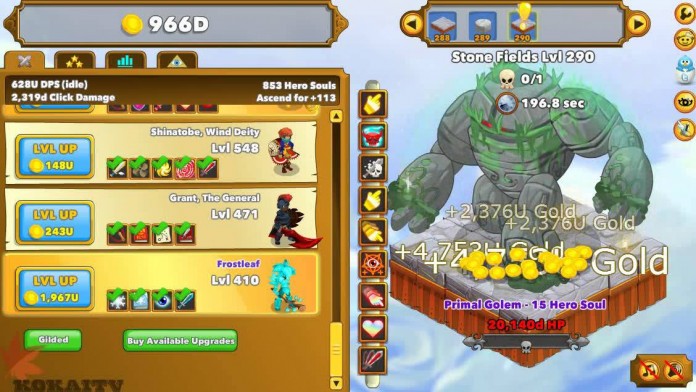 Clicker Heroes

Game Description and Comments
Clicker Heroes is among the best and most popular games of the ever growing clicker niche. These games allow you to grow in strength especially early in the game by generating money to build a money making machine whether you sell cookies, pizzas, are a business tycoon, or even a fantasy hero in the case of this game. Instead of setting up factories and hiring managers to oversea the operations, you hire helpers to take down a plethora of monsters in different areas. You can either click on the monsters to do damage or the ones you hire do the damage automatically with their DPS (damage per second). The amount of DPS depends on the character's hiring price, level, and special items bought. The more money you make the stronger the help you can add. Seemingly simplistic, Clicker Heroes can be deceptively addictive as you continually try to get stronger and richer to buy the next henchman for the next big boss.
Features
1. Free online game.
2. One of the most popular games on Steam.
3. Also has a mobile version.
4. You add help with the more gold you get.
5. Your progress continues after you log off.
6. You fight a boss every 5 areas.
7. Every one you hire has a special item to buy as you train them in levels.
Pricing Mode
Clicker Heroes is a free flash game published for the web and is supported by ads and micro-payments.