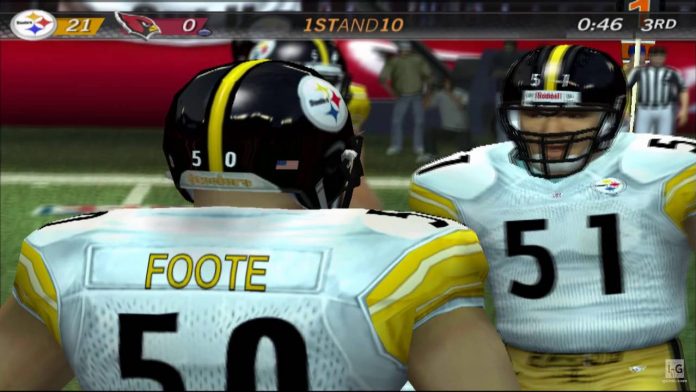 The collapse of the Madden franchise started in 2008. Madden 09 has just been released. The Madden community is absolutely stoked for the new release. If EA had just created an immortal product with Madden 08, then what would Madden 09 be like? Would it redefine sports gaming, as its predecessors had? Would it provide a deep, immersive experience, never before seen by a sports game? Would it be the most advanced Madden of all time? The answer to all of those questions: no. Madden 09 was a bare-bones, bland mess with little substance. Especially compared to the masterpiece that is 08. There wasn't a whole lot of innovation either. The only noteworthy addition, in fact, was the Super Sim. Otherwise, Madden 09 was the least deep and impressive Madden since 98. Unfortunately, this drop in quality would become the standard-bearer for the state of modern Madden.
Madden 10 was an all-around huge improvement to 09, especially gameplay-wise. Still, there is a catch, which we will get to. Madden 10 updated the several year old animations, added the ability to steer tackles, which nicely complemented the new CPU logic. There was a new awareness system, a chain gang, the wildcat formation was added, there were now multiple distinct kicking styles, accel clock was added to the game, as well as signature QB throwing animations, and even QB towels to boot. The catch I mentioned earlier? The primary reason for the downfall of Madden: Madden Ultimate Team. In fact, Ultimate Team as a whole has contributed to a decrease in depth, immersion, and realism across all sports games; that is, with the exception of NBA 2K. However, Madden has been badly affected by this.  It was like visiting the best online casinos instead of the deep football game that gamers and fans of the series both loved. This will become apparent soon enough.
Madden 11 didn't add a whole lot to the Madden franchise, but it kept the gameplay solid, made the annual graphics and animations tunings, and did what Madden does a lot more of nowadays: market MUT. At this point in time, EA decided they wanted to convert what "was in the game" into straight, cold-hard cash. Thus, they monetized the formerly play-to-win game mode into a pay-to-win one. This drove sales, and it directly contributed to a sharp decline in improvements to Franchise and Superstar mode, which SHOULD be the core part of any sports series. Not to EA though. This is where Madden really began to really blow their series.
We reach Madden 12, which is the final game in the Golden Era of Madden. (99-12) EA brought Ultimate Team literally to the front page, while also literally having their core game take a backseat to the thing that should certainly not be that is MUT. Still, there are a few things that EA could reasonably boast about, such as an increased in-game awareness of concussions, futures, new gang tackle psychics, and a new style of free agency that can only be described as a silent auction. This was a step in the right direction, correct? No, IGN. If MUT takes center stage, nothing can be done to fix it. This ugly bogeyman reared its head the following year, when the first major out-of-game change was made. Following the release of Madden 12, former executive Ian Cummings, who had helped to mold Madden into the powerhouse that it was in 2011, stepped down, leaving Rex Dickson to take charge in his place. What followed was truly disgusting. What followed, was the death of the Madden franchise as it was: a top tier series of immersion and intricacies, that was revered nation wide. It was rise of MUT.
Madden 13 was the beginning of the end. It is the defining reason of why money is the root of evil. MUT fully usurped Franchise AND Superstar mode, watering them down like a can of cola, into the mess that was Connected Careers Mode. It was a wretch, that aimed to combine both former modes into one. Critics loved it, but, remember, critics gave the most recent Madden a score above 5/10. What I'm saying, is that critics are critics. Especially Madden ones, who verge on paid actors at times. The most inexplicable thing in all of this is how much substance was lost in such a small time frame of roughly half a year. Two game modes, and their depth, were gone. MUT took center stage. Gameplay went from solid to insufferable. You couldn't even edit jerseys! It was an absolute cash grab. Madden has been very similar since, sadly.
While Madden 25 returned Franchise, it didn't return all of its glory, such as Create-a-Team, Training Camp, and the Senior Bowl. Superstar Mode no longer existed. Madden was a cesspool of MUT and a barren desert of content. Oh, but there was "new" AI. As if it no longer stood there when you threw the ball of few feet further than intended, not even bothering to attempt a catch. For the most part, the game has been identical since Madden 25. (Actually 14) The relocation is the same. The gameplay engine went from solid (Infinity) to just plain sad, and intended for FPS anyways. (Frostbite) The game didn't even register a true innovation for three years, from Madden "25" to 17, when their genius innovation was to bring in two new commentators only to repeat the same lines so many times that you will turn them off faster than a stupid play will ruin your day, or your lineman will stand and watch as you get blown apart by a 300-pound nose tackle.
As for every improvement since Madden 17, they are as follows: New game styles, Superstar KO (a new, non-sim game mode), a Scenario Engine, X-Factors, The Yard (a new, non-sim game mode), User-Controlled Celebrations, Rise to Fame (a new, somehow sim game mode) and new visors. If most of that sounded like verbal diarrhea to you, don't worry, because it IS. EA has consistently neglected gameplay, Franchise, any semblance of innovation, a community, and their fan's wallets, all for the sake of MUT and the ability to stack dough like they were deep-dish pizza joint or suddenly owned a change of venue such as https://fr.goldenrivieracasino.com/  THAT is why Madden has been reduced to a gritty punchline: greed, and ego. IF Madden ever improves in the future, then I will be skeptical, as divine intervention would be required to actually pull it off. Shame, as it used to be a promising series. A promising series, that has been corrupted, in a textbook example on how NOT to run a video game corporation.