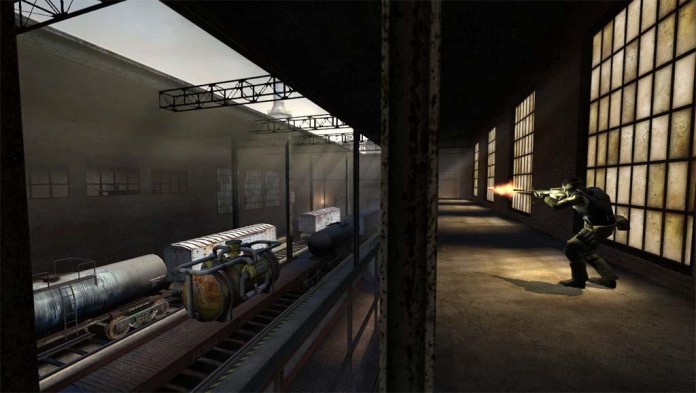 Counter-Strike: Source blends Counter-Strike's award-winning teamplay action with the advanced technology of Source™ technology. Featuring state of the art graphics, all new sounds, and introducing physics, Counter-Strike: Source is a must-have for every action gamer.
Post Date: 20:12 21-07-2015
Rating: 10
Author: axwellshm
Comment: The game is for me the core of Global Offensive. I mean that the game helped the production of GO, which we can see today. It was pretty good and it won my heart. 10/10
Post Date: 21:20 24-05-2015
Rating: 9
Author: LosmiK
Comment: A fantastic conversion of a timeless classic and it has stolen the hearts of the online community once again.
CSS is probably the most realistic game up to date with the best physics which gives u the opportunity to feel the anxiety around you in your own home as if you're on the battlefield… Great game.Valve has done a sterling job of moving a flagship franchise over to a new engine. Whilst the gameplay guts come over correct and intact, (which may disappoint some), Counter-Strike: Source is an even more engrossing and captivating experience, capable of sapping hours of your time, and even the worst "1337 g33zers" abusing voice chat can't spoil the fun you'll have with it.

A technically and graphically stunning port of a game that was already pretty damn good, with the potential to deliver bigger and better things in future. And you can't complain too much about that.
Post Date: 17:15 23-12-2014
Rating: 9
Author: Kruziar
Comment: I am interested in this game , I "d want to play it .
Post Date: 19:13 17-12-2014
Rating: 7
Author: gavrilo3
Comment: i was first time played this game 3 years ago i think i don;t know one of my best FPS games it's simple but not that stupid i likecs maybe theny no have gameplay like COD,BF and other stuff butt is still cs one of greates FPS and maybe most popular games on the whole world. source have better graphic but it's ok i like it i rate with 7/10
Post Date: 18:22 10-09-2014
Rating: 10
Author: Garagos
Comment: Css game which has better graphic than cs 1.6. Because I played CS, I want to try Counter Strike Source. One my friend has CD and I said why not. 🙂
I played game a few weeks, maybe one month and then I stopped, because I get borried. Game was fantastic, surely the most beautiful part was graphic, that I really love. 🙂
This game deserves 10 🙂
Post Date: 15:31 01-09-2014
Rating: 3
Author: Korni
Comment: I never liked the CS, because I do not like physics. CS 1.6 is much better than him. The graphics are not good at that time for other pucacine but when I look now I'm so glad I did not play.CS GO is best.
Post Date: 12:42 30-05-2014
Rating: 3
Author: NeSsQQuiCk
Comment: CS:S Is really bad actually by my opinion. I prefer COD much more cuz in this game logic is something that doesn't exist and I hate that kind of stuff :/
Post Date: 22:24 29-05-2014
Rating: 9
Author: Fenix1950
Comment: Great graphics and players,such an amazing game.Better than 1.6
Post Date: 15:15 27-05-2014
Rating: 10
Author: 420Hairlyman
Comment: Counter Strike Source or often reffered as CS:S is a FPS game published in 2004 by Valve Corporation. This game is a complete remake of Counter-Strike 1.6 using Half-Life 2 source engine. Probably the biggest addition and difference from its previous 'cousins' is graphics. That is where the game shines.
Considering the gameplay, everything is basically the same. The game is played by two teams, one is a team of terrorists and the other is a team of counter-terrorists (Seals and Swat). There are two types of maps that are played; one is the bomb scenario where the terrorists must plant a bomb at one of two predetermined bomb sites and protect the bomb until it explodes or kill all the counter-terrorists. The counter-terrorists must prevent the bomb from exploding by either eliminating all the terrorists or defusing the bomb after it has been planted. In this type of map, the terrorists are under the clock and must plant the bomb before the designated time runs out or the counter-terrorists win.
The second type of map is a hostage scenario where the terrorists must prevent the counter-terrorists from rescuing the hostages. In this scenario, the counter-terrorists are under the clock and must rescue all the hostages (usually four of them but not always) or eliminate all terrorists before the clock runs out or the terrorists win.
Considering the maps, most of the original ones from Counter-Strike received graphical upgrade and have been added to the Source. Most of the situations in Counter-Strike have been improved with Half-Life 2 engine and have been added to the CS:S. But that's not all I have to say about maps. They have been tweeked really nicely. For instance, in the most played map of all times dust2, there are barrels that you can shoot at and roll them towards your enemy. When you shoot in walls or windows, you can see the places where bullets impact. Its really cool upgrade to this game.
In CS:S you can choose from around 25 different weapons, which all have their special charachteristics. All of these weapons are used by professional soldiers in real life.Each side in the game (CT-s or Terrorists) have different sets of weapons, but basically they are all the same. Some weapons have hard recoil, some have better range, some do more damage from small range while other weapons like AWP (Sniper), one shot is enough to kill someone. Of course, you also have kevlars, helmets, grenades. There are 3 different types of grenades in CS:S (same as in Counter-Strike) : HG Grenade, Smoke Grenade and Flashbang. The biggest difference is that you can pick other's peoples grenades if they had one when they died.
To set things straight, I've been a huge fan of Counter-Strike since its first beta game back in '99. I think that this game couldn't succeed cause of its high performance demands. I've been playing this game on AMD Dual Core with 1 GB Ram memory and still had fps problems. But I have to rate this game with max 10 out of 10 because this game was core for the development of current CS:Global Offensive.Pros:Fun to play, great graphics, great sound
Cons: Idiotic bots AI, small bugs, high graphics demands
Post Date: 14:18 19-05-2014
Rating: 3
Author: ivekvv256
Comment: Well, if I had to choose this game over Crossfire, I wouldn't. I find Crossfire to be much more fun then this game. I didn't spend much time on this game so I don't know much about it, but the graphics are ok, but I didn't really like gameplay. I have to rate it 3/10
Post Date: 09:40 24-04-2014
Rating: 9
Author: savicaa
Comment: Here we have one of the best online multiplayers games . It really nice shooter games , where you need to have skill and good tactic to win oponnents.
In this game you have two teams . First team is Terrorist – team , second is Counter – Terrorist team . In every team you can choose what character you will be , there are 5 and they are different style and that's the only differnce. If you are in Terrorist team you have 2,3 different missions . First is to plant C4 bomb and defend it from Counter Terrorist team , if bomb explode all Counter Terrorist team will get dead and you will get bonus money , if they defuse it with defuse kit , they will win and get extra money in their pocket and that's somethings that you don't want when you are in Terrorist team . Second mission on some maps is to keep hostages in place where they are , that means that you need to kill all Counter Terrorist team and don't give them chance to get hostages rescue. If they get them , they need to go in base with them , then you have chance to find them and kill Counter Terrorist player and win the game , when time goes down .
Also you have shop when you start game , you can buy weapons. Mostly for the start , you only have for pistol and little bit of munitions , but that's not problem at all , trust me. After every game you get some money , so you can collect money for some better weapon very fast.
For Counter Terrorist team i would reccomend weapon which you buy with command B43 ( that's gun ) and B14 ( this is the pistol ) , you can full munition with B6 , B7 ( B6 is for pistol and B7 for the gun ) , also you have option to buy Helmet+Kevlar and some bombs like ( B83 – explosive , B84 flash bombs , B85 that's smoke bomb )..
For Terrorist team i would reccomend AK-47 that's B43 and Desert Eagle B14 all command are same like in Counter Terrorist team.
Also in this game you have two places where you can plant the bomb that's site A and site B , almost in every pro game Terrorist are going on site A , cause it's much easier to defend it then site B. You can go on YT and watch NaMi team i think , they are really good and you can learn many things from them!
Expressions : This is one of the best MPG , i really like it and im playing it when i have some of free time. It's not easy , but after 2-3 months you will be good enought that you can help your team to win the game.
Marks : Gameplay is good so 9/10 , graphics are niceso 9/10 , sound is little bit bad so 7/10 , animations are really good so 10/10. For all game i give 9/10.
Try it you will not get dissapointed.! Cheers!
Post Date: 16:39 20-04-2014
Rating: 9
Author: arZ
Comment: Counter strike is one of the most popular online multiplayer games. Its not so popular like the counter strike 1.6 version but still good one. It has better graphics than the 1.6 version and its little bit harder to learn. Its a 5v5 (most), counter terrorist again terrorist. Terrorist need to put the bomb on the bomb site … counter t. need to defuse it or to defend the bomb site. Rly good game, and lot of fun!
Post Date: 21:04 11-12-2012
Rating: 10
Author: PolanWalker
Comment: The best online game in history of computer games. The best shooter I have ever played and best online game ever made 😀 Incredible game where we are fighting on one of the sides Terrorists or Counter Terrorists. Great variet of weapons and strategy of them use. I can really recomande this game to everyone. I rate it 10/10.
Post Date: 00:58 30-11-2012
Rating: 10
Author: Mordekaiser
Comment: This game is the most over played First Person Shooter ever i think i started playing this game when it came out and i have been playing it off and on there are much better First Person Shooters out there but this one just has something in it that i like and if you play this YOU GOT TO TRY GUN GAME BEST MODE EVER like epic and what is better then quick scoping the players with sniper rifles or destroying there face with a shot gun or turn you no skill mode on and spray with an ak47 this game has everything you can want but like i said there are better First person shooters out there like Call of Duty Black Ops 2 or Planet Side 2 or Blacklight retribution there are meany better game but its still fun i rate this game 10/10 for being totally original the first ever real First persons shooter ever to come out
Post Date: 21:12 29-11-2012
Rating: 10
Author: PolanWalker
Comment: CS is incredilble online game. First I played it about 10 years ago 🙂 This is the most popular online game in the world 🙂 Multiple choice of guns, rifles, shotguns, machine guns and others is the best what we can find in it besides super game play and fun from it 😀 There can be only one rate 10/10 😀
Post Date: 19:24 13-07-2012
Rating: 10
Author: PolanWalker
Comment: BEST online shooter i ever played. Eagle rules 😀 😀 😀 Best for me Fen, and SIG:D Best documented score 42/1 ;D It wos very long time age but renember it very good. For one year break i am totaly noob :/
Post Date: 17:19 19-05-2012
Rating: 9
Author: -ComptoN-
Comment: Where do i click to download it?!
Post Date: 07:00 26-04-2012
Rating: 4
Author: Thedarkboy
Comment: Sorry but I'm not a big fan of Counter-Stirke.. Didn't like this game at all actually. I would never spend my time on this game. There's plenty of other games that I like a lot more then this one. But I gotta admit that the graphics are great. So I will give it 4/10 for now..
Post Date: 17:27 28-05-2011
Rating: 9
Author: Dievas2
Comment: Counter-Strike Source is a cool game.
Post Date: 02:35 04-05-2011
Rating: 9
Author: Joker
Comment: CSS is a timeless shooter. The gameplay never gets old. Newer games build around what it started.
Post Date: 10:53 22-04-2011
Rating: 10
Author: sasuke24
Comment: Awesome game. Super graphics with uber special effect.
Just love it!!
Post Date: 01:49 31-12-2010
Rating: 10
Author: Adrian
Comment: The best shooter I have ever played, great graphics, very nice gameplay, a lot of games have copied the CSS look/feel to. So you know Valve did something right when they made this ;).
Post Date: 13:38 13-12-2010
Rating: 10
Author: firekid
Comment: cool its very cool
Post Date: 06:17 05-12-2010
Rating: 10
Author: EcLuD
Comment: 1- like CF
2- Cool weapons
3- IS FREEE!!!
Post Date: 06:22 16-05-2010
Rating: 8
Author: Regret
Comment: Counterstrike is one of the best shooters out there but also one of the most confusing. When I first started out, I was confused so badly. I had no idea what to do. I joined a room, picked my side as a terrorist, and was bombarded by a bunch of people talking on their mics. This game may seem a bit intimidating at first because it is but when you get the hang of it, it'll get easier. Many people who play CS:S are pro so if you're just a newbie at shooters, I would not suggest this game because you'll get killed out there.
Post Date: 12:12 21-12-2009
Rating: 10
Author: kenji k1
Comment: i want play
Post Date: 18:49 29-11-2008
Rating: 9
Author: eXoZmM
Comment: Great game. Played by tons of people all over the world, great server modifying capabilities, except when your new and your playing against people who have been playing this game for yours, you have to either learn fast or go home. Very good but also very hard.
Post Date: 15:03 21-11-2008
Rating: 10
Author: sig
Comment: Nothing much to say except wow its fun
Post Date: 14:53 08-08-2008
Rating: 9
Author: killervickboy
Comment: this counter strike shut me up wow the online is amazing u want a top notch shooter get this i said the other one didnt hav good graphics this put it in the bag i mean in the bag i can be on this game for hours without a yawn this game is stunning for a computer game way better then the first one i love these game the sound is on timing this game amazed me very much.