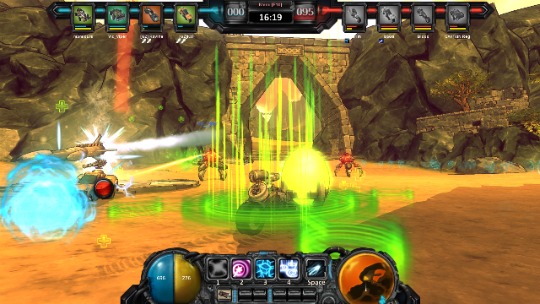 Crasher is the first MOBA to stage motorized team battles, pitting up to 5 vs. 5 players. The usual mouse-controlled heroes are replaced by heavily-armed vehicles hurtling across huge maps at 150 mph.
Post Date: 07:25 15-05-2015
Rating: 5
Author: LosmiK
Comment: I played this game, I do not like how it's made games.
Post Date: 15:33 23-02-2015
Rating: 7
Author: axwellshm
Comment: Haven't played any type of car-driving MObA yet. I am pretty sure that I will play this game sometimes , but for now the rating will be 7/10 cause it's kinda attractive to me.
Post Date: 22:26 30-12-2014
Rating: 6
Author: altot
Comment: MOBA about driving? At first it may seem silly but it's actually a fun thing to jump on every now and then. Nothing special tho'.
Post Date: 16:45 01-11-2014
Rating: 5
Author: Mihajlo
Comment: Crasher is fast paced vehicular MOBA game with RPG elements. There are 15 different vehicles, game is hard at start but after few matches it's really enjoyable. I rate this game 6/10.
Post Date: 14:19 02-05-2014
Rating: 5
Author: Frozen
Comment: well i plated it. it's boring for me :3
Post Date: 21:51 03-04-2014
Rating: 6
Author: pajaxconquest
Comment: I didnt like this one , but it was lets say meduim good
Post Date: 11:31 22-03-2014
Rating: 10
Author: Shreedah
Comment: Don't know much about her. But i think i will try it. Thanks for posting…
Post Date: 18:56 17-03-2013
Rating: 7
Author: PolanWalker
Comment: Crasher is a free Moba game production. Its very original based in word of machines. Riding and fighting machines 😀 We can pick one of them and start fighting against enemies. We can play only in 5vs5 battles. Good thing is that we can orginaise our own team. THere are 15 types or different machines in game. At the begining we have only one which we need to improve to become better players. After that we can pick next vehicle and start killing enemies with it 🙂 For me game is preety good and can be recommanded 🙂 I rate this game 7/10.
Post Date: 23:52 04-03-2013
Rating: 9
Author: Mordekaiser
Comment: This game is a very different type of moba where you battle with cars instead of heroes or champions the combat system is pretty complex but simple when you play for a while also the graphics are like borderlands for the map anyway there are meany upgrades and different cars to use also
Post Date: 19:51 23-02-2013
Rating: 6
Author: PolanWalker
Comment: This production is online battle arena game. In this game we are choosing bettwen 15 vehicles which are beeing used in arena battles. There is only one typ of battles 5vs5. Of course we dont need to play only one vehicle but when we will make few improves we wont sell it. Game is very futuristic and have really nice graphics. Gameplay is very nice but little complicated. For me game is very nice and I think this is good idea for game. I rate this game 6/10.
Post Date: 01:17 15-11-2011
Rating: 5
Author: champking5
Comment: This game wasnt as good as I thought it would be. The fast paced racing war-like game wasnt as good. The game needs more nice gameplay that will provide the game to become better.
Post Date: 23:16 14-11-2011
Rating: 7
Author: dmt_2000
Comment: This game isnt as fun as it looks it is still sorta fun if you like car games or vehicle game or moba games you should try this game
Post Date: 18:33 12-09-2011
Rating: 6
Author: mmowiz
Comment: rather disappointing. i thought crasher would be more fun as a vehicle moba. sadly that was not the case.