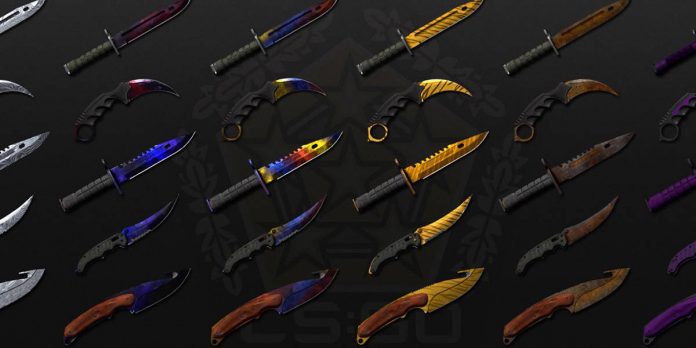 If you think that CS:GO is a game of stealth, you're not wrong, but you're not right either. While it can be a game of stealth, CS:GO is more about close combat for avid professionals. In such a setting, the knife becomes your best friend and biggest ally.
More than that, it's a means of survival. Since melee weapons play such an important part of this immensely popular game, it's only natural that players are becoming increasingly interested in the latest and top-rated knife skins that are randomly popping up in the game. All players get a melee weapon, and there are two types of attack:
Stabbing (left mouse click)
Cutting (right mouse click)
Knife skins are like battle scars; they tell a story about the player. By getting the best knife skins, you can express your playing personality and individuality as a player. Some knife skins can be traded for just a few bucks, while rare knife skins reach hundreds, even thousands of dollars.
Trading with CS:GO skins is best done via CS:GO trade bot sites where you can discover unique new knife skins. With all this in mind, let's see the best knife skin types in 2021.
Paracord
Paracord CS:GO knives allow you to combine different styles and come with a range of practical features. The Paracord knife is one of the rarest knives available in CS:GO. Added during the Operation Shattered Web update, this is among the hottest knife skins in the game at the moment. Considered a rare special item, Paracord is available in only two cases: Shattered Web Case and Fracture Case.
Survival
Another recent addition, the Survival knife skin is also considered quite a rarity among CS:GO players. It's among the most popular skins due to being so rare, and many players are desperately trying to get their hands on it.
You can find it in the Shattered Web and Fracture Cases. Survival is a multipurpose tactical knife perfect for cutting through fiber or bone and comes with a sharp gutting hook. If you want your enemies to fear you, this is the way to go.
Skeleton
Available in Fracture Case and Shattered Web Case, the Skeleton knife is among the latest skins that were added to the CS:GO knife inventory. Aside from being one of the best-looking knife skins in the game, Skeleton is also high on demand which is the main reason why it is immensely expensive. If you're after the best and coolest knife skin in CS:GO, Skeleton should be your first choice.
Nomad
Added recently to the CS:GO fold, Nomad is a fantastic knife skin that is also extremely rare and high in demand. Depending on the condition it's in, this vivid knife skin can reach anywhere from 5-10k on the Steam market. It's ergonomic and tactical enough for handling prying apart materials, and cutting.
Stiletto
Stiletto is one of those rare in-game items many players know about but never had the privilege to acquire it themselves. Stiletto knife skin may not be as popular among players and streamers as other skins, but it is a rare item and quite expensive. We expect it to conquer the hearts of players in 2021.
Talon
Talon knife skin is quite high in demand among CS:GO players. Since this knife resembles Karambit almost in full, players are fighting over who will get it. Thanks to its popular design, this is one of the most wanted knife skins in the game.
Navaja
Even though many players see Navaja as comparatively cheaper than other knives available in the game, there is more than meets the eye to this knife skin. There are plenty of Navaja knives available in the game. Some sell for around 100$ while rarer skins reach much higher prices.
Bowie
Released for Operation Wildfire, the Bowie knife is among the rarest knife skins in CS:GO. It is an operation-specific knife with an extremely low chance of appearing in the game, which is the main reason why it sells for a stunning price on the CS:GO skin trading platforms.
Ursus
Available in 4 cases, Prisma, Prisma 2, Danger Zone Case, and Horizon Case, the Ursus knife is quite a rare in-game item that most players are after. If you manage to get it, you can trade it for good money and fame.
M9 Bayonet
Added in the arms deal update, M9 Bayonet was among the five knife types added to the CS:GO game. It's among the rarest in-game items available, which explains its incredibly high price. If you consider yourself to be a CS:GO professional, this iconic knife needs to be in your arsenal.
Shadow Dagger
Shadow Daggers are among the most popular and favorite knives in the game. You can get it by coming across a Shadow Case, but we have to say that the chances for getting this knife are extremely rare. It's the only two-handed knife in CS:GO.
Huntsman
The Huntsman knife is one of the most iconic and intimidating knives in the game. It tells a lot about your gaming character and your killer intentions. Unfortunately, it's quite hard to get it and is extremely expensive due to being high in demand.
Karambit
Probably the most popular knife skin in CS:GO, Karambit is one of the favorite knives of professional players. They use these knives quite frequently, which increased its price beyond reason. Since it's quite a trendy knife skin, it's perfect for YouTubers and streamers.
Gut
If you regularly visit the Steam market, you've probably noticed the Gut knife. It's the cheapest knife skin on Steam and quite a common type of knife in the game. While rarer versions reach thousands of dollars, regular versions can be obtained for around 100$-200$.
Flip
Just like Karambit, Flip is also among the most popular knives in the game. It's also a favorite knife among players. The range of Flip knives is mind-bending as there are so many to tap into. Flip is one of those must-have in-game items, without any doubt.
Falchion
Falchion knife skin is reserved for natural-born killers who like to take their time and kill their opponents with style. Falchion is considered by many players to be one of the best and most beautiful knives in the game. It's also an extremely rare knife.
Butterfly
The Butterfly is one of the rarest knife skin types in CS:GO and can only be found in Operation Breakout cases. It sells for more than a thousand bucks and is considered a great catch by many players.
Bayonet
The most commonly used in-game item in CS:GO, Bayonet is a standard military knife you can find in almost any FPS game. It's a weapon of choice for the most dedicated CS:GO players, and despite being just a plain knife, it can easily reach 100$ and beyond.
Conclusion
Now that you have all the information you need on the best CS:GO knife skin types in 2021, it's time to arm yourself and prepare for the incoming battle. If they drew first blood, that's because they didn't know who they're dealing with. These knife skins will make sure your opponents remember you. That is if they can see you.