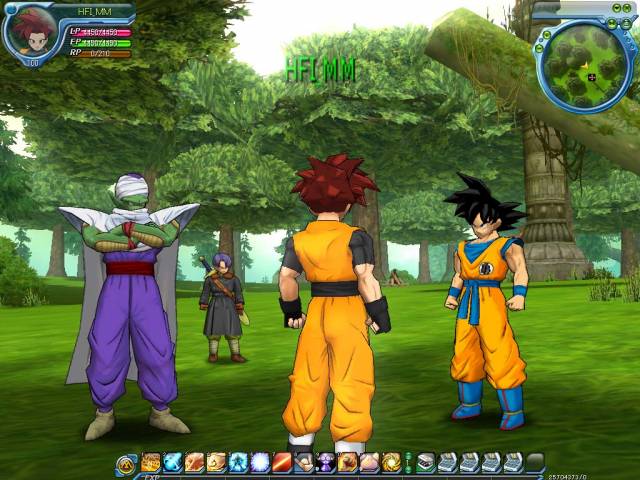 Dragon Ball Online takes place on Earth, 216 years after the events at the conclusion of the Dragon Ball manga series. The villians in Dragonball Online is an evil organisation known as the Dark Eye. The Dark Eye are time meddlers who are changing the events of the past. The members of Dark Eye are under the effects of mind control. Mind controlled victims are characterized by a green gem marked with an "X" that rests in their forehead. The Mastermind behind the Dark Eye Organisation is currently unknown.
Total Rating: 7.35
Reviews: 20
Review Archive
Post Date: 14:21 18-02-2015
Rating: 10
Author: Xicor97
Comment: Nice game 10/10 from me i rly like dragon ball 😀
Post Date: 01:18 07-01-2015
Rating: 9
Author: thundemp2007
Comment: One of the famous tv anime series which gives big contribution in the world of anime has been developed by NTL into a game.With great character and classes to choose from like Human,Namekian and Majin races and great story and gameplay are the interesting factors why this game is very nice. The battle effects are also good so I rate it 9/10
Post Date: 23:06 16-12-2014
Rating: 8
Author: porosnack265
Comment: Nice i like anime too much and game…I dont knowwhat to say…
Post Date: 19:42 25-06-2014
Rating: 10
Author: FrendlyLeBlanc
Comment: Great!!! Dragon Ball always god 🙂
Powers are great and one on of the best if no best Dragon ball which i played 🙂
10 🙂
Post Date: 22:16 20-03-2014
Rating: 10
Author: zv0n3w0w
Comment: Old one But still 1 of the Beat games ever!
Post Date: 22:31 10-10-2013
Rating: 8
Author: Mordekaiser
Comment: I think its an alright game the graphics look really good and the story for the game is just like the anime also u get to use skills and level up not like most anime games i have played this one is really really good and i have to give it a 8/10 even though im not into anime video games
Post Date: 20:51 10-03-2013
Rating: 10
Author: User Name
Comment: Denzell 22
Prince
231
Xmen
Post Date: 20:00 27-12-2012
Rating: 10
Author: gokuman
Comment: i love dbo i wish i could just know how to play it if you know please tell me
Post Date: 18:21 26-12-2012
Rating: 9
Author: Natdanai
Comment: wow this game is just to great i love anime games .
Post Date: 00:15 18-12-2012
Rating: 10
Author: Mordekaiser
Comment: This game is pretty good the graphics are very nice if you like the ANIME/MANGA about this then you should check it out and also the combat is epic and great just awesome
Post Date: 12:43 30-09-2012
Rating: 10
Author: mio
Comment: yes
Post Date: 02:45 03-08-2012
Rating: 7
Author: Swordhunter
Comment: U need to put the Dragon Ball game in english, u guys explane what is and what its about in english, then we go to it and find out its not in english!
Post Date: 17:24 10-07-2012
Rating: 0
Author: AngryPlayer
Comment: this game sucks cant evin gett it to oepin and evin if i did the english pach is hard to do anyway so fuck this stuped game that i did want to play
Post Date: 17:00 25-04-2012
Rating: 6
Author: KuroTsuna
Comment: Dragon ball online is a rip-off and not very good game to begin with. I don't like dragon ball in game since it makes the anime looks bad if people play the game and don't watch the anime and say that it's bad because the game is bad. The gameplay is very similar to other games. That's why this game don't stand out that much. Most people play this game because the famous name dragon ball. The graphics are 3D animated, but I prefer 2D. The skills are funny. The interface of this game is simple and not very interesting.
The characters are funny to see because they are in 3D.
I don't think I will like this game. My only reason to play this game is because it's funny.
Post Date: 10:11 26-02-2012
Rating: 4
Author: Thedarkboy
Comment: As the most people should get, this is based on the anime/manga Dragon Ball. I didn't like it very much though. But it's absolutely not the worst i have played. Since I haven't watched Dragon Ball I didnt find this game amusing. So it should fit those who have seen it.
Post Date: 22:49 28-10-2011
Rating: 5
Author: lumlehsumleh
Comment: this is not such a good game,, i dont know if it was my computer, but the game was very laggy for me. im a big fan of DBZ and i thought it was going to be fun, but i thought wrong.
Post Date: 20:24 08-10-2011
Rating: 1
Author: Dragonball-
Comment: I can't read it!!!!!!!!!!!!!!!
Post Date: 11:32 03-04-2011
Rating: 4
Author: Adrian
Comment: I guess if your into Dragon Ball Z, then you'll like this. The gameplay seemed lacking too me, and the graphics could be better.
Post Date: 08:42 03-04-2011
Rating: 7
Author: dantabletennis
Comment: This is actually a good game! Gameplay is brilliant but graphics arent amazing! 7/10
Post Date: 10:30 10-11-2010
Rating: 9
Author: woolimis
Comment: Wow. It's a korean site. good thing i know how to read it~ but takes me a long time translating it… But overall, the graphics are great, considering it is a korean game based off a japanese manga.. The storyline is interesting, haven't gotten that far into the game yet.