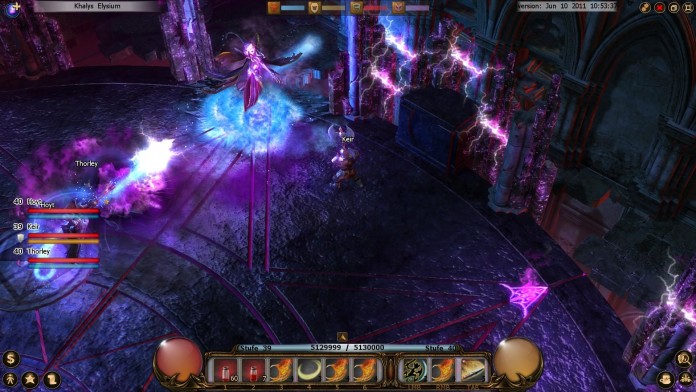 The time has come for a new order of warrior to step into battle and fight the terrifying dragons and savage monsters of the Anderworld. Join your comrades to wage a brutal war against evil in Drakensang Online, the epic new browser-based action RPG game. Prepare yourself for Drakensang Online: Extraordinary 3D graphics and effects directly in your browser. Epic story with countless quests. Breathtaking range of landscapes filled with hostile monsters. As a fearless Dragonknight freedom fighter or a wise and magical Spellweaver, you must unite with your fellow warriors within the Drakensang Online game and learn new skills for one last, epic struggle for freedom.
Post Date: 22:01 14-11-2014
Rating: 10
Author: Wildout
Comment: I've been playing this game for over 3 months, i am trhrilled, the game is so good and well-designed, i found nothing bad with this game 🙂
Post Date: 15:29 05-09-2014
Rating: 10
Author: UchihaGuy
Comment: For a browser game its too good…even some games which need to download aren't that good as this one…it has 40 levels when i lasttime played it…amazing graphics, cool spells, quests are kinda borring like almost every oher MMORPG.maps aren't that big but they are good…what i liked the most in this game is arena battles. in PVP you have 1v1, 3v3, 5v5 and 6v6 arena battles. their pay to get points are not that expensive, they are called andermants which can even be obitained by just farming random creeps at random maps, 1600 andermants when i played i thinkt they were about 2 euros or something like that and they are worth buying…much easier to play with some items bought with andermants. Classes are cool, it has wizzard, some kinda warrior, archer and new one which idk what its called. you should try this game for sure, its worth wasting time on it, much fun 🙂
Post Date: 16:17 02-10-2013
Rating: 0
Author: FastEs
Comment: Advertised as F2P the game is constantly gouging money from players at every turn. After 2 months of paying $13.00/month for premium (without which your progress would be SUBSTANTIALLY limited) I quit in disgust after they removed the capacity to farm anderment-currency effectively. The ongoing (and increasing) stinginess of drops got to be too much fast. Don't bother; there's much better games to pay for.
Post Date: 02:31 06-09-2013
Rating: 0
Author: logen9
Comment: Boring compared to Diablo 1, 2, or 3…..it can't even hold a candle to those games.
Post Date: 18:30 18-03-2013
Rating: 7
Author: Webber
Comment: Dance of Blades is coming. Drakensang was good for a time but needs a kick up the rear to move past the pack of other online rpgs imo.
Post Date: 11:50 05-07-2012
Rating: 10
Author: Thedarkboy
Comment: Drakensang Online is a browser game which is great since you don't need to download anything at all. Currently Drakensang got 3 classes, Dragon Knight, Spellweaver and Ranger. You probably don't think it's many but more classes will probably arrive. I am currently using Spellweaver. I have always prefered magicians in any kinds of games. Although sometimes for me it gets a little laggy. I have no idea if it's my computer or just the game. Drakensang got really nice graphics considering it's a browser game. I haven't seen another browser game with this good graphics.
Post Date: 22:28 23-06-2012
Rating: 8
Author: florentall
Comment: Drakensang is an online browser game which looks like diablo.
You can choose between 3 races: Ranger, Spellweaver or Dragonknight. Which could be (fe)male. The best thing about it, that it is dutch (at least for me) which makes the game easier to understand. The game has many options/quests and things you can buy (weapons/armor etc).

The game is easy to play and lag free for me. That is why the game deserves an eight from me.
Post Date: 11:28 25-04-2012
Rating: 10
Author: Dmt_2000
Comment: This game is so cool but i get lag in it so that kinda sucks but the games graphic's are so nice they are to die for for a browser game if you like diablo type games type games or dungeon type or medevil type games then you should play this
Post Date: 04:56 25-04-2012
Rating: 8
Author: Ichigohollowfied
Comment: Thus far in Drakensang Online Beta, I have leveled to lvl 22. The current cap is 40 and so far I am pleased with the game.

As far as your character goes you can choose between a male and female Ranger, Spellweaver, or DragonKnight. I play as a ranger and noticed at a point that they are a little unbalanced compared to a Spellweaver. Spellweaver's have mana which raises as you level up. However, Rangers have concentration which stays at the base level. There may/may not be an item to increase how much concentration you have but as of not I do not see one.

Now talking about the game developers, Bigpoint. I haven't played many games by them but in this game it appears that they have a problem addressing a drastic bug. The biggest one being the chat which can disappear and will not come back under most conditions. Sometimes it will reappear then disappear again. I'm not quite sure if they listen to the community really though.

Languages – Although the game is in English, but uses commas instead of periods in some places, many of the gamers will speak in spanish and therefore you cannot create a group to venture with others into dungeons with maximum communication.

As for DSO being an RPG, I give it an 8/10 on this point. I have to say that weapons/armor I give a thumbs up. I have never seen something where you can work your butt off to get personal gear. Graphics are pretty nice as well and the game runs pretty smoothly. You can also download a client I think for the game (I haven't found it but I've read about it)

The reasons I dislike this game are due to the lack of attention the game producers appear to give the players. The PvP function (although I do not pvp I did try it out to criticize it) is absolutely terrible/rigged. There is no balance in the PvP system. And finally, the in-game advertising for adermant. I am not used to being bombarded with ads usually in games. In RuneScape for example this is against their terms of service. (HOWEVER, They have gone against this in their last update.) So as far as greed goes the game developers seem fair since there is no P2P equivalent/member service. You can buy adermant to increase how fast your character levels and give your character the best equipment though.

-Ichi
Post Date: 14:36 24-04-2012
Rating: 10
Author: Thedarkboy
Comment: Drakensang Online is one of the best Browser games I've ever played. Right now Drakensang have 3 classes, mage, warrior and bowman.. It's really hard to find a game as great as this is. It's even better if you have friends to play with. But it can still be fun if you play with other people. I recommend it bigtime to everyone. This isn't one of those game that you waste your time with. It's even free and doesn't need to download.
Post Date: 13:40 24-04-2012
Rating: 9
Author: KuroTsuna
Comment: Drakensang is a very easy to play game. Leveling in this game isn't that fast and there's a lot of quests to do. Drakensang have 3 classes now, mage,warrior and bowman classe but they have a different name. The gameplay is simple, yet so different. The graphics could be better,if they had a HD function in it. For the first time playing this game is a very nice game experenience.
Post Date: 04:27 01-04-2012
Rating: 10
Author: Roadie
Comment: Dsang is easy to play. I don't have to dl anything. The community is better than I thought. I was able to find a group easy. I also met a new friend xD.
Post Date: 14:58 26-03-2012
Rating: 10
Author: buzzsaw
Comment: Awesome action RPG that does Diablo justice in a browser. Play for hours without stopping to see what I mean. I can't wait to play on GO!
Post Date: 03:45 25-03-2012
Rating: 10
Author: Webber
Comment: Drakensang is an excellent choice for a browser RPG. The quality is awesome for a game that you do not need to download. The graphics are crisp and the action is intense as hell. Two thumbs up all the way!
Post Date: 19:12 21-03-2012
Rating: 10
Author: mmowiz
Comment: i will play drakensang until at least diablo3 comes out. so far i think it is the best browser mmo like the diablos
Post Date: 07:01 17-03-2012
Rating: 10
Author: hack10
Comment: Drakensang Online is a 3D browser game similar to Diablo3, which releases on this year May 5th. However, the game pretty much similar to Diablo3, for example, the graphics, skill shots, classes, and even environmental. I have tried this game once, it is fun to play, and it's FREE
Post Date: 01:27 16-03-2012
Rating: 10
Author: Joker
Comment: Drakensang is the best browser game you can play! The graphics kill any other browser game i have ever played and the gameplay is like one of my fav games ever. the best is that i will be able to play on GO!
Post Date: 10:33 14-03-2012
Rating: 10
Author: Thedarkboy
Comment: A really nice game to play. It's far better then any else browser games. At least the ones I've played. The graphics are also magnificent. Hard to find this good graphics with a browser game. I don't really like that it only got 2 classes though. Would be more fun if it had more classes. But that's probably the only thing I can come up with that's bad. Everyone should try it. It really is worth trying and you won't waste your time.
Post Date: 09:41 16-02-2012
Rating: 10
Author: gamegenre
Comment: Got a build

Darkensang -a third-person party-based RPG Game based on the pen & paper role-play rules of The Dark Eye
Post Date: 17:06 15-02-2012
Rating: 9
Author: buzzsaw
Comment: The best browser RPG I have played since Heroes of Neverwinter. Drakensang is a lot like Diablo but not a cheap clone. The graphics are superb. The only points I would take off for is combat gets a little repetitive.
Post Date: 17:35 08-02-2012
Rating: 10
Author: Joker
Comment: I have loved action rpgs ever since Diablo. Playing in my browser is icing on the cake. If you havent already check out Drakensang Online. Any Diablo fan will love it!
Post Date: 06:52 17-09-2011
Rating: 10
Author: MastrDragn
Comment: Amazing graphics in a browser! Highly Recommend it!
Post Date: 09:20 27-08-2011
Rating: 10
Author: Trigun
Comment: Drakensang is awesome for a browser MMO! The game play and graphics are top notch. Highly recommended.
Post Date: 09:54 20-08-2011
Rating: 6
Author: dantabletennis
Comment: Bigpoint, trying for another massive multiplayer, trying to be at the top, its not that good of a game if you ask me, graphics are pretty good, but there are not alot of classes, it can get boring after a while too!
Post Date: 18:51 14-08-2011
Rating: 10
Author: Supernatural
Comment: Browser based game, kinda feels like Diablo and Titan Quest. Awesome graphic for a browser based game, even on full screen on my huge monitor.
The game has 2 classes, Mage and Warrior, standard mmo type but it has something which makes it really fun.

People with low spec PC should def. try it, they may end up playing all day xD 🙂