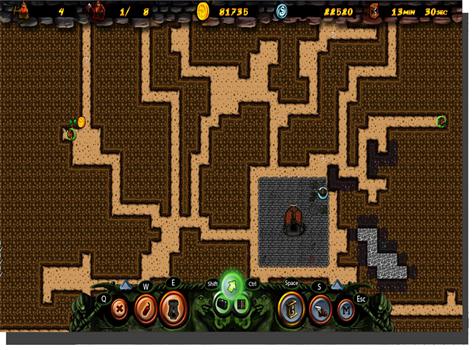 Dwarfs!?' offers an addictive, fast paced arcade-like experience, with plenty of difficulties and game modes to play around in! In this game, your own Dwarfs double as your greatest asset and worst threat. They explore for you, they mine for you and they fight for you — but if you don't keep an eye on them, they'll do what they do best: die for you and take everyone else with them! Nothing in 'Dwarfs!?' is free, though. To force your 'loyal subjects' to do your bidding, you must cough up the gold. The same gold that might save your beard when someone, somewhere disturbs a Spider Queen.
Post Date: 16:14 28-07-2015
Rating: 2
Author: axwellshm
Comment: Nah, I don't like this game. For me it doesn't have any theme, and it's quite frustrating. It gets boring really fast… SO yeah, I don't think this game is cool. Not for me….
Post Date: 09:06 15-11-2014
Rating: 6
Author: arZ
Comment: Dwarfs is logic game, really addictive with a nice graphic.
you need some time to learn how to play this game, so after it this game is really fun to play. I rate this game with 6/10. Graphic is not bad, but I dont like the music.
Post Date: 22:37 27-03-2013
Rating: 7
Author: Mordekaiser
Comment: Very addictive game also graphics are great and its quite fast paced for a little indie game also you mine stuff and earn more money and its has dwarfs and beards so go and play it if it has beards you know its good
Post Date: 08:30 03-09-2011
Rating: 7
Author: buzzsaw
Comment: Dwarfs is fun timekiller if you don't mind basic graphics. I have played it for weeks. The price is good for the amount replay value.