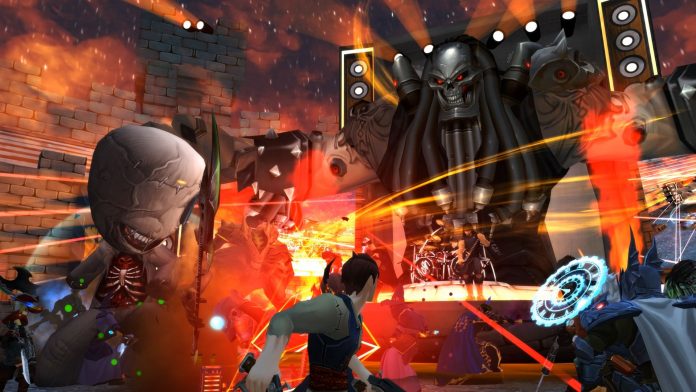 Join in the monster mosh pit and hear Korn's hits including "Cold" AdventureQuest – Korn Battle Concert
Artix Entertainment is excited to announce that KORN will be in AdventureQuest 3D and AQWorlds for encore performances from now until September 20th. During the limited-time massive multiplayer concert, fans will get to hear their favorite Korn hits as well as the latest track "Cold" from the upcoming album THE NOTHING.
Fans have been clamoring to attend the Korn battle concert series taking place in free to play fantasy MMORPGs AdventureQuest 3D and AQWorlds. There is still time for fans to experience the music-driven mayhem featuring the in-game versions of genre-defining giants Korn. Throughout the series of encore performances, fans will also be able to hear the latest song "Cold" and enjoy an extended concert for even more monster-bashing headbanging action.
KORN Encore Performances
During the epic concert, players will be tasked with defeating as many of the nightmarish monsters as possible to collect a treasure chest of special event loot before the end of each song. Players can also pick up quests in the concert lobby to unlock additional themed weapons and gear. Korn superfans can also get the VIP Special Event collection as well as the newly added Punk Mage armor set by completing backstage quests during the limited-time encore performances.
Punk Mage Armor
Players can get their adrenaline pumping and hear "Cold" and other iconic hits from now until September 20 in AdventureQuest 3D on iOS, Android, and Steam or in AdventureQuest Worlds.
About Artix Entertainment
Artix Entertainment creates video games filled with monsters, magic, and amazing stories for mobile, web, and PC. With a team of 30+ developers, Artix Entertainment has created the worlds of AdventureQuest 3D, AdventureQuest Worlds, and the original AdventureQuest that dominated high school computer labs. Many of their games are updated weekly with new content for players. Their first live in-game music event was held on Friday the 13th of March, 2009. For more information on Artix Entertainment, please visit https://www.artix.com/
About KORN
KORN changed the world with the release of their self-titled debut album. It was a record that would pioneer a genre, while the band's enduring success points to a larger cultural moment. The Fader notes, "There was an unexpected opening in the pop landscape and KORN articulated a generational coming-of-angst for a claustrophobic, self-surveilled consciousness. Korn became the soundtrack for a generation's arrival as a snarling, thrashing, systemically-restrained freak show."
Since forming, KORN has sold 40 million albums worldwide, collected two GRAMMYS, toured the world countless times, and set many records in the process that will likely never be surpassed. Vocalist Jonathan Davis, guitarists James "Munky" Shaffer and Brian "Head" Welch, bassist Reginald "Fieldy" Arvizu, and drummer Ray Luzier, have continued to push the limits of the rock, alternative and metal genres, while remaining a pillar of influence for legions of fans and generations of artists around the globe. The level of KORN's reach transcends accolades and platinum certifications. They are "a genuine movement in a way bands cannot be now," attests The Ringer. They represent a new archetype and radical innovation, their ability to transcend genre makes barriers seem irrelevant.