Endless Online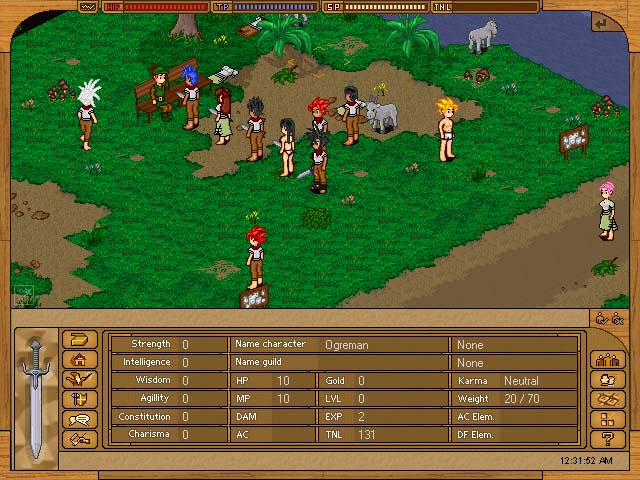 Game Description and Comments
Endless Online is a 2D fantasy MMORPG with anime graphics. This game is somewhat in the mold of RuneScape, but has more colorful graphics due to the anime and a substantially smaller player base. Some of GameOgre's Review Directory members enjoy the game, but have penalized it for server problems. Keep in mind that although this game is playable, Endless online is still in Alpha.
When you start the game, the first thing that you will need to do is grab some clothes or your little anime character will be running around in its underwear. As can be seen in the screenshot above, one player had others line up to get free gold. Movement is very limited so standing in a line like that is quite easy. All in all, this is mainly a game for people who want a MMORPG that is free and does not require a huge download. In fact, the entire game client is currently under 10MB.
Select User Reviews (Edited for Presentation)
Author: WOOT
Rating: 10
Comment: Really good game. The best MMORPG that I have ever played. The only bad thing sometimes is that it is real hard to log in. However, most of the time it is not too hard. You should download it and try it out.
It is great!
Author: dac280
Rating: 2
Comment: This game needs major improvement. Endless Online has bad graphics, terrible gameplay and no storyline! Thus, no good or evil! This game needs to get into the 21st Century before it loses players. The only game that I hate more than this is RuneScape.
Author: Renmak
Rating: 6
Comment: It is ok. The graphics are a little out there and no sound. However, it is a great game to meet people. Killing things is fun too.
Author: kaitori
Rating: 8
Comment: The only thing that I really hate is the login time. It takes forever to login, but besides that it is a great game. It is really fun to trade and to get different equipment.
Pricing Model
Endless Online is completely free to play since it is still in Alpha.
Past Featured Online Games of the Week:
Little Fighter 2
Arcade-style fighting with very colorful characters that can be played online.
Hobo Wars
Free Online RPG with heaping doses of originality and humor.
Neocron 2
Controversial MMO that offers both FPS and RPG elements.
Anarchy Online
Major sci-fi MMORPG with both a pay-to-play and a free version, Anarchy Online.
Eve Online
Science-fiction MMO that gives you considerable freedom in space, Eve Online.
Supreme Destiny
Free 3D MMORPG with both an English and a Korean version.
Guild Wars
Retail RPG with free online play that won GameOgre.com's Best Gaming Value award for 2005.
Thang Online
Free 3D MMORPG with a huge focus on action and a unique monster system, Thang Online.
ROSE Online
Cartoon-style MMORPG where you can have a major effect on the gaming world.
Conquer Online
A free MMORPG set in an ancient Chinese Kungfu world with nice anime-style graphics.
Rubies of Eventide
A free MMORPG that melds 3D graphics with incredibly deep gameplay.
Ragnarok Online
Popular MMO with cartoon graphics and several innovative features, Ragnarock Online.
Ashen Empires
Medieval Fantasy MMORPG that was once known as Dransik.
Pardus
Free Massive Multiplayer Online Browser Game (MMOBG) where you can trade or pillage in space.
FlyFF: Fly For Fun
Check out a free MMORPG with colorful graphics and solid gameplay where players fly on boards and broomsticks.
Puzzle Pirates
Assume the role of a pirate on the high seas in this puzzling free MMORPG.
Maple Story
Take a look at a MMORPG with cartoon-style graphics that is free to download and play.
GunZ
A game that lets you live out your action movie fantasies online.
BattleMaster
A little-known free Online RPG with strong strategy elements.
Adventure Quest
Take a closer look at one of the more colorful free online RPGs.
Knight Online
Check out one of the best free 3D MMORPGs.
RuneScape
GameOgre.com takes a closer look at one of the more popular Free MMORPGs.