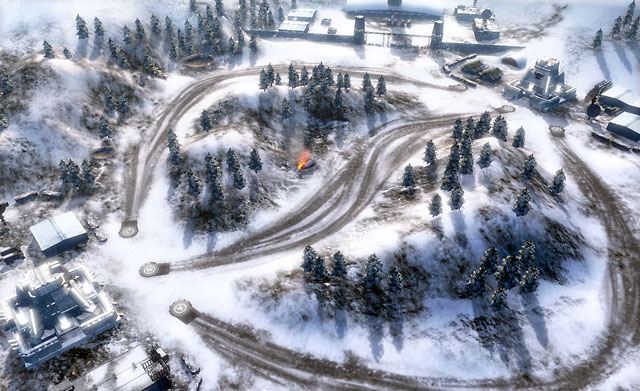 Join the global power struggle for the last resources in the new Theater of War. Side with the high-tech European Enforcers or use brute force tactics as Russia's Spetsnaz. Battle for contested territories and help your faction gain power.
Post Date: 09:29 11-04-2015
Rating: 9
Author: LosmiK
Comment: Endwar, first off is the only RTS ive seen that shows true realism and strategy. other RTSs ive seen is merely who has the most forces, now with Endwar its not how many you have but how you use them. and true history has shown us that numbers dont mean anything. think about the US forces in Iraq, or Afghanistan. when Desert Storm happend we has maybe 20,000 soldiers there against 500,000-1,000,000 enemies. but because of tactics they prevaled. and thats what this RTS is about. its about how efficently you can think as a General. and how smart you are when it comes to commanding troops. simply charging all your troops at once would be foolish as one well placed artillery strike would end it.
i rate this game a 10 because thios is the only RTS in exsistance that brings in true realism and Strategy in to the gaming world. plus i think the game was really fun.
Post Date: 12:21 15-03-2015
Rating: 8
Author: axwellshm
Comment: Really good game. I think that Tom Clancy's Series of games are really good games. So as this one. The theme, EU vs Russia is really likely as this situation today. I will give a rate 8/10.
Post Date: 22:07 09-01-2015
Rating: 7
Author: arZ
Comment: The developer and publisher from the Tom Clancys End War is the popular personal computer game company Ubisoft and the game was released end of the year 2008 or consoles ( play station, nintendo DS and X Box 360 ). Tom Clancy's End War
is a real time tactic game and its a turn based system game.

The game got a really nice camera system, with a really nice graphics and sound this game got an interesting story. Its about a world that fighting for oil. America, Russia and European Nations are in the war, but i need to say, they could make much more about the story. Story is good but
simple. There is a funny voice navigation in the game. You can navigate all your units in game with voice call. But you need a good headset with microphone for it. And the cool thing is, you dont need to talk like a robot. There is an options to use the keyboard too, but its slow and
when you play against someone that is using the voice system you will be destroyed fast. The typical mission in the game is to capture different points and to defend them. But its not so easy, they are defending by the enemy
troops, and after you get it the enemy troops will try to take them back. The troops that survive in the combat after each stage can be repaired and they can level up to. The actual game play is really fun. Its not about
rushing the enemy, its about timing and strategy. You really need some smart moves to clear the stages fast and easy and you need a quick reactions. So the single player is lot of fun but multy player game mode is more fun. There is a way to play some game against other players in
a battle two versus two.

I really enjoyed the game playing with the voice system. This is a first game that I ever played with it. It was at first little bit difficult because of my bad English but after few games it was ok. People with a bad English
would have some problems playing this funny game. On the keyboard was it to slow and could not handle some troops. It was to hard. The graphic from the game is really good, but you will always find some texture bugs that should be fixed. Graphic effect are nice, bomb exploding animations are really cool. Sound effects are nice too and the music in
game is relaxing. Really like the multy player battle mode, two versus two. Single player mode is little bit to hard but after few game you can clear the stages easy. Story is nice, with the oil war, but they could add more to the story. I rate this game with the note 7/10 because its hard to play on the keyboard, and hard to play for people they dont speak so well English. But still funny game.
Who like world war games this is a game for you!
Post Date: 23:20 03-11-2014
Rating: 8
Author: Mihajlo
Comment: Tom Clancy's EndWar Online is World War III oriented RTS game. The campaign is split into two parts – a Prelude to War ,which explains backstory of World War III, and the Third World War itself. I'd recommend this game to every RTS lover. I rate this game 8/10
Post Date: 14:47 24-06-2014
Rating: 8
Author: FrendlyLeBlanc
Comment: Look nice 🙂 Must try i not download yet because i dowload Fc3 but will try :0
For gp 8 🙂
Post Date: 14:39 24-06-2014
Rating: 8
Author: TheCantWait
Comment: Casual but interesting game. I suggest you to try 🙂
Post Date: 10:03 24-06-2014
Rating: 8
Author: Shokata
Comment: Very interesting game 🙂