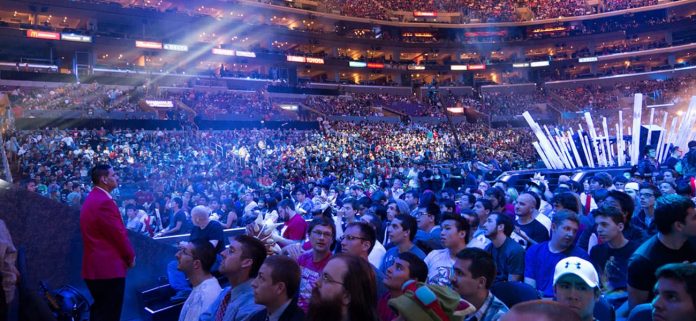 It is no secret that Counter Logic Gaming (CLG) is not at all happy with the performance of their League of Legends Championship Series team. CLG's general manager, Daniel "Tafokints" Lee, wasn't subtle when advising his charges of possible changes in the future.
"I am looking at roster swaps," Tafokints said to the team. "It's been a little over two months, [and] we're not really progressing. There's very likely going to be changes this week. I'm exploring options, so this might be the last time that we have this roster of five playing.
"I know that each one of you guys all worked real hard, and it's hard for me I love each one of you guys," Tafokints said in the video. "You guys are all like my brothers. Just want to respect you guys as much as I can, but understanding that it just isn't working for the team."
CLG is in the basement, along with the Golden Guardians, of the 2021 LCS standings and it seems a change will undoubtedly occur once the curtain closes on the season. Many of the best sportsbooks offer coverage on many of the major esports tournaments, including LCS.
But there is controversy surrounding the video in which the heart-breaking news was broken to the players. You see, this private meeting was released as part of the Bud Light Gaming Cooldown video series, and while the players were being informed their day of reckoning could very well be at hand, the general public was watching their reactions to the news on the spot.
It was tacky, to say the least, and CLG caught immediate flack because of it. LCS commentator, Alberto Rengifo aka Crumbz, tweeted the following:
"Unless you're making a Breaking Point style piece, and this is the trailer, you're going too far. No one looks the better because of this. Consider taking this down CLG."
Subsequently, the organization released the following statement after taking heat on several social media platforms and ultimately deleting the video.
"This morning we published a short post-game video giving a look at behind the scenes of our current season. Our goal was to share an authentic moment with our fans and be as transparent as possible leading up to potential changes that may occur this week. We recognize the negative light that it brings to our players, and for that, we apologize and have taken down the video," the statement said.
Whitecaps Ax Agit
You have to be very careful what you say in this day and age, particularly if you are a public figure and earn your paycheck from a corporate sponsor. And so it was that Agit (AgitPower) Katilmis found that out the hard way when he was caught on a video clip being extremely rude and obnoxious to an opponent with whom he was bickering.
The punishment was swift and unambiguous in a statement released. "Effective immediately, Whitecaps FC have terminated the eMLS contract for player Agit Katilmis due to inappropriate and unprofessional comments made during a recent online game. The seriousness of the matter cannot be overstated and the club strongly condemns these comments."
Katilmis released his own statement following his termination, "to the whole FIFA community and most important to everyone who is struggling with mental health. I'm committed to preventing this from happening ever again and immediately reached out for an anger management program," he added. "I promise I'll take my responsibilities seriously and will aim to be a better person. My behavior was wrong and I hope you can forgive me," Katilmis concluded.
Allied Esports Aligns with ViewSonic
The HyperX Esports Arena, located at the Luxor Hotel and Casino, is a state-of-the-art gaming facility and Allied Sports has chosen ViewSonic to partner with, as articulated in a statement recently released.
"As pandemic restrictions have eased and event dates are now filling up, the timing couldn't be better to bring on a partner like ViewSonic, whose premium products will significantly enhance the gaming experience at HyperX Esports Arena," said Jud Hannigan, CEO of Allied Esports. "We're thrilled to welcome ViewSonic to our family of partners and excited to continue to provide our guests with a setup that takes their gameplay to the next level."
"This is a very special time for ViewSonic and ViewSonic Gaming," said Jeff Volpe, president of ViewSonic Americas. "We're excited to be a part of the Allied Esports family of sponsors and thrilled that this opportunity will get our world-class gaming monitors into the hands of the best gamers from around the globe at the HyperX Esports Arena. ViewSonic has exciting new ELITE gaming products coming to market later this year. This Allied Esports and HyperX Esports Arena sponsorship is just the beginning of our growth and reach in esports and gaming overall."