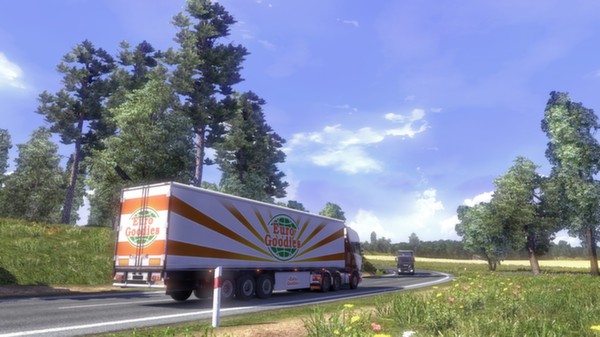 Travel across Europe as king of the road, a trucker who delivers important cargo across impressive distances! With dozens of cities to explore from the UK, Belgium, Germany, Italy, the Netherlands, Poland, and many more, your endurance, skill and speed will all be pushed to their limits.
Post Date: 14:57 27-07-2015
Rating: 10
Author: axwellshm
Comment: Game is perfect. You sometimes get to deep that you believe that you are a truck driver. It's so cool, and so good scripted. Gameplay is pretty simple, follow the rules, drive the truck from destination to destination and earn money.
Post Date: 20:17 13-01-2015
Rating: 7
Author: altot
Comment: A boring simulator of being a truck driver. Horrible and super boring concept done well that covers for all that negativity. Also the community is solid, with a lot of tweaks and modifications to choose from to enhance you gaming experience.
Post Date: 10:10 16-11-2014
Rating: 10
Author: arZ
Comment: Euro Truck Simulator 2 like the names says its a truck simulator and you need to travel across Europe and deliver different cargo across the different countries, like Germany, France, Italy or Slovakia :). Unique game, and really cool relaxing game. I rate this game with the note 10/10. I recommended this game for all, its really easy to play and relaxing 🙂
Post Date: 18:03 25-09-2014
Rating: 10
Author: Garagos
Comment: Euro Truck Simulator 2 is an great game.

Generally
Point of the game is to travel all around the World. When I was playing that was only Europa like continent. I did not expect I won't find any review here, because I though this game was very popular and famous.

Gameplay
When you start game, you get an camion and then you getting some mission. For exemple, your purpose is to arrive to other part of Europe and brings there your camion with something what you carry. I can't remember what was in that big camion, but might be some fuel or foodstuffs… By the way, that is not too much important, more important is that driving of truck. That is part I loved the most. When I driving an camion. I remember that when you have full camion, he was very slow and you need hours and hours of playing to arrive on the target.

Graphic
This is part on which develpers can be proud. I was always cheerfull when I saw that beautiful graphics, you can see where good trees, flowers, road is made perfect. Really good graphic, all part of the stage from begining till the end of your mission are impressive.

Something about ,,history" of the game 🙂
Euro Truck Simulator 2 is a vehicle simulation game developed and published by SCS Software for Microsoft Windows and Linux and was initially released as open development on October 19, 2012. I found this information on Internet to help other players. SOmething else what I can told you it is game is still exist and you can play demo first and then download game for free (I think).
Also, game is placed in hearth of the Europe. Searched for you, you driving across Austria, Belgium, Czech Republic, France, Germany, Hungary, Italy, Luxembourg, Netherlands, Poland, Slovakia, Switzerland, and the United Kingdom.

Conclusion
I played game a long time ago, but I can recommend it to everybody, even if I get some chance in future to play this game, I will play it, because game is fantastic. I am player, who don't like games which are not online, or cars, camions and other vehicle games 🙂
I forgot to tell, there is full one set of the trucks which can be used in the game.
Game deserves attention ! Be careful when you come on this page 🙂 Games calling you 🙂