Face of Mankind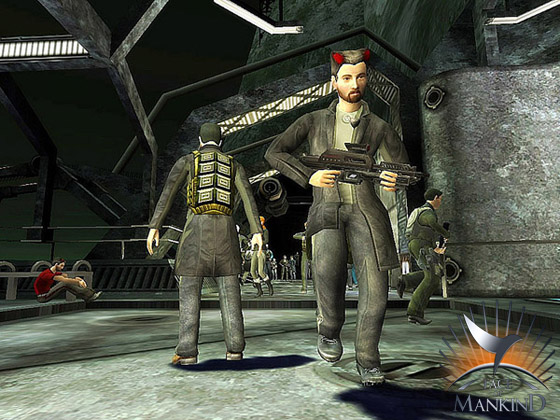 Game Description and Comments
Face of Mankind is a sci-fi MMORPG/MMOFPS that was launched in 2006. FoM is one of those MMOs that depends more on its players than most games because the game is built around factions, deep role-playing, and player-made missions. As can be seen in the sample reviews below, some gamers love this different approach while others find it boring due to lack of content. In other words, this game will likely attract players who are willing to take the effort to immerse themselves in the game while players looking for a game with ready-made content would be probably be better off with other games.
Key Features
Eight factions (Freedom Defense Corps, Guardians of Mankind, Brotherhood of Shadows, Law Enforcement Department, EuroCore, Vortex inc., Colonization and Mining Guild, and Mercenaries of Blood) that are the lifeblood of the game.
Each faction has a leader.
Players create missions.
Strong role-playing elements.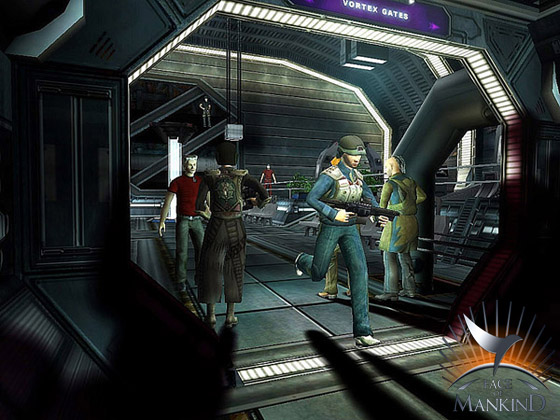 Select Positive Reviews (Edited for Presentation)
Rating: 10
Author: Pending_Enigma
Comment: This game is fantastic now that it has been revamped. The graphics and gameplay are greatly enhanced compared to the prior version. Now in Brooklyn you can wander around reading game guides, while feeling protected due to the turrets. After about a week of playing, you will get the feel for the game and know how everything operates. If you are heavy into role-playing and are into the military, try the FDC. I played for about 8 months and this game is a step into the new generation of MMORPGs. Worthy of a 10! Anyone who gave this game a bad review didn't take the time to really play the game.
Rating: 9
Author: hydracorp
Comment: This game rocks but you just have to play a while in order to learn how to play. This game has great graphics
and has easy controls. Also, PvP rocks and making your own missions is cool. However, it does have some downsides such as the world being pretty small and dieing is really bad.
Select Negative Reviews (Edited for Presentation)
Rating: 3
Author: jocksteeluk
Comment: The way this game is run absolutely ruins any chance you may have of having fun unless you are a high rank in a faction (this doesn't go by EXP this goes by your faction leader promoting you and the criteria for this depends on whether they like you or not). Missions and tasks are made by high ranks in each faction and often these people are not playing. This meaning have nothing to do. Players also get fined penalty points in this game so you have to go to jail for a certain amount of time. The time in jail can vary from 2 minutes to 1 real life month and players often find themselves fined for no apparent reason. To make matters worse, the leading players can often be corrupt and lazy. This totally ruined my experience of this game. If you are willing to pay for a MMORPG then I advise you to look elsewhere. Pick a game where leveling up and doing missions are controlled by yourself and not other players.
Rating: 0
Author: Seph
Comment: Avoid FoM unless you like rerolling a character every hour or so. All the factions work the same for new players: no one will back you up, get equipped, answer simple questions, make a mission so you can get credits, and you will be lucky if you are not gunned down by someone in the same faction as you. Most of the time you will be wandering aimlessly with nothing to do anyway.
Pricing Model
Face of Mankind charges a monthly fee of around $12.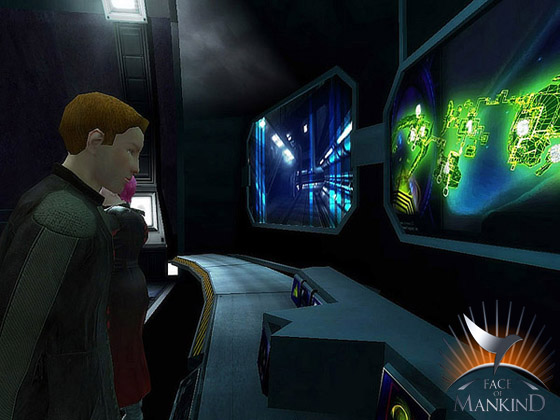 Past Featured Online Games of the Week:
Dark Ages
Often overlooked pay-to-play MMO that offers a 10 day free trial.
Kingdom of Loathing
Free Online RPG where sarcasm and humor reign supreme.
Albatross 18
Innovative game that combines a free MMO with fantasy Golf.
Lands of Hope
Very deep MUD with thousands of graphics that offers free play up to Level 100.
Dark and Light
MMORPG that boasts over 15,000 square-miles of land in its game world, Dark and Light.
Wheel of Time MUD
Free text-based RPG/MUD based on one of the greatest fantasy novel series ever.
Trash
Online RTS game that supports up to 24 players at once and lets you play the human side of the human-mutant conflict for free.
Blood Clans
Free Online RPG with 3D graphics and a focus on playing in clans.
Navy Field
War strategy MMO with RPG elements that can be played for free until level 30.
Guild Wars Factions
Stand alone campaign with new PvP and guild features that also offers free online play.
Starport: Galactic Empires
Free graphical strategy game where you can either play on a persistent server or try to win a 2 week game period.
Rakion
Free 3D MMO with great graphics that offers plenty of PvP action.
Auto Assault
Action 3D MMORPG where you can blow nearly anything up.
Monster and Me
MMORPG intended primarily for younger audiences that is free to play and focuses on pets.
The Saga of Ryzom
Beautiful 3D MMORPG with an intriguing storyline and considerable character freedom.
GunBound
Innovative shooting game with cartoony graphics that lets you face other players in front of an audience.
Shadowbane
A PvP oriented MMO with both RPG and RTS elements.
Silkroad Online
A 3D MMORPG with both historic and fantasy worlds.
RF Online
A sci-fi MMORPG with anime graphics that focuses on PvP.
Renaissance Kingdoms
Very interactive free online RPG with great political and economic aspects.
Xiah
Free 3D MMORPG with a martial arts theme that gamers may want to avoid for the foreseeable future.
Endless Online
Small fantasy MMORPG that has anime graphics and is free to play.
Little Fighter 2
Arcade-style fighting with very colorful characters that can be played online.
Hobo Wars
Free Online RPG with heaping doses of originality and humor.
Neocron 2
Controversial MMO that offers both FPS and RPG elements.
Anarchy Online
Major sci-fi MMORPG with both a pay-to-play and a free version, Anarchy Online.
Eve Online
Science-fiction MMO that gives you considerable freedom in space, Eve Online.
Supreme Destiny
Free 3D MMORPG with both an English and a Korean version.
Guild Wars
Retail RPG with free online play that won GameOgre.com's Best Gaming Value award for 2005.
Thang Online
Free 3D MMORPG with a huge focus on action and a unique monster system, Thang Online.
ROSE Online
Cartoon-style MMORPG where you can have a major effect on the gaming world.
Conquer Online
A free MMORPG set in an ancient Chinese Kungfu world with nice anime-style graphics.
Rubies of Eventide
A free MMORPG that melds 3D graphics with incredibly deep gameplay.
Ragnarok Online
Popular MMO with cartoon graphics and several innovative features, Ragnarock Online.
Ashen Empires
Medieval Fantasy MMORPG that was once known as Dransik.
Pardus
Free Massive Multiplayer Online Browser Game (MMOBG) where you can trade or pillage in space.
FlyFF: Fly For Fun
Check out a free MMORPG with colorful graphics and solid gameplay where players fly on boards and broomsticks.
Puzzle Pirates
Assume the role of a pirate on the high seas in this puzzling free MMORPG.
Maple Story
Take a look at a MMORPG with cartoon-style graphics that is free to download and play.
GunZ
A game that lets you live out your action movie fantasies online.
BattleMaster
A little-known free Online RPG with strong strategy elements.
Adventure Quest
Take a closer look at one of the more colorful free online RPGs.
Knight Online
Check out one of the best free 3D MMORPGs.
RuneScape
GameOgre.com takes a closer look at one of the more popular Free MMORPGs.