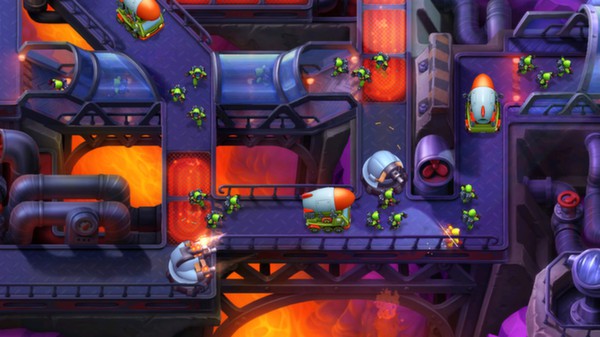 Get ready to DEFEND THE WORLD! The biggest sequel in tower defense history is finally here: Fieldrunners 2 has arrived! From Subatomic Studios, creators of the award winning classic strategy game comes an all new adventure that was years in the making.
Post Date: 09:06 17-11-2014
Rating: 9
Author: arZ
Comment: Fieldrunners 2 is another tower defense game. I love to play this game. He point in this game is to destroy all enemy soldiers before they reach the end of the stage. YOu need to build different towers or better to say weapons to destroy the enemy units. Great game with great graphic and nice sound effects. I rate this game with a note 9/10!
Post Date: 00:54 24-04-2014
Rating: 10
Author: nikiwild
Comment: First, my rating: 10
Multiplayer 0/10
Gameplay 10/10
Graphics 10/10
Sound 9/10

Ok, here it is, the best defending mobile game i have ever seen fieldrunners. I have first played fieldrunners and it was pretty cool, i loved the game, in fact i actually loved every game that has someting to defend, you make towers, mazes so creeps cant pass throught. When i found fr i sad this is the game i love it, i wont stop playing it. And it was like that, i played the game for a really long time, i am really good at it. The point in this game is to make a maze, so the enemy is walking where you want, and not where they want. Go make a so deep maze that will need them a while to get through if they want to destroy the world. Place canons, lasers, fighting guns, upgrade them into better and many more. As i said the point in this game is to survive as many waves as you can, every next wave is harder and harder, more and more enemys are coming, ever few waves there is a boss wave, who is really hard to kill, every couple of waves there is a flying wave, the flying waves are the hardest i think, mazes wont help you in this, you will need good fly killing machines. Fieldrunners 2 is pretty much the same, you have new stages, new guns, and its more better that the first one. Sound in this game is really good, its not annoygin or irritatingm nice for ears, you can disable it and play your own music too. Graphics in game are awesome, perfect 10, for a mobile game is pretty good i can tell you. I have no complains for it. This game can be competetive, make a tournament with your friends, who will survive more waves, set the revards, and it will be much more fun. I personaly would like to see, i mean to make the game online, so we can gather up with frieds and defend together from enemys, or for example, i send troops to him, and he sends to me troops, and we will see who will survive more. Fieldrunners is something like a puzzle, you need to think when you play it. There are some tricks that i can show you when you are building a maze. For example if u destroy one tower, who is of a big matter, minions will try to go throught there, so when they pass the tower, they still need to finish the maze, you destroy the tower, and the enemys will come back to go throught the enrance, and as soon as they reach i build a new one, so they need to go again throught the maze. And if u do that correctly, you will pass any level, i cant garantee you for the flying enemyes but i can garantee for the ground enemyes. So this is my review of this game, i found it pretty good, feel free to try it, its free to play.
Post Date: 17:32 08-02-2013
Rating: 9
Author: Mordekaiser
Comment: This game is a great tower defense game one of the best out there maybe the best of all time the graphics are very nice for a tower defense there are alot of level this game takes awhile to complete not a short game at all very fun lots of towers you can make lots of upgrades for the tower basic tower defense stuff if you like tower defense games then play this