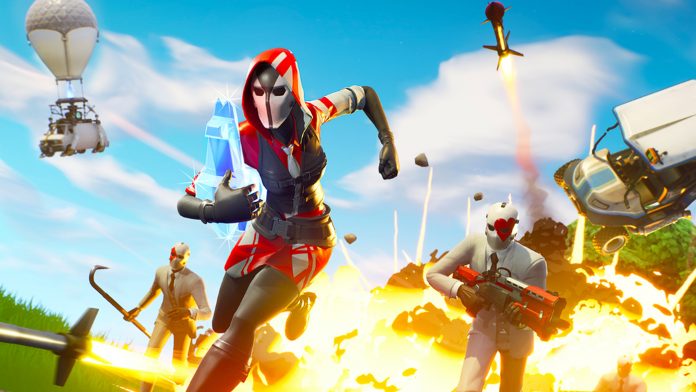 At this point almost everyone has heard of Fortnite. In case you haven't, Fortnite: Battle Royale is an extremely successful MMORPG(Massive Multiplayer Online Role Playing Game) developed by Epic Games. The game has been so successful, Epic Games' value nearly doubled from July to October 2018. Up to 100 players work cooperatively to be the last player or team standing. In doing so, players must build barriers and platforms to gain an advantage.
The dedicated following of Fortnite is massive and at times obsessive. With up to 78 million active users a month, mostly 18-24 year olds, this creates a perfect platform for scammers. Although the use of Vinderbucks, or V-Bucks to improve the cosmetics of your character does not give you any advantage in gameplay, they have become very popular. You can only gain V-Bucks from spending many hours playing the game or by paying for them with actual money. Yet, this has become a common scam among Fortnite thieves.
There are thousands of videos on Youtube that lead you to dangerous links claiming to be affiliated with Fortnite and Epic Games, offering free V-Bucks. These links often times lead to other links that are trying to generate revenue through pay-per-click ads. Regardless of the motives, there are no free V-Bucks. Other times the websites you are being lead to can be quite convincing, and will ask you for your login credentials. While you may think you are logging into your Epic Games account, your credentials are actually being recorded and used to access your account and obtain any financial information you have attached to that account to make in-game purchases in the past. Often times, the chat feature during gameplay is used by scammers you are playing with to entice players to go to one of these sites. A simple comment of a teammates gear or outfit could lead you into a conversation about where to get V-Bucks.
If you are an avid gamer that exposes their devices to many websites, servers, and users it is smart to equip your devices with an antivirus software that will warn you before opening dangerous links that house malware and spyware. Although it is not yet possible to be hacked through the game itself, any personal information you might share with a fellow gamer could provide the scammer with clues and keys to obtaining your information another way.
While you may be looking for cheat codes or ways to improve your gameplay experience on Fortnite, there is no way to do so besides spending money or time within the game. This is one of the ways the free to play game has generated hundreds of millions of dollars a month. Understanding the possible risks and how to stay safe on Fornite and all online games is important for gamers and parents alike. Remind yourself that the people you talk to on the game are strangers and it is impossible to prove their trustworthiness. Three key tips for gaming safely include, equipping yourself with the proper cyber security, never giving up personal information, and never going to a site recommended by another gamer. If you follow these tips you can ensure your gaming experience will be much more enjoyable.