Furcadia
Game Description and Comments
Furcadia is a free fantasy MMORPG that focuses on social interaction and imagination. In fact, the makers of Furcadia call it a MMOSG or Massively Multiplayer Online Social Game. The basic concept is that animals can walk around like humans and speak to each other. Do not expect heavy action and combat because the game is more about interacting with others not killing them. In the place of combat you will find player-created content and heavy doses of roleplaying. While many action MMOs have been axed over the past couple of years, Furcadia has been able to carve out a nice little niche in the industry and thrive.
Key Features
Player created content such as art, games, and various software programs.
Low system requirements.
Extremely active community with contests, festivals, and raffles.
Very small download.
Heavy emphasis on roleplaying.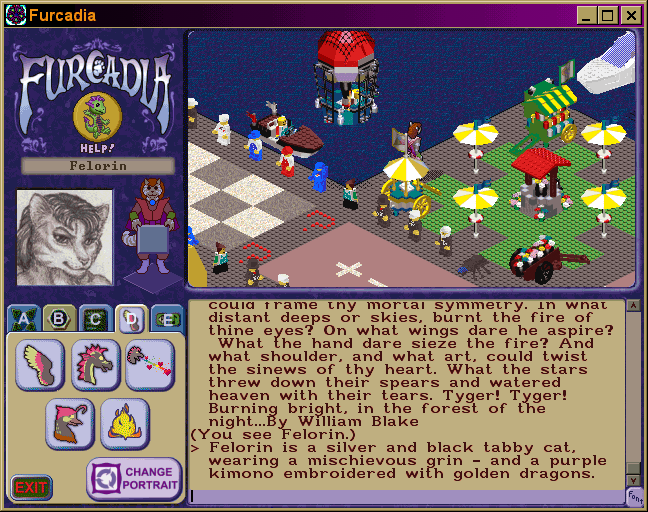 Select Positive Reviews (Edited for Presentation)
Author: Iced
Rating: 10
Comment: There is so much to do. Name it and it can be done. Friendly people and great concept. Awesome RP and chat alike. Built for a variety of people whether kids, teens, or adults. Don't tell me you got bored or there was nothing to do. People who say that probably didn't move anywhere! You have to get OFF your arriving map and go to AI where there are over 200 options on where you go. They have a fairly reliable help source, and even a welcome committee. Awesome game that I have been playing for 4 years.
Author: Jaxpter
Rating: 9
Comment: Furcadia is the ideal Roleplay Medium for those who choose to create their own content. The software allows you to create your own worlds, called "dreams" and script them using the easy to understand "DragonScript Editor." This allows users to program their own game rules, mechanics, etc (More features for this are in the works).

Characters are by default represented by different animals, both real and fantasy. The game also allows for artwork patches to be uploaded with your "dreams" and you may make characters Humans.

Furcadia is designed as a Socially Interactive game and allows for Persona (Free-Form) play or Strict (Regular Rules/Mechs) Roleplay. Furcadia does have its own Continuity, but players are free to design their own and share it with others as mentioned above.

This is one of the most diverse Roleplay engines out there as it allows for any type and genre of Roleplay, though it will require some work on the part of at least one player to set up their own game.
Author: DawnSedai
Rating: 9
Comment: Don't be fooled by the bad start. Furcadia is an excellent example of an MMOSG. It is easy to make your own mini-games like murder mystery games. The possibilities are fully limitless as you can add your own content. I have made a few dreams myself. Even though this might not appeal to most MMORPG gamers, the REAL roleplayers can find themselves at home here. I rate it a nine.
Select Negative Reviews (Edited for Presentation)
Author: MissDeadGothika
Rating: 2
Comment: I went on this game for an hour and got bored within 6 seconds. There is nothing to do. Everywhere I went everyone was asleep and not speaking. The graphics were also terrible. I couldn't use the tutorial and all the help people were offline. I found this game to be rubbish!
Author: Ruij
Rating: 3
Comment: This is basically a role playing chat room with bad graphics and an added "dream making" feature. The sounds are as bad as the graphics. If you like Role Playing, go for it. Otherwise, run for your life!
Pricing Model
Furcadia is free to play and download. The download is only 4.6 MB. However, can buy games items in the Digo Market with real money.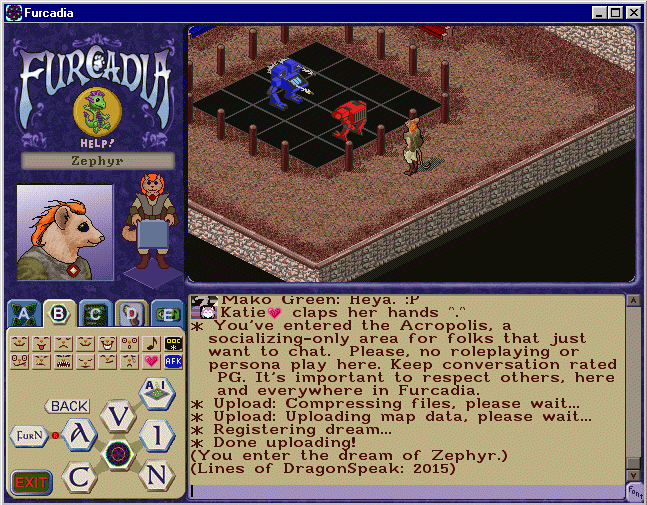 Past Featured Online Games of the Week:
Myth War Online
Free MMORPG with a huge variety of pets, hand-painted graphics, and a very different combat system.
War Rock
Free online tactical shooter with realistic weapons and vehicles.
Tibia
Free MMORPG with a huge player base and multiple player worlds with different playing modes.
Face of Mankind
Innovative MMO where role-playing is key and the players are in control, Face of Mankind.
Dark Ages
Often overlooked pay-to-play MMO that offers a 10 day free trial.
Kingdom of Loathing
Free Online RPG where sarcasm and humor reign supreme.
Albatross 18
Innovative game that combines a free MMO with fantasy Golf.
Lands of Hope
Very deep MUD with thousands of graphics that offers free play up to Level 100.
Dark and Light
MMORPG that boasts over 15,000 square-miles of land in its game world, Dark and Light.
Wheel of Time MUD
Free text-based RPG/MUD based on one of the greatest fantasy novel series ever.
Trash
Online RTS game that supports up to 24 players at once and lets you play the human side of the human-mutant conflict for free.
Blood Clans
Free Online RPG with 3D graphics and a focus on playing in clans.
Navy Field
War strategy MMO with RPG elements that can be played for free until level 30.
Guild Wars Factions
Stand alone campaign with new PvP and guild features that also offers free online play.
Starport: Galactic Empires
Free graphical strategy game where you can either play on a persistent server or try to win a 2 week game period.
Rakion
Free 3D MMO with great graphics that offers plenty of PvP action.
Auto Assault
Action 3D MMORPG where you can blow nearly anything up.
Monster and Me
MMORPG intended primarily for younger audiences that is free to play and focuses on pets.
The Saga of Ryzom
Beautiful 3D MMORPG with an intriguing storyline and considerable character freedom.
GunBound
Innovative shooting game with cartoony graphics that lets you face other players in front of an audience.
Shadowbane
A PvP oriented MMO with both RPG and RTS elements.
Silkroad Online
A 3D MMORPG with both historic and fantasy worlds.
RF Online
A sci-fi MMORPG with anime graphics that focuses on PvP.
Renaissance Kingdoms
Very interactive free online RPG with great political and economic aspects.
Xiah
Free 3D MMORPG with a martial arts theme that gamers may want to avoid for the foreseeable future.
Endless Online
Small fantasy MMORPG that has anime graphics and is free to play.
Little Fighter 2
Arcade-style fighting with very colorful characters that can be played online.
Hobo Wars
Free Online RPG with heaping doses of originality and humor.
Neocron 2
Controversial MMO that offers both FPS and RPG elements.
Anarchy Online
Major sci-fi MMORPG with both a pay-to-play and a free version, Anarchy Online.
Eve Online
Science-fiction MMO that gives you considerable freedom in space, Eve Online.
Supreme Destiny
Free 3D MMORPG with both an English and a Korean version.
Guild Wars
Retail RPG with free online play that won GameOgre.com's Best Gaming Value award for 2005.
Thang Online
Free 3D MMORPG with a huge focus on action and a unique monster system, Thang Online.
ROSE Online
Cartoon-style MMORPG where you can have a major effect on the gaming world.
Conquer Online
A free MMORPG set in an ancient Chinese Kungfu world with nice anime-style graphics.
Rubies of Eventide
A free MMORPG that melds 3D graphics with incredibly deep gameplay.
Ragnarok Online
Popular MMO with cartoon graphics and several innovative features, Ragnarock Online.
Ashen Empires
Medieval Fantasy MMORPG that was once known as Dransik.
Pardus
Free Massive Multiplayer Online Browser Game (MMOBG) where you can trade or pillage in space.
FlyFF: Fly For Fun
Check out a free MMORPG with colorful graphics and solid gameplay where players fly on boards and broomsticks.
Puzzle Pirates
Assume the role of a pirate on the high seas in this puzzling free MMORPG.
Maple Story
Take a look at a MMORPG with cartoon-style graphics that is free to download and play.
GunZ
A game that lets you live out your action movie fantasies online.
BattleMaster
A little-known free Online RPG with strong strategy elements.
Adventure Quest
Take a closer look at one of the more colorful free online RPGs.
Knight Online
Check out one of the best free 3D MMORPGs.
RuneScape
GameOgre.com takes a closer look at one of the more popular Free MMORPGs.