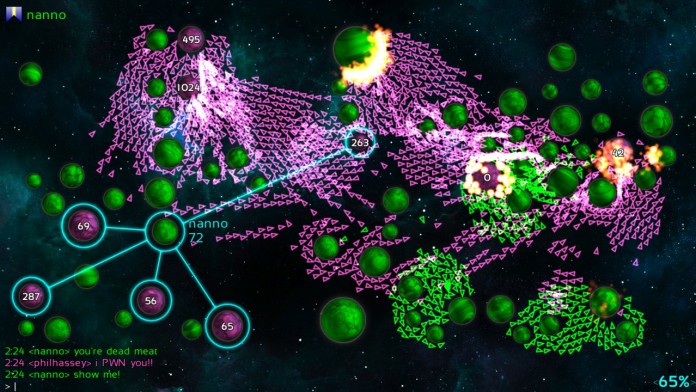 Conquer the Galaxy like never before! Galcon Fusion is an awesome high-paced multi-player galactic arcade-strategy game. Send swarms of ships to defeat enemy planets and conquer the universe!
Post Date: 15:04 19-11-2014
Rating: 7
Author: arZ
Comment: Galcon Fusion is a galaxy space game. Its a strategy acrade game where you need to build different battle ships and defeat the enemy planets. Its little bit to hard to learn but after a few games you will learn it fast. The graphic is not so good but the game is fun. I rate this game with a note 7/10!
Post Date: 13:26 25-12-2012
Rating: 6
Author: Thedarkboy
Comment: I think the game is quite fun. It might be hard to learn how to play the game completely but once you get the hang of it, it will only get better. The graphics are quite bad though. But even though they are bad, the game is still playable. I recommend this game to people that doesn't care very much about the graphics. If you can play without the graphics disturbing you, this is a game for you.
Post Date: 23:07 22-12-2012
Rating: 8
Author: Mordekaiser
Comment: Good Game graphics suck there really bad not the slightest bit good even though the game is fun not worth playing the graphics ruin it