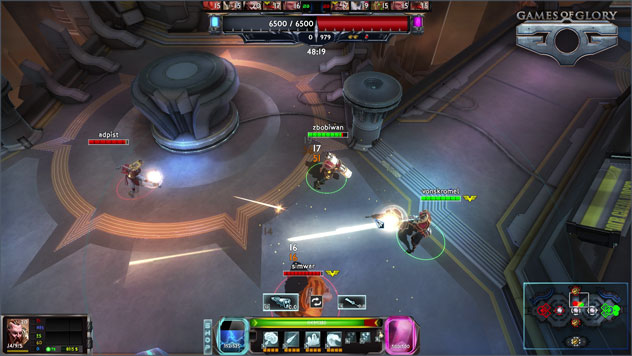 Become a powerful clone handler. Take part in epic battles in the Synarchy's arenas. Its future will be determined by your victories.
Post Date: 09:57 14-04-2015
Rating: 9
Author: LosmiK
Comment: Games of Glory is a sci-fi MOBA that blends multiple genres. The game draws inspiration from both MMOs and the overall MOBA genre, but blends the experience with fast action controls. The experience is action-packed, but team-oriented, with players able to choose from an extensive series of shooter-style weapons to reach their goals. All the action takes place in a persistent universe, where the outcomes will shape the very world.

Each team elects a captain who will determine strategic play. The developers note that they want to "develop the positive social aspects of team play", while reducing negativity and letting players win. The game will feature multiple maps and modes, as well as customization options for your characters, known as Clones.
Post Date: 14:19 12-02-2015
Rating: 6
Author: axwellshm
Comment: It's so similar to League of Legends. From gui, the map kinda it is the league of legends but with some changed graphics, models etc. Since this is "clone game" for me, i will rate 6/10.
Post Date: 17:19 01-11-2014
Rating: 8
Author: Mihajlo
Comment: Games of Glory is sci-fi MOBA game. Characters in this game are called clones. There are currently 8 clones, each one has 4 unique spells and they are divided in 5 groups. I rate this game 8/10
Post Date: 10:04 24-06-2014
Rating: 8
Author: Shokata
Comment: Very nice game , looks like LOL 🙂