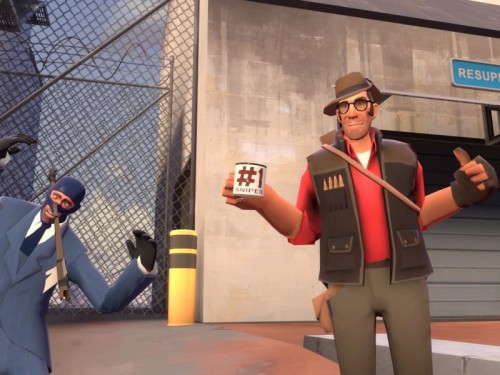 Garrys Mod is a sandbox game. There arent any predefined aims or goals like in regular games. Players are given tools and are left to entertain themselves. It could be used to create comic strips, by posing ragdolls and taking screenshots. It could be used to create and race cars, by welding objects together and adding wheels and thrusters.It could be used to create a house by placing furniture and walls carefully around the map and inviting your friends to explore. Create your own games, or play games created by other users
Post Date: 14:06 29-07-2015
Rating: 10
Author: SulzYee
Comment: This game for me is awesome, you can make some stuff for you, houses, cars, etc. This game is multyplayer too, so you can play it with your friends, strangers…
Good game for only few bucks, about 10 i think?
Post Date: 14:55 27-07-2015
Rating: 10
Author: axwellshm
Comment: Game is pretty funny, it has lots of mods that can be used to play, and it's game that you can have fun with your friends. I really want the game on steam, but unfortunately I can't pay for it…
Post Date: 21:08 07-01-2015
Rating: 8
Author: altot
Comment: Everyone knows about it, it's the well known HL modification that made a breakthrough with it's silly aspect. Garrys mod gives you ALOT of feauters to screw around in your spare time.
Post Date: 15:09 19-11-2014
Rating: 10
Author: arZ
Comment: Garrys Mod is really interesting unique game. In this game there is no end … and you need to do whatever you want. Be creative and entertain yourself. Do whatever is on your mind. Play your own game … Really interesting game. I rate this game with 10/10 because of that unique game idea!
Post Date: 21:26 14-05-2014
Rating: 10
Author: NoVaZz[E]
Comment: Very intuitive for creative minds, if you love to get creative, and if you love the Half Life series, this is the best game for you!There are so many things to be said about this game and this review would go on for pages if you were to explain every single custom gamemode that is on garry's mod.
If you don't own this game, I feel sorry for you.
Post Date: 07:53 29-04-2014
Rating: 10
Author: Frozen
Comment: Garry's Mod (often abbreviated as GMod) is a sandbox physics game using a modified Source engine, created by Garry Newman. Garry's Mod has been available on Valve's content delivery service Steam since November 29, 2006.Purchase of Garry's Mod requires the user to own at least one game on Steam based on the Source engine, such as Half-Life 2, Counter-Strike: Source, Portal, or Team Fortress 2.It is also commonly used for the creation and publishing of videos on YouTube, mainly from Team Fortress 2, Half-Life 2, Portal, Left 4 Dead and Left 4 Dead 2. Garry's Mod was originally a modification for Valve's Half-Life 2, but was later made into a standalone Steam game that was officially released on November 29, 2006 dubbed Garry's Mod 10. The current version, Garry's Mod 13, was released October 24, 2012. In February 2014 it was revealed on Twitter by Newman that the game had "just broke" US$ 30 million.As of November 2013 the game has sold 3.5 million copies.On September 7, 2010, Newman added a feature called the "Toybox" to Garry's Mod.[15] It utilizes the Amazon S3 service to download third party content, such as weapons, props, maps, game modes or models, directly to the users' machine while in game. In an interview with GMod news, Garry Newman said that "One of GMod's biggest draws is the amount of third party content. I want to make it easier for people to utilize that. I really want to move away from having to download files from websites and drag them to folders, that's old school. So that's what I'm heading towards. Maps, models, saved games etc., all saved on the cloud and accessible with a click. Everything should be accessible from in-game. If it isn't, I've failed."
The Toybox was shortly removed, and has been replaced with the Steam Workshop in versions 13 and up. As of February 2014 there are now over 245,000 mods on the Steam Workshop for Garry's Mod and counting.
Although Garry's Mod is usually considered to be a full game, it has no game objective and players can use the game's set of tools for any purpose whatsoever, although sometimes when playing on a multiplayer server it may have role-play or other types of game modes. Garry's Mod allows players to manipulate items, furniture and "props" – various objects that players can place in-game. Props can be selected from any installed Source engine game or from a community created collection. The game features two "guns" – Physics Gun and Tool Gun for manipulating objects. The Physics Gun allows objects to be picked up, adjusted, and frozen in place. The Tool Gun is a multi-purpose tool for performing various tasks, such as combining props, attaching them via ropes, and creating controllable winches and wheels. The Tool Gun is also used to control add-ons created by the community
Another popular Garry's Mod concept is ragdoll posing. The player can instantiate a ragdoll model from a Source game and pose it using a variety of tools.This is a popular tool for making fan-made videos and machinimas.
Garry's Mod takes advantage of the Source engine's modified version of the Havok Physics Engine,which allows players to build contraptions that follow the laws of physics.
Post Date: 17:02 07-04-2014
Rating: 9
Author: DancinGDeaD
Comment: Looks good 🙂
Post Date: 00:27 23-12-2012
Rating: 8
Author: Mordekaiser
Comment: This game is very very good i really liked it one of the best games out there you can do so much stuff graphics are very good and you can have so much fun and its funny as hell the stuff you can do is like piss ur pants funny like in the picture the spy has his hands like that with a arrow in his head thats pretty funny
Post Date: 00:44 09-05-2012
Rating: 10
Author: Ichigohollowfied
Comment: Garry's Mod is truly a one of a kind sandbox. You can create animations with the right programs or simply blow up stuff for the heck of it!Personally I like to blow up stuff but when I am not I like to try and create something out of the tons of items found in Valve games. You can also build/destroy with friends.

It's usually a low cost game when bought via Steam so look it up and try it out.
Post Date: 07:19 17-07-2011
Rating: 10
Author: Roadie
Comment: One-of-a-kind game that is more like a developer tool than a game. A true sandbox experience.