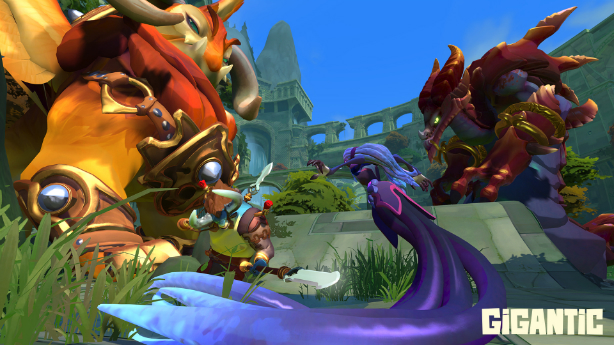 Gigantic is a Fantasy competitive team action MMO in the vein of SMITE or other MOBAs, but with a heavy emphasis on RPG aspects, strategy, and an over-the-shoulder third-person view. Developed by Motiga games out of Seattle, Gigantic is a team action game where heroes battle alongside a massive guardian in a fight for supremacy. A mystical bond connects you and four teammates to your guardian, a magical behemoth too powerful for a single mortal to defeat. Protect your guardian as your team charges across the battlefield, then see it crush your enemies underfoot.
Post Date: 21:52 28-04-2015
Rating: 9
Author: LosmiK
Comment: I like this game, its really good 🙂
Post Date: 12:23 10-02-2015
Rating: 8
Author: axwellshm
Comment: Cool MOBA game, it has some animations pretty close to the cartoon animations, such as shooting and taking damage, but also has a veryyy good graphics. Sounds are also good and the character looking are even more better. Rating 8/10.
Post Date: 14:40 02-11-2014
Rating: 8
Author: Mihajlo
Comment: Gigantic is fast paced 5 on 5, third person view battle arena where 5 unique Heroes team up with giant Guardian. Currently there are 12 different Heroes with 4 unique spells, objective of this game is to bring down the enemy guardian. I rate this game 8/10