Guild Wars Vs. Dungeon Runners
First round match in MMORPG Showdown 3.
The Match-Up
This match-up provides a battle between two NCsoft free-to-play MMORPGs that are both heavy on action. These two MMORPGs also rely heavily on instanced content. After that, the similarities between these two games pretty much stop. Guild Wars has a focus on PvP while Dungeon Runners leans towards PvE over PvP. Thanks in part to all of its campaigns and expansion pack, Guild Wars is a much bigger game than Dungeon Runners. These two games also differ by business models. While Guild Wars is completely free to play online after you buy the game, Dungeon Runners has a premium account available to get the most out of the game. Lastly and more importantly, Guild Wars is a considerably more popular game than Dungeon Runners. This popularity translated into another easy win for Guild Wars as it never trailed during the week. Dungeon Runners staged a small comeback in the middle of the week, but it wasn't enough. Guild Wars also won the voting in the forum discussion.
Tale of the Tape

Guild Wars
Free to play after buying one of the campaigns.
One of the best reviewed games on GameOgre.com.
Winner of the first two MMORPG Showdowns.
GameOgre.com's Online Game of the Year for 2006.
Two successful expansion/sequels.
Strong PvP focus.
Henchmen and Hero systems enables more solo play.
Level cap is 20.
Has had one regular expansion and will have a sequel.
Versus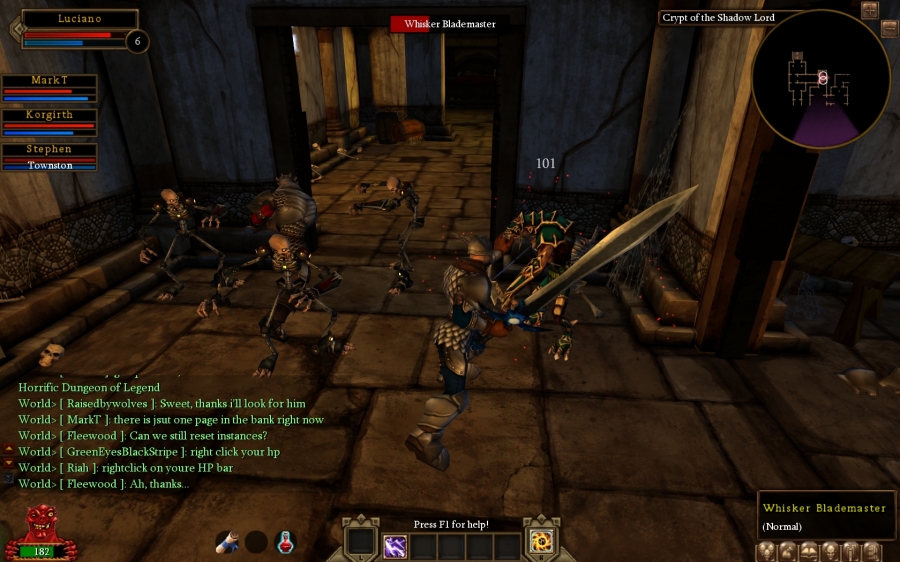 Dungeon Runners
Free to play.
Action MMORPG.
Has a premium account available.
Provides satire on the fantasy MMORPG genre.
Can be bought in stores for a hard copy and premium account time.
All dungeons are instanced.
Very easy to jump in and start playing.
Select Comments For Guild Wars (Edited for Presentation)
Rating: 10
Author: Miclee
Comment: Another year, another review from me!

Well, as I said last year: Guild Wars is an amazing game, and it just keeps getting better.

A few weeks ago I had just finished Eye of The North, and thought I had nothing more to do. I was wrong. I went around doing almost every possible side quest, and then all of a sudden found myself doing a quest with a pretty big reward. I had to go kill 3 golems, all level 20.

That reminds me, people keep complaining about the level limit. The thing is that the limit is a good thing. It makes it so new people actually have a chance in PvP and have a chance to do something in the game, not just grind until your level 80.

The classes, the classes... All of them are well built and well balanced. A perfect group is basically made up of all of the classes. They each have different roles. In PvP it is balanced, too, and not just a game of rock, paper, scissors.

The gameplay is divided into two parts. The outposts, where you find a team, get your quests, and get equipment, etc. The other part is the instanced part, where you and your team actually do something.

Skills are various magic enchantments, shouts, or just sword/hammer/axe/dagger/scythe attacks. You have 8 skills that are for use at a time.. You can attack/defend without skills. When you get better, and level up, your skills improve.

There are currently 3 different campaigns and one true expansion. The 3 campaigns are Prophecies, which used to just be Guild Wars, Nightfall, which adds 2 new classes and a heap of heroes to the game, and Factions, which adds 2 new classes and a faction system to the game. The expansion is basically another campaign without new classes.

With word that GW2 is supposed to come soon, it is just amazing. What I am wondering is how are they going to build on something which is already a masterpiece?
Rating: 10
Author: jorum
Comment: This game is a masterpiece. I beat every campaign and maxed out all my characters and I even own a very successful guild
Rating: 10
Author: darknino
Comment: I played for over 1500 hours. Guild Wars is great for a f2p MMO. The PvP is the best I've ever seen.
Rating: 8
Author: mmowiz
Comment: I like both Guild Wars and Dungeon Runners. GW is better for PvP but I am picking DR because I like its community better. It also reminds me so much of Diablo in a good way.
Select Comments for Dungeon Runners (Edited for Presentation)
Rating: 2
Author: Miclee
Comment: I played it and I think it was just too simple. I favor Guild Wars over Dungeon Runners, even if it has its fun times. In a way, it reminds me of DDO as it seems they share a similar concept.
Rating: 0
Author: darknino
Comment: It's just a terrible game. They say it is f2p, but the game sucks if you're not a paying member. All the nice features are for paying members only. I also didn't like the community.
Rating: 9
Author: mmowiz
Comment: Awesome game that is a funny version of Diablo and WoW. I would say more Diablo and Fate than WoW though. DR is for gamers who like tight-knit communities and simple gameplay.
Rating: 7
Author: aaddron
Comment: Dungeon Runners is a great game, but it lacks variety. Every quest seems similar and the game play doesn't change as you progress through the game. Overall, it's a solid game but could use some updates.
The Voting
Guild Wars received a total score of 8.44
Dungeon Runners received a total score of 5.57
The Result
Guild Wars Wins!