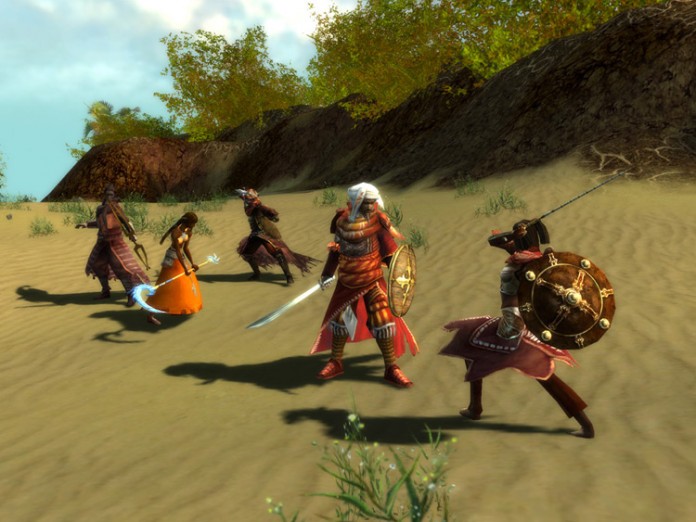 Second round match in MMORPG Showdown 3.
The Match-Up
After several weeks of very close matches along comes Guild Wars versus Sword of the New World. Although it should not be a complete surprise because Guild Wars was involved this match was never close in voting or in the forum discussion. Although gameplay is definitely a factor the main reason behind this blowout appears to be the difference in popularity between the two games. While millions of people have played Guild Wars many gamers have never even heard of Sword of the New World. The fact that it is also known as Granado Espada in some parts of the world does not help matters. Those gamers that did know both games still preferred Guild Wars.
That said Guild Wars moves to the semi-finals for the third straight time. Look for Guild Wars to get more competition there as it will face either Eve Online or Lord of the Rings Online.
Tale of the Tape
Guild Wars
Free to play after buying one of the campaigns.

One of the best reviewed games on GameOgre.com.

Winner of the first two MMORPG Showdowns.

GameOgre.com's Online Game of the Year for 2006.

Two successful expansion/sequels.

Strong PvP focus.

Henchmen and Hero systems enables more solo play.

Level cap is 20.

Has had one regular expansion and will have a sequel.
Versus
Sword of the New World
Free to play.

Some versions are known as Granado Espada.

GameOgre.com's New Free MMORPG of the Year for 2007.

Impressive 3D graphics.

Soloing is a major factor in the game due to the MCC (multiple character control) system.

Can use experience cards to level up characters.

Players can control up to 3 characters at once.

Various forms of PvP such as family vs. family duels city vs. city PvP wars and arena style PvP.

Every player has his or her own family. All the characters of a player are in that family and they all share the same last name.
Select Comments For Guild Wars (Edited for Presentation)
Rating: 9
Author: komgred
Comment: Some people argue that Guild Wars is an MMO and not an MMORPG due to its instanced nature. But what ever it is it's a very excellent game.
Gameplay: The quests are the same as WoW that they are implemented in such a special way that you will always find them very fun and enjoyable. The classes are well balanced. When choosing a class you get to mix them up with another class. This is a very unique feature that I have never seen in any other MMORPGs it creates a lot of different ways to play the game. Since the world is instanced you get to have it all to yourself so you can keep questing or farming but it does give you that empty feeling inside your heart. Since the level cap is 20 there is no grind. Each character has 8 skills which keeps the game simple and the action fast. The game has quite a few campaigns and an expansion so it has a lot of content. The pvp is awesome and balanced. 9/10
Graphics: The graphics are very good and they make the environment stand out. Old machines can run the game which is always awesome. 9/10
Community: The community is absolutely fantastic it is very warm welcoming. Guilds are just simply fantastic and you make a lot of friends. However I did find some of those idiot players. 9/10
Difficulty: Same as WoW. Easy to get started simple layout so you can figure everything out by your self and soloing is very easy. 10/10
Rating: 10
Author: insanespoon
Comment: Absolutely excellent game. Deserves to win the contest over Sword of the New World. Gets a 10 in graphics 10 in gameplay and a ten in just about everything else. The best free to play MMO out there
Rating: 9
Author: eXoZmM
Comment: Great game good gameplay and PvP.
Select Comments for Sword of the New World (Edited for Presentation)
Rating: 0
Author: buzzsaw
Comment: Guild Wars versus Sword of the New World is like a sword against a pocket knife. Although both can cut you only the sword can take your head off. No Sword of the New World is not the sword in that analogy.
Rating: 10
Author: notch
Comment: Great free MMO with awesome features. Controlling 3 characters at once is much better than the henchmen thing in GW Nightfall. The family name is another reason I prefer SotNW. The last one is that you don't have to buy anything to play but Guild wars does.
Rating: 6
Author: aaddron
Comment: Sword of the New World is a solid game but that's the problem. It's only a solid game. It was put together nicely but was not polished.
The Voting
Guild Wars received a total score of 8
Sword of the New World received a total score of 2.6
The Result
Guild Wars Wins!