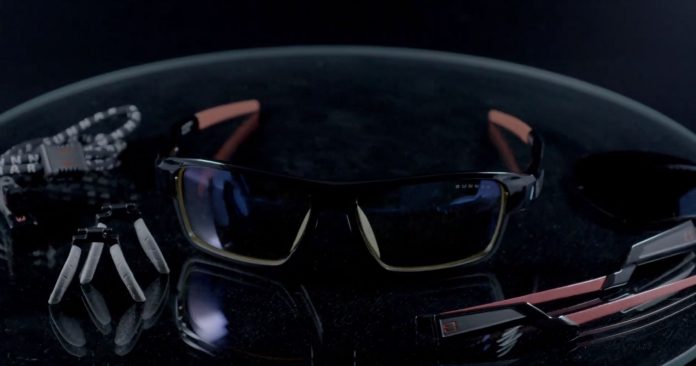 When looking for key gaming gear that you will need to fully enjoy online gaming, go ahead and add gaming glasses to that list. The time that you spend time in front of your games, the more you will need to protect your eyes. That is why I was thrilled to try out the Gunnar Optiks Lighting Bolt 360! The glasses come in a nice zipper case with plenty of accessories itself.
If you wear prescription glasses like myself, you will need to remove the nose pad in order to fit these over your other glasses. Doing this is very easy since the nose pad just pops out. You can also try different nose pieces to make sure the glasses fit on your head if you don't have to worry about other glasses. Thus, it was also great to learn that you can buy this glasses with a prescription. The cost will be considerably more with a prescription, but would definitely be worth it if you game for most of the day.
Once you put these glasses on your head, they should feel very comfortable. You can also put head phones on your head and they will still feel comfortable due to the innovative design of the frame. Even if you don't feel comfortable at first, Gunnar has included a few different options inside the nice case besides the nose pieces. First, you have a second set of lenses for changing from indoor to outdoor and vice versa. Then you have two more different stem/temple options with a slimmer version and then a strap to fit the best with headphones. What you decide to use is fully up to you.
Start playing a game with the glasses and you will instantly feel the difference. Your eyes feel more relaxed as the harmful lights of the game screen are filtered out by the glasses. These should definitely be worn during long gaming sessions. I really could have used these back in the day when I was playing the Diablo games all night long!
Product Overview and Video
For ultimate performance and protection equip yourself with the next generation of elite gaming glasses from GUNNAR. Delivering style, comfort and versatility, the Lightning Bolt 360 focuses on your eyes so you can focus on the game.
KEY FEATURES
Unique 'lightning bolt' design relieves temple pressure
Unparalleled design for optimal performance and functionality
3 different temple options: classic (standard wear), post (slim, lightweight fit) and strap (for maximum comfort with headset)
Interchangeable lens for both indoor and outdoor use: GUNNAR's benchmark Amber lens for optimal performance and blue light protection while gaming indoors and Sun for viewing screens in bright sunlit conditions (100% UV protection)
3 nose bridge sizes for the perfect fit: small, medium, large
Sturdy protective case & pouch for storage and peace of mind
Prescription also available
SPECS:
Lens Width = 61 mm
Nose = 16 mm
Nosepad Fit: Small = 5 mm; Medium = 7 mm; Large = 8 mm
Frame width: 140 mm temple: 135 mm
Weight: 29 grams
INCLUDED WITH PURCHASE
Zip-up locker
Microfiber Pouch
12-month Warranty