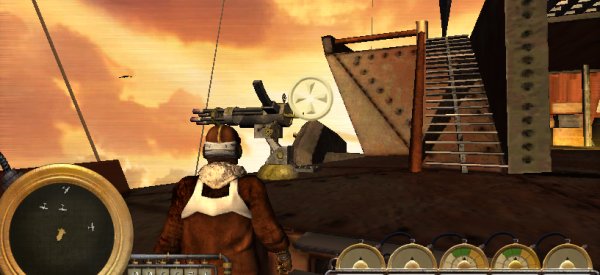 Guns of Icarus takes place in a dystopian future where the only way to transport anything is by airship. These mighty creations, amply equipped with six gun stations, must battle inclement weather and the vicious pirates that dot the skies. Players must cooperate to balance gunning down attackers and repairing their ship – without the right balance, your crew is dead and your cargo lost. As players progress they are able to upgrade their ship with more sophisticated weapons.
Post Date: 20:50 30-05-2015
Rating: 8
Author: LosmiK
Comment: Great game ,reasonable price,u gotta play it with friends,4 man squads are awesome,I dont like the repair machanics but still game is really fun and you need to be good at shooters if u want to be a gunner
Post Date: 14:30 22-11-2014
Rating: 8
Author: Mihajlo
Comment: Guns of Icarus is a first person shooter game developed by Muse Games. Game focuses on airship combat and each airship is controlled by up to 4 players. There are 3 different classes (Gunner, Engineer and Pilot) and 7 unique ships: Galleon, Squid, Goldfish, Junker, Pyramidion, Spire and Mobula. I rate this game 8/10.
Post Date: 17:09 26-05-2014
Rating: 0
Author: ivekvv256
Comment: This isn't a really much popullated game and I can see why. I didn't find it to be interesting to me at all. It was intersting running around on your ship for some time, but after that it just became booring and everything was same. The graphics are bad aswell so I must rate it 0/10 since I don't find this game to have any fun features.
Post Date: 10:10 18-05-2012
Rating: 2
Author: Thedarkboy
Comment: Literally there is none it is the future and instead of boats, cars, airplanes, or trains people trade their goods over blimp like contraptions that look like a huge ark tied to a huge zeppelin. Yet the problem is there are pirates attacking them so that's where you come in. You are a no named pilot who (oddly doesn't need to steer his blimp) must defend his cargo and repair specific areas to make sure you make it to your destination A-okay. Basically this is a defense game where you have to make sure your ship makes it to its destination in good condition. There are 2-5 areas of the ship that you can manually repair and a nice amount of stationary weapons all over the ship to send those nasty pirates back where they came from. Now I know this sounds like an interesting concept and I know I thought it did. I mean here is a pretty decent sized ship, cool looking stationary guns, and infinite ammo how can this game go wrong? well it somehow manages to screw up all the appealing features. Bad graphics, bad controls, the online mode is horrible, can barely play single player, Once you buy it the game is yours forever you can't return it, can't chat with your partner in multiplayer, the placement of weapons,no one plays online,just really disappointing.