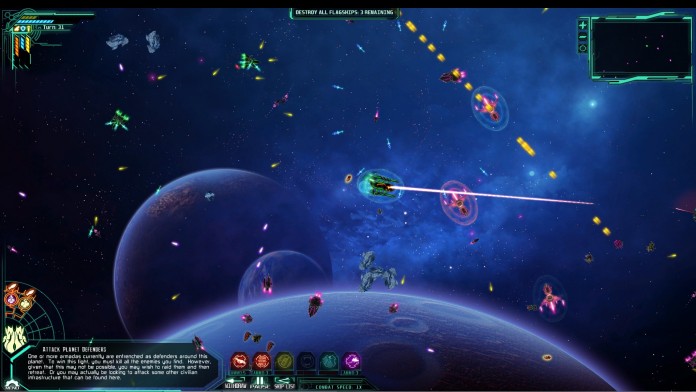 Last Federation is a science fiction space strategy game in the same vein as past games such as Master of Orion and Pax Imperia. Like those popular space games of the past, depth is the order of the day here with a focus on diplomacy, politics, and earning money. However, humor also plays a major role as some of the dialogue and events are quite funny. Basically, the premise of the Last Federation is that you are trying to unify the solar system for the last time while dealing with eight very different and crazy races.
Each race has its own vibrant personality and political system. Stats are tracked that show your position with each race as the game goes on. For example, you can help a race build an armada for wealth and political influence. You can even speed up time to observe yourself  raking in the dough and political power. If something happens like another race taking over the planet you are on, the job will stop. You can also take on small assignments during the game that usually involve combat.
Combat is one of the things that will either raise or lower the opinion of players about the game. While turn based combat is understandable for such a deep tactical game, the colorful and alive universe screams for more intense action for the fighting elements. Also, there is a possibility for five factions to fight all at the same time. With all that potential for exciting space combat, its disappointing that you can't do more in that area. Overall, however, The Last Federation is game that should be tried by anybody who enjoys politics or deep space tactical games.
Key Features:
Space strategy.
2D graphics.
Retails for $19.99
Has two DLC packs for $6.99 each.
Has Steam achievements and trading cards.
Diplomacy is needed.
Turned based shooter.
Up to five space factions competing at once.
An entire solar system.
Eight very different races.
Players can save their games easily.
High quality music sound track.
Reports after battles.
Pros:
One of the best openings of any game.
Incredibly deep.
The music through out the game is great.
Everything is explained as you play.
Great simulation.
Replay value is high.
Battles are still fun even when you don't know exactly what is going on.
Can be funny at times.
Cons:
Takes time to learn how to play.
Combat feels uncomfortable.
Complexity is necessary due to the incredible depth.