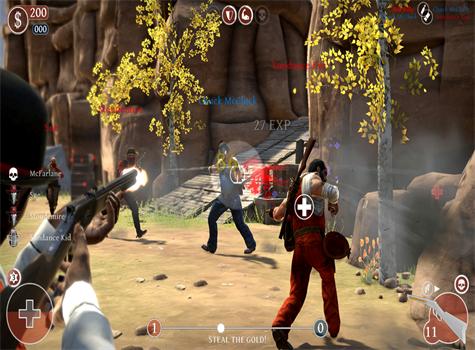 Lead and Gold: Gangs of the Wild West is a third person shooter delivering an intense team based multiplayer experience. Relive the violent era of the Wild West as it ought to be with adrenaline fueled action and fast paced gunfights.
Post Date: 13:17 31-07-2015
Rating: 9
Author: axwellshm
Comment: Well it's pretty good game, you have control of everything if you know to shot well. Third person shooter that really is good shooter. Wild west games are good type of shooting games. In overall really good game!
Post Date: 12:22 22-11-2014
Rating: 8
Author: arZ
Comment: Lead and Gold is a third person shooter placed in wild wild west. The game got really nice graphic and its not so hard to learn it. I rate this game with a note 8/10, because I am not a big fan from "cowboy" games.
Post Date: 18:06 07-01-2013
Rating: 8
Author: Thedarkboy
Comment: This was fun, but it can definitely be improved. I think that the screen can get a bit messy sometimes. It feels like there is so much to watch at the same time, which can be very confusing. But it can still be very fun. The graphics are quite good even though there are some bugs here and there.
Post Date: 17:55 23-03-2012
Rating: 10
Author: Dmt_2000
Comment: I love this game because its very fun and its wild west and guns and multiplayer and great graphics what more can you ask for if you want a fun western game this is for you