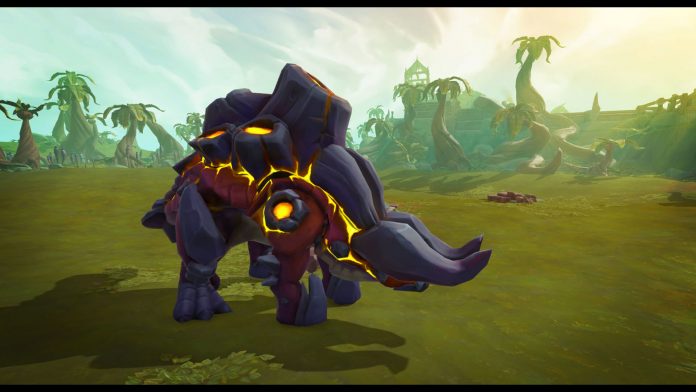 Historically, video game publishers have sought to release their biggest titles towards the back end of the year in the autumn and winter, with studios looking to capitalize on the holiday-season spending spree. That being said, although it isn't often the case, this summer promises to be one of the most exciting when it comes to new additions to the video gaming scene. There has long been a real opportunity for summer video game releases to make their mark and this trio of releases offers a broad spectrum of online gaming that will keep you going through the warm and the colder months.
RuneScape's headline summer update: 'The Land Out of Time'
Some 18 years after the official launch of the old school RuneScape massively multiplayer online (MMO) game, RuneScape, their developers are planning to launch an exciting new game update, bringing dinosaurs into their new fantasy world. The game's developer, Jagex, has been teasing the release of the game expansion over several weeks leading up to its 8th July launch. Once downloaded, players will soon discover an island shrouded in fog on their maps. This new expansion island, Anachronia, features a host of dinosaurs that players must look to take down in standard combat.
You'll need to have completed the ship in Varrock city to set sail for the new island, which comes complete with agility courses and a host of additional mini-games to help players pick up additional XP. You will also be able to build a base camp on Anachronia over time, whilst fighting off a host of new Slayer creatures.
It was a record-breaking 2018 for Jagex in terms of revenues, with the RuneScape developer reporting annual revenues of £92.8 million, which equated to a 9.3% year-on-year rise. Jagex will be well and truly crossing its fingers that The Land Out of Time is a huge global success to drive those revenues further.
Varied selection of online games to play
Those who enjoy the thrill of playing online slots but are searching for a new, reliable home to play their games. Not only are the games committed to fair, transparent play and security for its players, it's also driven to provide the best games from a host of award-winning software developers.
Although some online games try and spread themselves a little too thinly, these guys have taken a very different approach. They've chosen to specialize in supplying state-of-the-art games. They've partnered with some of the leading live software providers to bring live streamed games managed by professionally trained gamers to desktop, laptop and mobile screens.
In terms of its game offering, there is a dedicated section of titles that offer huge upside. These online games continue to grow until one player unlocks it entirely at random. They're continually bringing out new titles too, with a section dedicated to new releases. There are themed titles, while some are part of franchises such as leading movies and video games.
It's possible to get a feel for these games without having to spend any money too. All new customers can get freebies, which are valid for up to seven days after sign-up. There's also a host of daily and weekly promotions offered throughout each week, giving you a chance to win different prizes!
Marvel Ultimate Alliance 3: Following on from the success of Avengers Endgame
Get ready to assemble your ultimate team of Marvel superheroes this summer with Marvel Ultimate Alliance 3: The Black Order on the Nintendo Switch. Developed by Team Ninja, Ultimate Alliance 3 comes fresh off the back of the success of the Avengers Endgame movie, which was regarded as the third most expensive film ever made thanks to a budget of $356 million. It has since grossed an eye-watering $2.7 billion worldwide, becoming the second-highest grossing film of all time.
The release of Ultimate Alliance 3 on the Switch is therefore perfect timing for those clever Japanese developers and designers. The game's plot is actually not based on Avengers Endgame whatsoever. In fact, the plot is an original storyline, written exclusively for the game. This means that it disregards entirely the first two releases in the series. Subsequently, Ultimate Alliance 3: The Black Orders is based in a completely different universe to its two predecessors and the plot has also been written in such a way to incorporate a broader spectrum of Marvel characters. As it's in a different league to its predecessors, it's difficult to say with any certainty whether The Black Order has the potential to be one of the best titles based on Marvel heroes.
There is a huge roster of playable Marvel characters in this game, spanning the leading Marvel comics, as well as the Marvel Cinematic Universe. It will also be possible to play as the Fantastic Four and members of the X-Men and Marvel Knights following the release of the downloadable post-launch Expansion Pass. Ultimate Alliance 3: The Black Order is due for release on 19th July and early indications from the raft of video gaming reviewers online are that it will be very well received. Nintendo has already teased some of the artwork for its playable characters, with Venom, Captain Marvel, Crystal and Electro just four of the characters that have been showcased thus far.