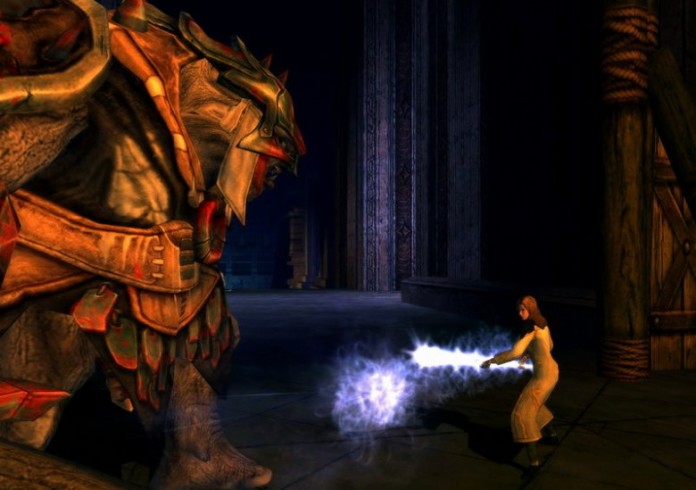 First round battle in the MMORPG Showdown 2 series.
The Match-Up
This semi-finals match was very interesting because both games are well-made MMORPGs with great graphics and solid gameplay that were released in 2007. The most obvious difference between the two games is that Sword of the New World can be played for free while Lord of the Rings Online requires a monthly subscription. In fact each game is currently ranked #2 in their respective category (F2P and P2P) on the Top MMORPG List. Another big difference is the fact that Lord of The Rings Online is based on a world-wide fantasy franchise while Sword of the New World is not. Other major differences are mostly related to gameplay. While LotRO plays somewhat similar to World of Warcraft which can be a good thing when done right SotNW has brought several important innovations to the genre including being able to play three characters at once and having all the characters of a player as a family. Voting was close for most of the week and the lead switched a couple of times but Lord of the Rings Online's main stream appeal ended up being just too much for Sword of the New World. LotRO will now face the winner of Eve Online vs. Guild Wars in the final.
Tale of the Tape
Lord of the Rings Online
Based on one of the best fantasy franchises ever.

One of the top fantasy MMORPG alternatives to World of Warcraft.

Strong focus on stories.

Targeted towards casual MMO gamers.

The game like the movie and books will end eventually.

Can acquire cool titles from doing various tasks.
Versus
Sword of the New World
Free to play.

Amazing 3D graphics.

Players can control up to 3 characters at once.

Every player has his or her own family. All the characters of a player are in that family and they all share the same last name.

Soloing is a major factor in the game due to the MCC (multiple character control) system.

Different combat stances offer different skills and equipment possibilities.

Can use experience cards to level up characters.

Various forms of PvP such as family vs. family duels city vs. city PvP wars and arena style PvP.
Select Comments For Lord of the Rings Online (Edited for Presentation)
Rating: 8
Author: Miclee
Comment: Just great and true gameplay. There a few flaws in the game but everything else is great. There are a ton of fantasy worlds based on books/movies/old games but this one comes out on top in that genre. The gameplay and the smoothness of the combat just make the game fun. Makes you feel like you are that hobbit or dwarf or elf and you're helping to save Middle Earth. The thing with being a monster is insanely fun and you can't get bored. Final score: 8.4/10
Rating: 9
Author: Turtlefuzz
Comment: Not being an avid fan LotRO actually made me more interested in the lore and movies. The game is also very well-done and addicting. It is probably the best MMO to come out this year.
Rating: 9
Author: jackin9
Comment: This game has great graphics amazing music and wonderful gameplay. What more do you want?
Select Comments for Sword of the New World (Edited for Presentation)
Rating: 10
Author: Nacireen
Comment: Superb and innovative game. Gameplay takes some getting used to at first but well worth the effort to learn the system. Also extremely casual friendly and forgiving of unexpected AFK time which makes this the perfect game to kill a little time when you may be called away by kids or whatever.
Rating: 8
Author: shuppa
Comment: Great free game with awesome graphics. Love the look of the characters and the gameplay.
Rating: 6
Author: Miclee
Comment: Plain fun but can be a pain at times. You can play 3 characters at once which is quite fun and lets you solo a lot but it takes teamwork out of the game. The NPC card thing is a letdown so you just instantly get set to level without working on that character at all. The attack system is also a letdown because you can go AFK and your character will fight. Graphics are great though but some other stuff is a letdown. Final Score: 6.5/10
The Voting
Lord of the Rings Online received a total score of 7.71
Sword of the New World received a total score of 7.16
The Result
Lord of the Rings Online Wins!