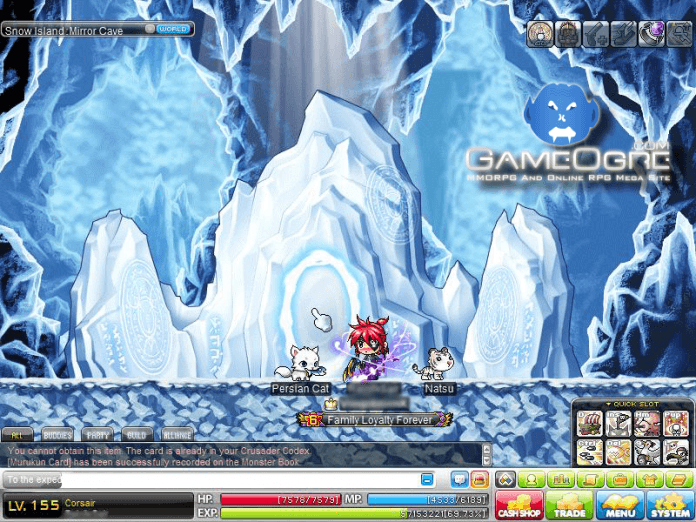 Second round battle in the MMORPG Showdown 2 series.
The Match-Up
After soundly defeating RuneScape in the first round Sword of the New World is once again matched up against a fellow free MMORPG that is hugely popular. For all the gripes and complaints that both Maple Story and RuneScape get there is no denying that both games are extremely popular. On the flip side Sword of the New World combines innovation with great looking graphics to assume a leadership position in the next generation of free MMORPGs. Thus this match came down to a humorous 2D cartoon world with a large fan base versus a more innovative but less popular 3D game. Once again reviewers chose the better eye candy as Sword of the New World defeated Maple Story by a larger margin than it beat RuneScape.
Tale of the Tape
Maple Story
Free to play.

Resembles a console platform game.

Four classes that each have their own themed city.

Offers a cash shop for special items.

Classes have their own themed city.

Upset RuneScape last year in the first round.
Versus
Sword of the New World
Free to play.

Amazing 3D graphics.

Players can control up to 3 characters at once.

Every player has his or her own family. All the characters of a player are in that family and they all share the same last name.

Soloing is a major factor in the game due to the MCC (multiple character control) system.

Different combat stances offer different skills and equipment possibilities.

Can use experience cards to level up characters.

Various forms of PvP such as family vs. family duels city vs. city PvP wars and arena style PvP.
Select Comments For Maple Story (Edited for Presentation)
Rating: 10
Author: Arundeep3
Comment: This is one funny game! The main reason why people hate this game is because leveling takes forever. It takes time and effort to play there is a lot of fun things to do. This game has 2D graphics but the skills looks nice. This game lacks good graphics but makes up for it with game play. This game is worth your time.
Rating: 1
Author: Crazy542
Comment: Bad graphics. I think that only the 3-D games are good. Takes forever to level after level ten.
Rating: 10
Author: Jasenpo
Comment: This is a game. Everything your character does is because you made them do it. Everybody says games with graphics are what really matter but they all have a click and watch system. With Sword of the New World the developers got rid of the the clicking so you just push two buttons. You don't even have to watch them because they just go forever. Sword of the New World is just a big pretty bot.
Select Comments for Sword of the New World (Edited for Presentation)
Rating: 8
Author: zabel666
Comment: Granada (Sword of the New World) has to be the most innovative free MMORPG on the market with stunning graphics and whimsical music. The game captivates you with the "family" feature that allows you to play three characters at once. The game also has balanced classes. Most of the classes however are unoriginal besides the Musketeer. The downside of SONW is that it lacks a decent community and is heavily rooted in farming. For example one may simply leave their family to farm a dungeon which requires no skill to level up. If you want community and whacky gameplay play Maple Story. If you want depth and mind-blowing graphics play SONW. SONW gets an 8 from me for innovation graphics and music.
Rating: 10
Author: Nacireen
Comment: Amazingly addictive and unique game play with the multi-character control system. Also has incredible graphics. It will take longer to get used to than most games especially if you have played many other RPGs/MMORPGs as this one is radically different. However it is well worth the time to get used to it.
Rating: 10
Author: fun828
Comment: Very fun with wonderful graphics. Could have better control options for your family. Other than that very fun.
The Voting
Maple Story received a total score of 4.89
Sword of the New World received a total score of 8.25
The Result
Sword of the New World Wins!