Monster and Me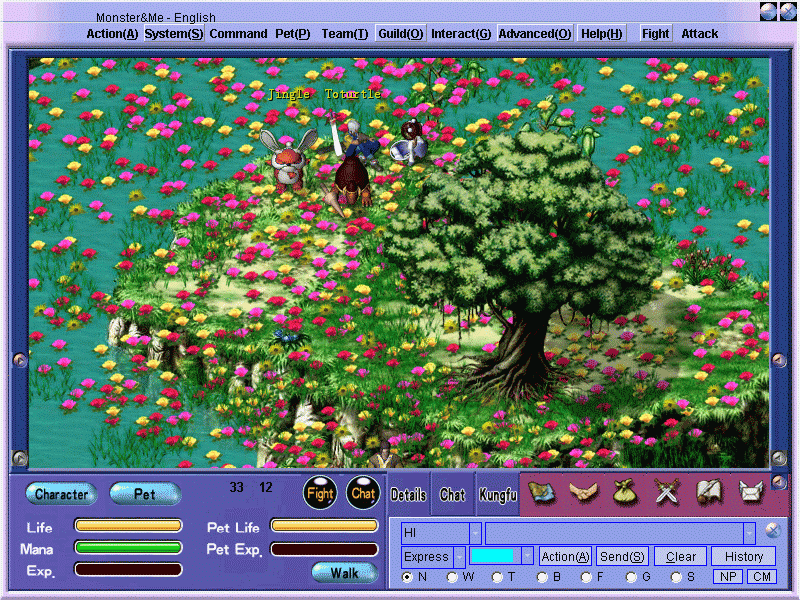 Game Description and Comments
Monster and Me is a free cartoony MMORPG with a focus on a young audience. Similar to Pokemon, you can raise any monster as your pet and turn them into your own fighting allies. Yes, character pets have been done many times before in other games and even other MMOs, but Monster and Me does a great job with giving you a lot of customization options. In fact, this best part of this game besides possibly being free is that it puts you in control of the game.
You can choose the path of your character and decide whether you want to be good or evil. You can also choose whether you want to fight or not. If you don't want to fight you can such activities as building a house (you can even choose the furniture for your home), play casino-type mini games, or even getting married. If you like making things, Monster and Me gives you plenty of options for being creative as well. Not only can you create your weapons and armor so you that you can you use them yourself or sell them, but you can also invent your own spells! Many MMOs allow you to craft and weapons, but making your own spells is definitely an innovative feature. Some gamers may not like the cutesy graphics and themes, but that does not change the fact that Monster and Me is one of the better free MMORPGs.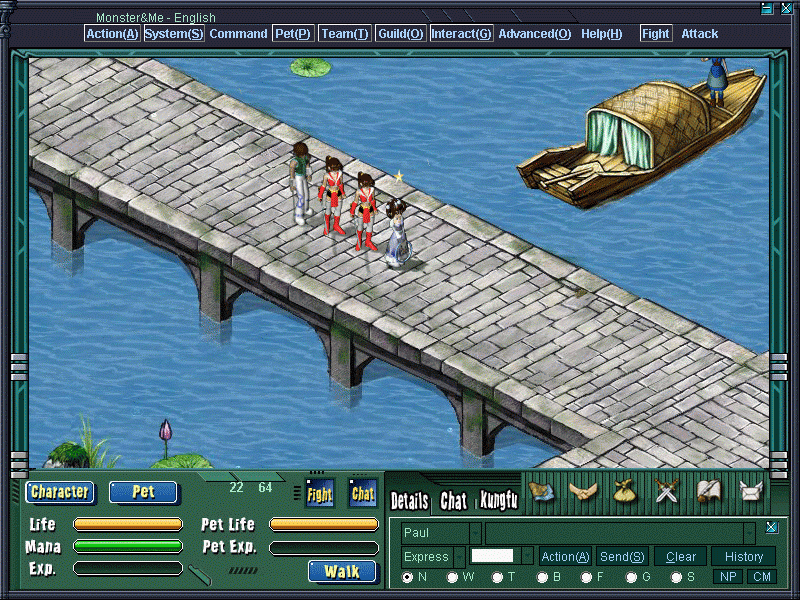 Select User Reviews (Edited for Presentation)
Author: MrMonkey
Rating: 10
Comment: I totally love this game! It is awesome, very unique, and very interesting. I have listed the Pros and Cons below.

Pros - Unique storyline which I have enjoyed so far. Catching pets, regular events and updates make the game a must play in my opinion. There are also other skills including wuxing (crafting but you can also craft pets together!), thievery and kung fu. You need to be in the circle to use thievery and kung fu. The chat system is ok and there are quite a number of skins. The community has been very friendly and I have heard of only one scammer so far, unlike most other games (I have been playing for a month now). The boards are helpful 24 hours a day. If you are new and you ask any questions, they are answered by another player or by a Moderator. There are also many quests and you can marry and build houses.

Cons - Not much. The graphics aren't the best, but the game is free. Earning good money takes a while too.

Author: Backo
Rating: 3
Comment: If you are looking for a good "kids" game, this would be it. Not for me though.
Author: jubei
Rating: 9
Comment: Gives you a ton of stuff to do and I like the story.
Pricing Model
Monster and Me is free to play. The free download is about 597 MB.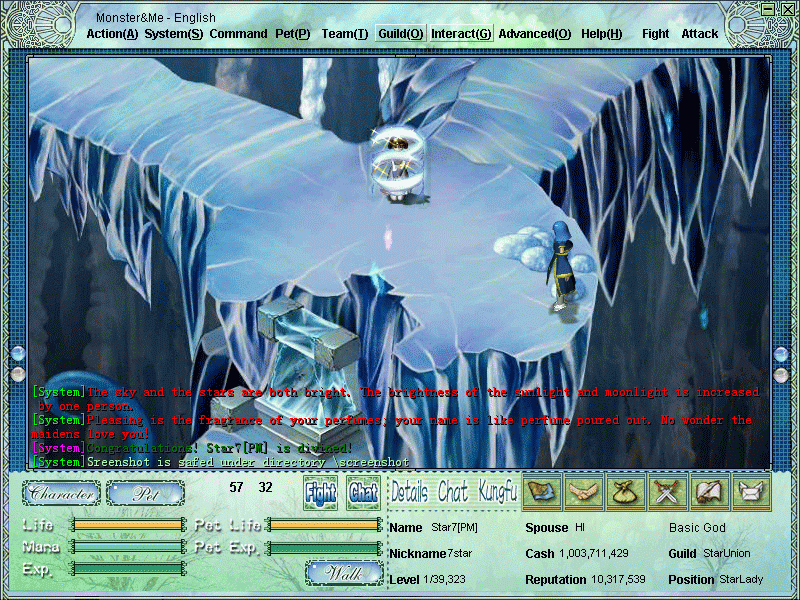 Past Featured Online Games of the Week:
The Saga of Ryzom
Beautiful 3D MMORPG with an intriguing storyline and considerable character freedom.
GunBound
Innovative shooting game with cartoony graphics that lets you face other players in front of an audience.
Shadowbane
A PvP oriented MMO with both RPG and RTS elements.
Silkroad Online
A 3D MMORPG with both historic and fantasy worlds.
RF Online
A sci-fi MMORPG with anime graphics that focuses on PvP.
Renaissance Kingdoms
Very interactive free online RPG with great political and economic aspects.
Xiah
Free 3D MMORPG with a martial arts theme that gamers may want to avoid for the foreseeable future.
Endless Online
Small fantasy MMORPG that has anime graphics and is free to play.
Little Fighter 2
Arcade-style fighting with very colorful characters that can be played online.
Hobo Wars
Free Online RPG with heaping doses of originality and humor.
Neocron 2
Controversial MMO that offers both FPS and RPG elements.
Anarchy Online
Major sci-fi MMORPG with both a pay-to-play and a free version, Anarchy Online.
Eve Online
Science-fiction MMO that gives you considerable freedom in space, Eve Online.
Supreme Destiny
Free 3D MMORPG with both an English and a Korean version.
Guild Wars
Retail RPG with free online play that won GameOgre.com's Best Gaming Value award for 2005.
Thang Online
Free 3D MMORPG with a huge focus on action and a unique monster system, Thang Online.
ROSE Online
Cartoon-style MMORPG where you can have a major effect on the gaming world.
Conquer Online
A free MMORPG set in an ancient Chinese Kungfu world with nice anime-style graphics.
Rubies of Eventide
A free MMORPG that melds 3D graphics with incredibly deep gameplay.
Ragnarok Online
Popular MMO with cartoon graphics and several innovative features, Ragnarock Online.
Ashen Empires
Medieval Fantasy MMORPG that was once known as Dransik.
Pardus
Free Massive Multiplayer Online Browser Game (MMOBG) where you can trade or pillage in space.
FlyFF: Fly For Fun
Check out a free MMORPG with colorful graphics and solid gameplay where players fly on boards and broomsticks.
Puzzle Pirates
Assume the role of a pirate on the high seas in this puzzling free MMORPG.
Maple Story
Take a look at a MMORPG with cartoon-style graphics that is free to download and play.
GunZ
A game that lets you live out your action movie fantasies online.
BattleMaster
A little-known free Online RPG with strong strategy elements.
Adventure Quest
Take a closer look at one of the more colorful free online RPGs.
Knight Online
Check out one of the best free 3D MMORPGs.
RuneScape
GameOgre.com takes a closer look at one of the more popular Free MMORPGs.