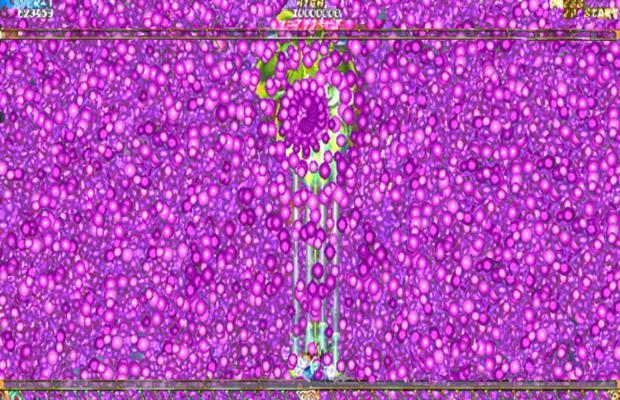 Mushihimesama aka Bug Princess is an eye candy parade of a 2D vertical shooter. The constant onslaught of colorful bullets coupled with a gorgeous  fantasy world makes for a surprising graphics masterpiece that is almost art like. The game play is also extremely tight as you are thrown into action almost instantly instead of sitting through cut scenes and having to delve into tutorials to learn how to play.
Despite the smoothness of the gameplay and the light graphics, do not confuse Mushihimesama with light casual games that are fairly narrow. Mushihimesama boasts a whopping amount of variety with several different stages of gameplay, different game modes, increasingly higher difficulty modes, and even different weapon types. If that is not enough, the game also offers global leaderboards and replay sharing. Thus, the replay value is very high as you test the various features.
The downsides in this game are few and far between. Even the biggest negative is not probably seen as a negative at all to some. The game just released in November, but already has an optional DLC for $5 more. The reasoning is simply that the DLC was scarce before and is now being offered to everybody. The extra version is nice, but some may argue why it was not just added to the regular game upon release.  In the end, it is a matter of personal opinion and does not hurt the game at all. In fact, Mushihimesama is already my favorite Bullet Hell game of all-time since it should be considered an instant classic.
Key Features:
Beautiful 2D Graphics.
Retails on Steam for normally $20.
Single player.
Local co-op.
Recently released.
Full controller support.
Steam leaderboards.
Fantasy world.
'Bullet Hell" genre.
Five different stages.
Small player hitbox.
Several different game modes.
Three different weapon types.
Ultra difficulty option.
Optional DLC from the start.
Training mode.
Can share replays.
Pros:
Great colorful graphics that set the game apart from almost all others immediately.
Instantly accessible.
Good music.
The fantasy world makes the game feel unique.
Training mode helps.
Offers a lot of variety.
Leaderboards adds a fun competitive factor to the game.
Good test for gamer's reflexes.
Bullets galore fill the screen.
The first CAVE shooter on Steam.
Cons:
Not great menu options.
Too soon for DLC content.