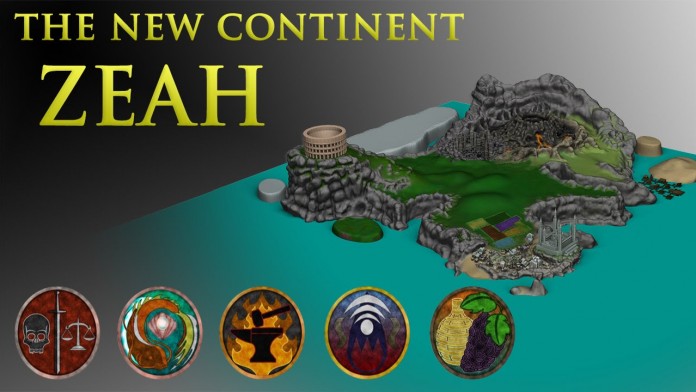 Zeah unlocks its borders in RuneScape, heralding the start of year-long franchise anniversary celebrations.
Thursday 7th January 2016, Cambridge, UK – Jagex Games Studio, creators and custodians of the fantasy MMORPG RuneScape, have unveiled the first region of Zeah, a new land exclusive to Old School RuneScape. Available to access from today the debut area arrives as the inaugural zone of a three-part phased launch. New areas will become available over the next 12 months, as Old School celebrates the 15th anniversary of the original RuneScape.
Featuring the city of Great Kourend, this first section of Zeah sees players choose from one of five factions caught in an attritive fight for dominance across the metropolis. Allegiances then allow players to earn reputation to access new content. In addition to obtaining new weapons and armor, players will be called upon to combat local criminal gangs, defend the city from the pervasive lizard man threat, and smuggle contraband onto the city's streets.
Additionally, players can till the soil in a new farming mini-game, mug the city's inhabitants, and uncover the secrets of the necromancy spell book.
"Our dedicated development team has been beavering away on Zeah for quite some time, so it's fantastic that we can finally unlock the doors to Great Kourend," said Mathew Kemp, product manager, Old School RuneScape. "The launch of an entire landmass exclusive to Old School RuneScape over the course of 2016, and the new content it will bring to our excellent community, is really exciting. Zeah also underlines the success Old School has experienced since its launch in 2013."
Further announcements about RuneScape's 15th anniversary celebrations will be made over the coming weeks and months. Follow #RuneScapeAt15 for up-to-the-minute information and conversations about the game's most important year since 2001!
About RuneScape
Venture forth into the rich and immersive medieval fantasy world of Gielinor, where even the smallest of actions affect the vast world around you. Recognised repeatedly by Guinness World Records as the world's most popular free-to-play MMORPG, with over 200 million players and counting. RuneScape offers unparalleled levels of choice to its players, where they can be anyone, slay anything and go anywhere in their own unique open world adventure, all within the browser window.