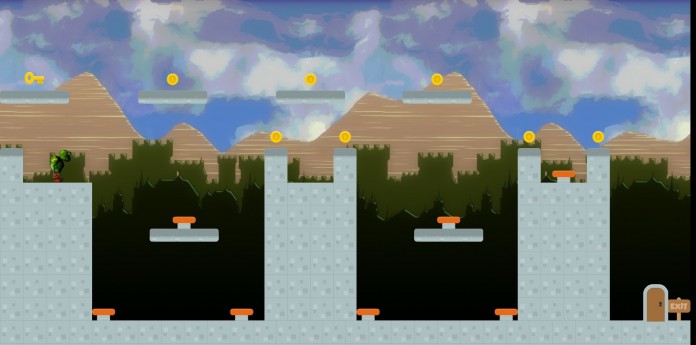 Platformer where an Ogre is the hero of the game.
Review Archive
Post Date: 12:02 14-02-2015
Rating: 7
Author: axwellshm
Comment: It's a cool game, goal is to get all coins and key to reach the next level. There is a glitch where you can walk in the air with the ogre, but it's again funny. I will rate it 7/10.
Post Date: 10:45 09-12-2014
Rating: 7
Author: Sle91
Comment: An interesting platform game to kill some time. The goal is to collect coins, get the key and walk through a door to pass level. It's quite simple game, really. Every coin u collect adds 100 points to your score. The game has its glitches, where u can't jump from one stair to another for example but that's its charm. 🙂 The thing that i would change to make the game perfect is add more levels, and fix those glitches maybe. 🙂 I give it 7/10.
Post Date: 21:32 08-12-2014
Rating: 7
Author: VannaVIktor
Comment: Ogre Bounce is a platform game with good graphic. You play with small Ogre and goal of the game is reach the door (EXIT).
Before that you must collect the key and collect the money (not required). The game has little number of levels (4). Nice idea for the game, but the game lacks many levels and a little more action (traps and obstacles). 7 for Ogre Bounce. 🙂
Post Date: 12:36 06-12-2014
Rating: 7
Author: arZ
Comment: Obre bounce is a platform jump and run game where you are controlling an Ogre and you need to collect the gold coins and fin a way to the important key to get to the next level. Really interesting game, with a nice graphic, but could be better. I rate this game with the note 7!
Post Date: 11:52 26-03-2014
Rating: 7
Author: ivekvv256
Comment: I like the game, but there should be more challanges, like pits or some archer shooting at you, since it already got the looks of a medieval time. All in all very amuzing game 🙂
Post Date: 14:59 24-03-2014
Rating: 4
Author: Thedarkboy
Comment: Ogre Bounce is one of GameOgre's ogre games, and is a 2D arcade-like game. In my opinion, Ogre Bounce could be better, if it was better developed, but as of now, it isn't something that entertains me at all.In Ogre Bounce, you control an ogre. What else. It's a very simple game where you move, using the arrow keys. This is, however, not explained anywhere in the game. Instead the game starts off instantly. Even though it shouldn't be too hard to figure out how to control your ogre, I still think that it would be better that it could at least say somewhere that you play the game through your arrow keys.

At first, Ogre Bounce only had two levels, although now there are four of them instead. I do think that it's nice that they have added more levels to the game; however, I think the levels added are quite unnecessary. The game isn't hard at all, and all of the levels are of the same difficulty. The game is way too easy in my opinion, and can be completed in just a minute if you are fast.

The point of the game is to simply get to the door at the end of the level. To pass a level, you will have to gather the key, placed somewhere. Once you've collected the key, you can go to the door, to pass the level, and proceed to the next one. There are also coins that you can collect, in order to get a higher score in the game. This is very easy though, as all of the coins can be seen clearly, and are very easy to collect as well.

The graphics of Ogre Bounce is solid. It got some nice textures as well as a colorful background. But it's nothing advanced, and is rather simple. With other words, the graphics aren't bad, but they aren't something special either. It's something that we have seen in many other arcade games. There are also minor bugs in the game. Sometimes it seems like the ogre is floating in the air, like it somehow got wings. It might not be anything that affects the gameplay, but it can be annoying for the picky person. There's nothing to discuss about the sounds though, as the game is completely soundless. No sound at all, which is a little dull.

Overall, Ogre Bounce is a simple game. It's too easy and it takes too fast to complete it. There's just not much to it. You collect the coins, easily, and finish the level. Once you've completed the game, it shows your final score, however the score is quite useless to be honest, as it's not saved (not like it needs to, since everyone will probably gain the max score possible). IF, Ogre Bounce would have had more levels, where the difficulty would actually rise from level to level, it could be a decent arcade game. Unfortunately, it doesn't seem like that will happen though.
Post Date: 14:03 24-03-2014
Rating: 8
Author: Mordekaiser
Comment: Well they have still not added anything new too this game so i think the same of it as my previous review although i have finally completed the game 😀
Post Date: 21:43 19-03-2014
Rating: 6
Author: RenjiUlqu
Comment: Was easy 🙂
Post Date: 06:22 07-02-2014
Rating: 10
Author: Mordekaiser
Comment: The goal is to pass thru each level by collecting the key and going thru the door very simple and easy the graphics are great for a beginner made game i have to give this 10/10
Post Date: 23:23 29-12-2013
Rating: 5
Author: CrownKnight
Comment: just a little test to get the key get to the exit in 5 minutes very fun game a 2D game from 80s or 90s make the character jump around controlling the ogre is very easy my rating (5-5)
Post Date: 03:27 18-09-2013
Rating: 6
Author: Joker
Comment: I prefer Ogre Combat by a mile! The combat is fun without getting boring Ogre Bounce is better for mario lovers xD.
Post Date: 03:42 08-09-2013
Rating: 5
Author: mmowiz
Comment: ob lacks sound and can be finished in under a minute. it needs more levels plus more action…/
Post Date: 02:24 06-09-2013
Rating: 6
Author: logen9
Comment: The second level is harder at first. All you have to do is get up to for the key to solve it xD.
Post Date: 01:03 03-09-2013
Rating: 7
Author: Webber
Comment: Not bad for a platform and great for a GO game. I was disappointed the Ogre MUD was never playable so I am happy for more GO games. My only gripe is that it is only two quick levels.
Post Date: 06:46 29-08-2013
Rating: 3
Author: FoxWMB
Comment: A simple little Arcade get to the exit type game perfectly suited for this very website, as it involves none other than ogres.The goal of this game is to get to the end and to the next level, while collecting coins to earn as high score as possible, as well as the key in order to open next level door. At the moment, it seems that the game does not in fact keep high scores, so achieving them is pretty much only a personal achievement.

The controls of the game, although simple, are not explained anywhere. The player moves its ogre character with the arrow keys, left one moves it left, right one right, while the up key cause the character to jump. Higher jumps are achieved by jumping on a jump platform which are placed all over levels.

The game currently does not feature any sounds.

Visually, it resembles old style 2D games from 80s and 90s, with nicely drawn backgrounds and special attention seems to be paid to the player's character which looks more detailed than anything else in the game, and therefore looks quite well.

Overall, it's a very simple and extremely easy to finish game, with only 2 short levels and nothing to do but collect a few coins by jumping around a bit. As an early version of a future game, this game works well, but as a stand-alone game, it's pretty much uninteresting and not worth playing, not until much more content and challenge are added to the game.

Current rating (until some further version of the game) – 3 out of 10