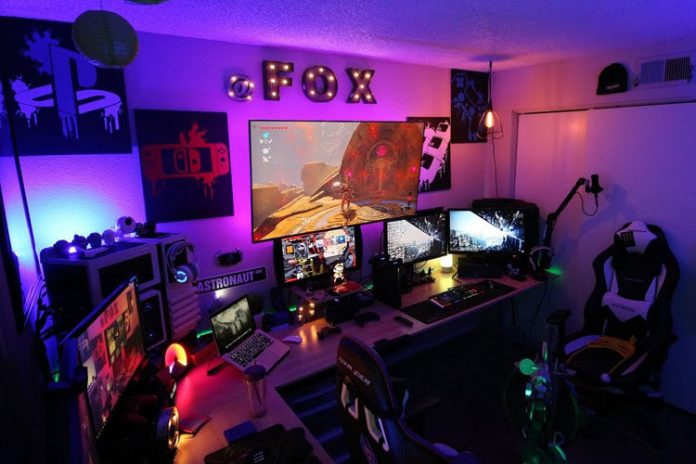 As an online gamer or a Game Ogre, you're only as good as your gear. If you're ready to take your online gaming skills to the next level, it's time to upgrade your online game room. Whether you're creating the ultimate gaming man cave or simply turning a corner of your room into a gaming haven, we'll go over what you need to create the perfect online game room below.
1. Create your own Monster Gaming Rig
A standard PC or laptop simply won't do these days! Today, gaming is a billion-dollar industry where the top online gamers in the world have considerable bank accounts just for playing the games you love. While becoming a top game pro takes years of hard work and practice, the right device can help get you there.
A gaming rig is essential for any gamer. To build a gaming PC, you will need these parts:
Central processing unit (CPU)
Motherboard
Memory (RAM)
Power supply unit (PSU)
PC case
Storage (SSD)
Although these are the parts needed for a gaming PC, the quality of your rig really depends on the quality of these parts. Thus, it's essential to create a budget to determine exactly how much you're willing to spend on each part. Once you have your budget in mind, you'll be able to create your own customized gaming PC that meets your own personal preferences and take your gaming experience to a whole new level! For a real ogre touch, build the biggest gaming rig you possibly can!
2. Gaming Chair
If you're really serious about gaming, you're going to have to log long hours behind the screen. After all, experts say it takes 10,000 hours to become a master of something, which equates to about 6-10 years! You don't want to be sitting in an uncomfortable chair for hours on end that can hinder your performance. Also, a bad chair can hurt your back and neck.
A good comfortable gaming chair should be another item at the top of every gamer's list to create the perfect ogre gaming room. Ergonomic, comfortable, and stylish gaming chairs can keep your back, neck, shoulders, and legs in the right position to prevent strains and soreness.
3. Game Accessories
To truly delve into your game, high-quality speakers are needed. Each game has its own unique soundtrack and surround sound speakers can help you drift away into the alternate universe to make it seem as if you're really in the game.
In addition to speakers, you also want a pair of gaming headphones for days and nights where other people living in your home need peace and quiet. A headset with a microphone will allow you to keep in close contact with your teammates to talk strategy and next moves. They'll also allow you to talk in chat rooms with other players to form connections and catch up with your friends. Once you log off for the day, make sure to store them neatly in or on your desk to prevent them from accidentally breaking. You can also check out all the intense sights and sounds at powerplay.
Gaming glasses also demand a spot among your best gear! Spending vast amounts of time in front of a PC or laptop screen can be very unhealthy for your eyes. Thus, gaming glasses from Gunnar can make sure that you fully enjoy your gaming experience.
The Bottom Line
No matter which online game you play, gaming requires serious skill. However, there are plenty of gaming accessories that can give you an edge up on your competition. By creating the perfect online gaming room with the essentials listed here, you'll see your username on leaderboards in no time!