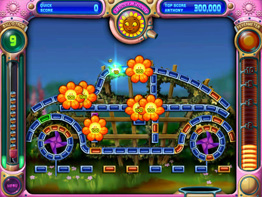 Ready, aim… bounce! Clear the orange pegs from 55 fanciful levels as 10 whimsical teachers guide you toward Peggle greatness. Wield mystifying Magic Powers, rack up huge bonus points and make shots you'll smile about for weeks. Amidst all this fevered action, only one question remains: Can you become a Peggle Master?
Total Rating: 7.71
Reviews: 7
Review Archive
Post Date: 19:27 05-12-2014
Rating: 7
Author: paksupro4
Comment: This is some kind of weird flipers and i like it . There is a lot of different lvl's and you can play it all day. Nice graphic and gameplay . Whole game is good and i rate it with 7/10
Post Date: 23:40 17-01-2013
Rating: 8
Author: Mordekaiser
Comment: Great game super fun i loled a few times i seen it i was like AHAHHAHAHAHHAAHAHAHAHHAHA wtf is this crap but then when i played it i was like wow this game is fun the graphics are good seeing how its a pop cap game worth checking for sure also you can check the demo be 4 buying it at least thats what i did i liked it but not enough to buy it still a really good game
Post Date: 08:22 12-01-2012
Rating: 7
Author: Thedarkboy
Comment: This game is fun in the beginning.. Very entertaining.. It's pretty easy though. I would say 7/10 for this game
Post Date: 19:33 27-10-2011
Rating: 8
Author: raybaeck
Comment: A very easy and simple game to play, all you have to do is just get all the circles or the blocks. Every character has a special move.
Post Date: 00:03 21-10-2011
Rating: 8
Author: lumlehsumleh
Comment: Peggle is really fun in the beggening, but after awhile, it's the same story back and fourth. The only alterations are the maps and characters (when you unlock)
Post Date: 19:33 01-06-2011
Rating: 10
Author: Webber
Comment: Very addictive puzzle game ala Angy Birds. I have the version where you can unlock Peggle nights by completing the original Peggle.
Post Date: 00:53 03-02-2011
Rating: 6
Author: Adrian
Comment: This game is pretty fun to play on a rainy day, reminds me sorta of Popcaps other game "Zuma".