Earth Eternal
Review Directory Intro ...
Want to know what other gamers are saying about an online game that you are interested in? Good because this is where gamers can give their opinions about different types of games such as Online RPGs, MMORPGs, Online Shooters, and Free Games.

If you don't want to leave a review, simply click on the link or the screenshot on a game's review page to go to its website.

Signing up is free and allows you to review games, post in the forums, and submit games for review. The forums allow you to ask questions, share tips, and discuss games after you have reviewed them. Let your opinions fly !.!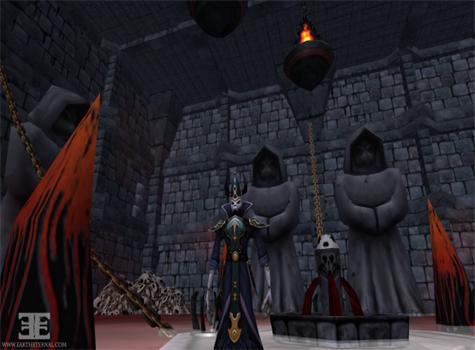 Set in a high-fantasy universe that combines real-world history, legend, and myth with original creations, Earth Eternal incorporates a blend of original fiction, mythologies from Norse to Egyptian, and classic fairy tales into an epic, sweeping story. Earth Eternal's large, handcrafted world, based on a very fictionalized version of Earth, provides plenty of room to explore. You'll find lush forests, barren deserts, snowy mountains, underground dungeons and caves, murky swamps, seaside villages, and more. EE's combat system rewards both individual and group play. It involves some level of auto-attacking as well as individually activated abilities. No matter what combination of abilities players have taken, you'll build up 'melee charges' and 'magic charges' with certain abilities and then use those charges to unleash the proverbial hounds on your enemies (who are legion).

Total Rating: 9.00
Reviews: 7
Review Archive
Post Date: 14:01 13-06-2010
Rating: 9
Author: Alper123
Comment: A very good game! You have the ability to choose different classes ,different skill builds and different races which doesn't effect any stats. So you can choose which race you want. The graphics and the lanscape is great plus the skill system works fine. This game has a great potential and If we consider that this game is a browser mmorpg (around 50 mb client only) this mmo has great things to offer.

Post Date: 22:27 31-05-2010
Rating: 9
Author: 506dude
Comment: This game is amazing. First off it is a browser game, very short to download. The graphics are amazing for a browser game and can compare to any usual mmorpg. The only problems are a couple of lags. It is addicting and truly the best browser game. I went with a yeti type and a warrior.

Post Date: 18:21 01-05-2010
Rating: 10
Author: LostGaming
Comment: Earth Eternal is a high quality game that you can play in the comfort of your browser. The graphics for a browser game are amazing and it has smooth gameplay. The Sparkplay team put a lot of effort into their games background, with a amazing 140+ page lore. From what I've been seeing a lot of new content is coming, including pets, PvP, and new lands. Something that stands out is Groves, Player Owned areas which is likely to become Sparkplay's selling point. The character creation is like no other game, for players choose from 22 different 'animal' races named Beasts. A con, however, is there are only 4 classes to choose from which are very basic. It is quite unique, though they did take some of their ideas from WoW. The community is one of the nicest I've seen and veterans are happy to go out of their way to help you. :-)

Another way this game stands out is the overall attitude of it. There are no humans, elves, or dwarves that you see in every other game - which they are proud of.

This game has a lot of potential and is already great for a browser game. However, any hardcore gamers will want to avoid this casual MMO.



Post Date: 08:11 01-05-2010
Rating: 9
Author: thundemp2007
Comment: Earth Etenal a 3D MMORPG fantasy game with a high quality graphics taht will surely contribute to the development of online games nowadays.This is a browser based game but it looks like client based game because of a very good graphics thats why you will amazed how SparkplayMedia developed this game.One more good reasons on this game is that players can get cash shop items without paying real money.That is something to be boast about compared to other games.It has a highly depth customization of character and remarkable gameplay.

Post Date: 17:52 29-04-2010
Rating: 9
Author: cguthrie
Comment: This MMO is a nice change of pace from these cookie-cutter MMO's it has very neat and original elements at every point you turn. I started just because I was bored and was immediately hooked in. Some of the features I liked most were the unique character selection spanning from fangren (wolves)and broccans (badgers) all the way to sylvans(treefolk) and clockworks which speak for themselves in awesomeness. The developers of the game also continually host very extensive events and are very in touch with the community. Unfortunately this is one reason why I give this game a 9 instead of a 10 because there is a very small amount of player biased when it comes to the Moderators (Sages) and Developers, but definitely not enough to make the game any less enjoyable or the staff any less competent. The game truly masters beauty in simplicity, there are only four classes but almost unlimited ways to customize your combat. The community is very helpful and matures as you play the game. For anyone just starting out I suggest you stick with the game until Anglorum or you will not have a real taste of the game play and community. This is also why I give this game a 9 instead of 10 because the beginner areas do not represent the game and cause many to give up too soon. Finally though the game has several bugs, monthly patches address the most obvious issues and for anything more serious hot fixes are put out. The devs are very responsive to player complaints and they are usually fixed very quickly and players can find help quickly in game for any problem that arises.

Post Date: 04:26 09-04-2010
Rating: 8
Author: Dywi
Comment: Earth Eternal, like Dragon Oath and City of Eternals, will be among the best MMOs in the near future. EE has as an awesome concept and gameplay to back it up. Awesome browser MMO. 8/10

Post Date: 00:09 26-11-2009
Rating: 9
Author: doomguy93
Comment: This game is full of vast landscapes & enemies to fight, including beautiful graphics & plenty of quests. You can choose one of 22 species of classes to play as & 4 fighting classes to play the game with & even make your character either fat, muscular or normal & unlike runescape, you can tell the difference between the different types of armor & weaponry you have. The gameplay is superb for an open beta, even with some lag & delay in attacks during battle, but it's slightly easy to forgive with the plentiful graphics with almost every attack type. The story is very in depth, as you have to engage in war against the Anubians for Europe which takes place short after the age of man has fallen. speaking of the fall of man, there are old humam landmarks which can be seen throughout the game like stonehenge & big ben. Making friends is an easy proccess, but you can lose them from time to time which makes it difficult to communicate with them. Over all with the game still in progress, this game is very worthy to play for a beta mmorpg, so download it as soon as you're done reading this because it's one of the best FREE browser based mmorpg titles out there.