Endless Ages
Review Directory Intro ...
Want to know what other gamers are saying about an online game that you are interested in? Good because this is where gamers can give their opinions about different types of games such as Online RPGs, MMORPGs, Online Shooters, and Free Games.

If you don't want to leave a review, simply click on the link or the screenshot on a game's review page to go to its website.

Signing up is free and allows you to review games, post in the forums, and submit games for review. The forums allow you to ask questions, share tips, and discuss games after you have reviewed them. Let your opinions fly !.!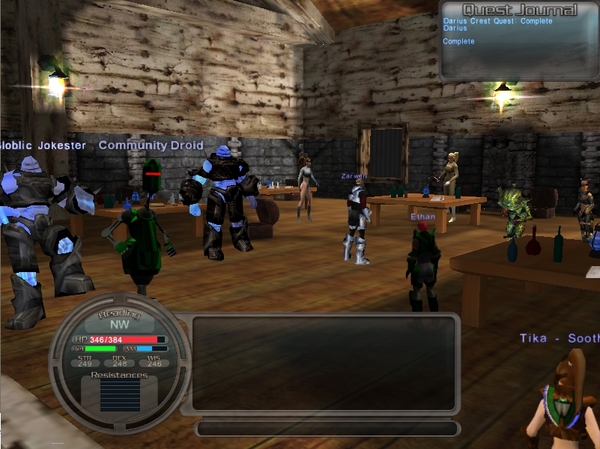 Time is meaningless here as beings from past, present, and future are flung together, bringing their technology and ideas with them. None know how long they will exist in this land of chaos and the laws of Fate seem to have been repealed. As familiarity comes, each realizes they alone control their own destiny. Sides are being chosen in this world where death is not the end but merely the next step. Whatever happens, they will finally decide who they are and take their place in the greatest life of all.

Total Rating: 7.21
Reviews: 24
Review Archive
Post Date: 23:29 23-09-2008
Rating: 5
Author: tiagato
Comment: Good.

Post Date: 03:43 28-03-2008
Rating: 2
Author: kingboy409
Comment: an alright game
not in my top 100
a boarring game.


Post Date: 05:45 30-06-2007
Rating: 10
Author: Alexis666
Comment: This game is anything but a rip-off! i played it for a while like a year but not as long as some of these other people.
Playing this game was so much fun because there was always something to do. If you were bored of lvling and shooting and stuff, you could just hang around in BoomTown and talk to people, and there was the perfect amount of people who played so you could meet so many people, almost everyone who playes except all the newbs who play for about 5 minutes then go off telling people the game sux and make it so the game can't afford to play anymore! oh well, it was fun ATM!

Post Date: 15:56 03-04-2007
Rating: 8
Author: wrath87
Comment: from what ive heard it looks good. 8/10 because of loading time. Wish they made a downloadable veraion as well as a browser one.

Post Date: 18:03 08-03-2007
Rating: 10
Author: Feral_Reaper
Comment: Great game 10/10 from me browser based so has a long load time since nthing is saved to your computer but well worth the wait. great gameplay and graphics.

Post Date: 01:47 31-12-2006
Rating: 10
Author: oddone65
Comment: This game rox! the weapons are great, i had a citizen acount but i forgot the passward, so im gonna create a new one, i havent been on in a while, so i dont know how many players r on right now...

Post Date: 12:47 17-12-2006
Rating: 8
Author: mmoking
Comment: Im waiting for this game to load and gawd! does it take a wile.....it looka fou thoug

Post Date: 06:57 30-07-2006
Rating: 9
Author: kylecameron1
Comment: Ive played it for 5 minutes and i can say itss the greatest browser mmorpg ive ever played its first person and the graphics are 9 out of 10 and its very easy to get used to just get a weapon and start shooting stuff, the only reason its 1 point from 10 is that loading it up takes forever, at least the first time you go to a place, and i am typing this as it loads one town, its only halfway loaded as of now, so the reason some people might not like it is because of load times but other than that its a truly great game.

Post Date: 15:58 25-02-2006
Rating: 7
Author: turtlefuzz
Comment: 7/10-decent

This game has the best browser based graphics i have ever seen. It is diffrent too. It isnt just point and click, full keyboard contols!
It has solid combat, but the game isnt very, well mindblowing. The amount of weapons is cool but not rewarding.
this is why this game gets a 7/10

Post Date: 23:55 24-11-2005
Rating: 0
Author: gameguru2500
Comment: none

Post Date: 04:14 12-11-2005
Rating: 10
Author: Atlow
Comment: Hands down one of the funnest and welcoming online games I ve ever played. I started in late 2002/early 2003 and have watched this game develop.
All these people that said "all these people are dev s, friends of the dev s, etc, etc."
The names I recognize posting here aren t. And these complainers are probly people that tried the game and didn t VAULT anything, died, couldn t get their body, and lost everything they had. Or the "bad seeds" of the community that got smacked down one time or another by the dev team for breaking rules (repetetively too since they re usually a leniant bunch of guys). I myself have only spoken to the devs 1 on 1 a handful of times, and I d say we are hardly "friends".

Just go try the game. The Boomtown area is immense now, and is the most updated area of the game as of right now (the main world is being worked on to reflect the terrain/water/air graphics and stuff). This area is 100% free FOREVER but it s only a taste of what the game holds for subscribers. Theres an arena for the different lvl brackets so you can get a taste of PvP (since BT is all safezone, can t be killed). In game cash is fairly easy to acquire so you don t have to worry about ammo/droppable armor/etc. (as long as you VAULT you cash). No one pressures you to buy it at all ever.
You ve got nothing to lose!

Post Date: 04:05 08-11-2005
Rating: 10
Author: blank eyes
Comment: Don t listen to any of those people who gave the game a 0, they don t know what the hell they re talking about. The only game they probably played was the greatest game in the univerise in one of their dreams. They say that only devs play and their family and friends, well 99% of the people i know/knew on Endless Ages didn t personally know the devs, and i knew enough people to blow up my group list with people and i knew people outta my group as well. The community is small, but it just makes it so you know everyone better. This game is like drugs, and once you play, no other game is as good as this game.

It has a good community that is unlike other partially free MMO games, like Runescape, where 90% of the community won t do their own work and hack others for things. The variaty in the game is skyrocketing, becuase everything is unique. Fairly easy to control once you get the hang of it, which only takes about 2 minutes at most.

May take a while for the first download, but hey, once its done, you only have to load for new areas and you can go from map to map pretty quick, and there are no loading times to go from part of a map to another part. Graphics are mediocre, but you can t have everything, and they re not bad.

Post Date: 02:57 02-11-2005
Rating: 10
Author: uidSpike
Comment: Great game, but not for average players that like boring button mashing and pussy turn based combat, and unlike other games currently on the market such as WoW and EQ2, they actually make use of graphics technology that looks damn fine. Awesome networking pipeline, all in all the best game on the net and the only one I will ever play.

Its cheap to buy, and fun to play. EA is the best game on the market, hands down, no contest.

Post Date: 16:31 27-10-2005
Rating: 10
Author: Mireillu
Comment: Definitely one of the finest games i ever played online.
An immersive atmosphere, and a really good mix of RPG and FPS genres.

What makes it unique amongst the few games that tried the same mix, is merely the gameplay... it s fast, adrenaline rushing, contrarily to some Neocron or Planetside gameplay. Besides, the differences of latency (ping) between players is managed very well, and all in all that makes Endless Ages the only *real* MMO-FPS currently available.

Go for it ! ;-)

Post Date: 06:51 26-10-2005
Rating: 10
Author: Mind
Comment: This is one great game. I can honestly say that I ve spent more time in this game than any other I ve ever played. It is very immersive, and constantly evolving. I ve played other online games, i.e. WoW, CoH, Planetside, Guild wars, etc and although interesting for a short while, they could not take me away from Endless Ages for more than a month or two. The community is like a family (with the occasional embarassing uncle who you wish someone would gag).

If you like online role playing games, but miss some of the fun of first person shooters, this game is exactly what the doctor ordered.

You don t have to play for years to get to the funnest parts of the game. Its good to play a game where everybody knows your (character s) name.


Post Date: 15:30 25-10-2005
Rating: 8
Author: Opea
Comment: Played it in beta, early gold, off an on for a few years. This game has some unique features, the pvp relies on skill instead of dice rolling. Seems to be headed somewhere under new managment after years of not really going anywhere.
This game can be all you want it to be, but does suffer from having small dev crew so tweaks sometimes take a long time and some quests,items are bugged and have been for a long time. That being said new crew is doing a bang up job of changing things as rapidly as they can, just dont expect massive monthly patches or a dev log of whats being done.

Good game, good premise, just needs people.

Post Date: 14:43 25-10-2005
Rating: 10
Author: Rulzern
Comment: Well, I have been playing this game for close to 3 years now, with over 7 months of in-game time (yes, I know). It is simply the only game that can keep my attention for that long.

The traditional RPG s tend to bore me after about a week (WoW, AO, Lineage etc.) due to their repetetive and meaningless nature.

The PvP is simply the most fun I ve had in any game at all. The immersive nature of the game really makes the adrenaline pump in PvP.

On the downside, some of the graphics are dated, and the community is pretty small. But I m not a person who craves for graphics, and the community size only means that you know who the bad and good guys are, so in my opinion, this game is a clear 10.

Post Date: 20:48 24-10-2005
Rating: 0
Author: visitor
Comment: Anything positive said here about this game is likely coming from a Dev or one of their real life friends/family.

I have played off and on for over a year. The game was a great concept in the beginning but it has gone nowhere despite updates. I enjoyed it when I first started for the reasons others have listed, but what quickly became apparent is that the player base is mostly comprised of the Devs real life friends and family, you d be lucky to catch 3 - 5 people playing at any given time and 3 of them are probably Devs.

To make matters worse the Devs will do absolutely nothing to attract and keep new players. Anyone who complains about anything is quickly gagged from the forums or their ingame account is banned. If you paid for a year or six months in advance, you re just SOL.

Endless Ages is apparently run by a couple guys still living in their parent s basement who have pretty good game design and development skills, but no business acumen or customer service awareness.

Play the free version untill you get bored but don t pay for it, it s a rip off.

Post Date: 17:26 24-10-2005
Rating: 10
Author: Ragey
Comment: I m playing this game since early 2003, and I really like it.
Sure there may be some downsides, but the feeling of freedom in EA is unbelievable.
I can literally reach everything, and doing it FPS style is very, very cool.

Fighting is what I like most, the game really shines in this part.
Taking down mobs can be lots of fun, but PVP is what I am talking about here.
A 1on1 fight can last more than 15 minutes if both of the fighters are equally skilled.
And because you have to dodge by hopping or flying around while still trying to aim for your enemy this takes alot of focussing.
The difference in guns, armors and their channels also make a good addition to the fights.
Different armors will protect from different guns so you have to be at your guard at all times in dangerous areas.
This means you will be carrying 2 sets of armor around in case you run into the wrong gun :P(don t worry you will never have to carry around more than 2 sets of armor)

Some guns also got splash damage, so you will have to practise to dodge each gun right.
Once you do and you know how to efficiently kill your enemy, it feels very rewarding.

About the clans, there will problably be one that fits you.
Some are very kind and helpful, some are evil and out to kill everyone.

Also a great thing is that the game evolves rather quickly lately.
The new update system really makes me feel good knowing that the world I play in will get even better.

About the music, I m glad it s streaming audio now so there will be lots of variety while I m playing the game.
May be out of place every once in a while, but it never annoys me.

If you re tired of your current games and looking for something completely new, just try it since the entire new boomtown area is free anyway.
I ve tried EQ2, seen enough of WoW and plenty other games but I always end up playing this game.

If you do try it, see if you can get in touch with Holy Rage and say hi.

This game is my drug.

Cya

Post Date: 14:58 24-10-2005
Rating: 9
Author: willow45
Comment: The game itself is very unique. The mobs are cool looking, the free area is very large, you can fly, swim (no running out of air), ride vehicles, ride mobs, shapeshift into mobs, and much more that I haven t even experienced yet.

Very fun skill-based fighting. As a level 1 you can take on any mob in the game and survive if you dodge, fly, swim good enough. So you are not forced into the whole "I am level 1 so I should just go kill the level 1 mobs" attitude.

The developers are involved in the community, responding to bug reports, having weekly events for both the free and paying players, and constantly improving the game.

Since this is more an indie game than something as big as say WoW, there are pros and cons. The small group of devs means they are more committed to making the game survive, and are more involved with the players. While the cons being major changes take longer, and a smaller advertising budget currently means a smaller player base.

Overall definitely worth the download, it doesn t cost a thing try. The free area is large enough to keep you busy for weeks, plenty long enough to decide to become a paying citizen or go elsewhere with your money.


Post Date: 14:29 24-10-2005
Rating: 10
Author: SnowFox
Comment: ITS FREE!! I got to level 8 in a short amount of time, there was plenty of people online playing and I just have to say I had a blast!! In the review and screenshot the graphics do look subpar, but they must have seriously done some over hauling since then!! The graphics were Amazing!!! What a beautiful gaming world, the fighting style is incredibly enjoyable, I couldnt stop playing!! This game is a MUST TRY!! what do you got to lose?? ITS FREE!! I give it a 10 all the way!

Post Date: 08:03 17-08-2005
Rating: 0
Author: mihalis
Comment: hahaha, what your joking you mean this is a game

Post Date: 22:05 26-04-2005
Rating: 0
Author: sonic99
Comment: none

Post Date: 04:06 27-01-2005
Rating: 7
Author: jubei
Comment: Would not call it a premier MMORPG but I had fun on the trial.