Myth War Online
Review Directory Intro ...
Want to know what other gamers are saying about an online game that you are interested in? Good because this is where gamers can give their opinions about different types of games such as Online RPGs, MMORPGs, Online Shooters, and Free Games.

If you don't want to leave a review, simply click on the link or the screenshot on a game's review page to go to its website.

Signing up is free and allows you to review games, post in the forums, and submit games for review. The forums allow you to ask questions, share tips, and discuss games after you have reviewed them. Let your opinions fly !.!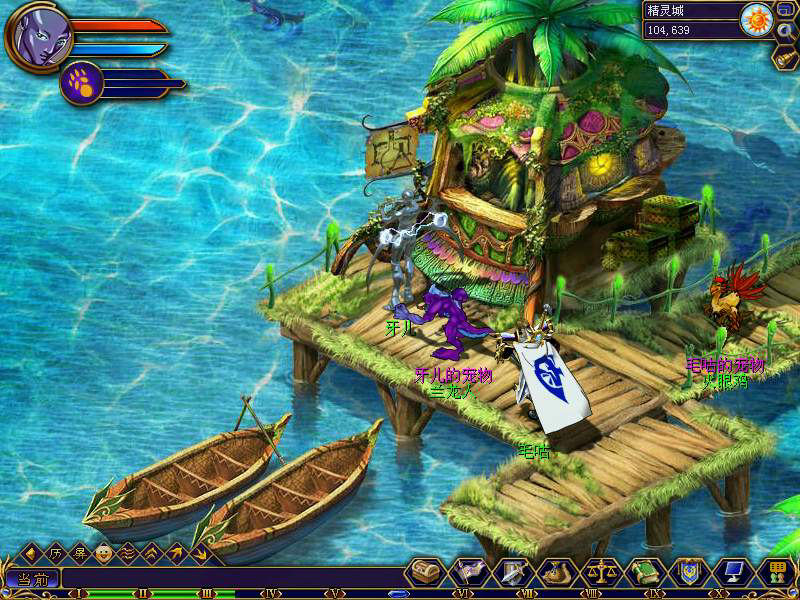 Myth War Online is a fantasy-themed MMORPG based in the magical era. Four classes of species exist, the Humans, the Centaurs, the Mages and the Borgs. What is exceptional about this MMORPG is the way the graphics are rendered. Instead of the usual 3D graphics that we see now in many games, we are experiencing a wave of nostalgia from the beautiful hand-painted 2D graphics. Combining the powerful visual element of the game along with solid game play is the ultimate elixir for creating a long lasting ultra playable multi-player game. The maps are huge and detailed and the game is so in-depth that individual characters can possess over 200 skillsets! Apart from the usual fighting scenarios, players can also have the option to play political mind games to amass power or destroy their enemies. The vastness of this game will definitely thrill hardcore MMORPG gamers right now who have seem to hit the limit with current games.

Total Rating: 7.31
Reviews: 26
Review Archive
Post Date: 12:15 19-08-2008
Rating: 8
Author: DrMalicious
Comment: amazing game and the art is nice, but there is alot of grinding and the community seems to be less than kind the pets are a huge UP though overall fun but there are betters out there.

Post Date: 04:54 01-07-2008
Rating: 8
Author: bisurge
Comment: This game is pretty cool. It's pretty much a free version of RO. It's worth the download, I say.

Post Date: 05:41 11-03-2008
Rating: 9
Author: smooth12
Comment: This game is great. I was a lvl 1-119 male borg. The most i like this game is the community. everyone is very friendly. Excluding the hackers of course. What's more is that the chat system is full of hyperactive emoticons that makes it lively to chat with your friends. The system for interacting with other players is the most excellent i have ever seen.
The only thing is that the developers have left the game and no updates since then other then the same events year after year >.<
But u heard MW 2 coming out. Or it might just be a rumor =)

Post Date: 08:58 10-10-2007
Rating: 1
Author: lilmillete
Comment: It was a game with potential but game is more often bugged and managed by incompetent GMs who show favoritism in game. If you play it, remember play it free, don't purchase from mall or you'll be sorry

Post Date: 16:19 30-08-2007
Rating: 10
Author: tomek214
Comment: Mythwar Online is 2D fantasy online game with great player and guild system if u are bored of all f2p game try this one.

Post Date: 21:38 07-06-2007
Rating: 5
Author: dabest
Comment: i find this game annoying. i hate the way that monsters ambush you all the time. that and the way the characters walk. could've been better, not as good as the people are reviewing below

Post Date: 07:53 28-05-2007
Rating: 9
Author: Vendetta
Comment: Great Game. fun all around, i really enjoyed it, but it is a little confusing and they do need to add some customization in.

Post Date: 10:16 18-05-2007
Rating: 9
Author: aalsson
Comment: this game is great!! the pets are cool!!and there cool cities!! but the name of the game is a bit:S

Post Date: 19:57 13-04-2007
Rating: 5
Author: ThisGame
Comment: Community - awesome
Graphics - Awesome 2D, a little bit too colourish

Post Date: 22:03 09-02-2007
Rating: 1
Author: soad553
Comment: Pokemon online should be its name. Its pathetic.

Post Date: 18:20 06-01-2007
Rating: 7
Author: oneyx
Comment: Ok this game is a pretty mmorpg. But they have to upgrade this game a hell of alot. First off start with the graphics... The colors look to... well babyish... But you can play it if you want...

Post Date: 18:29 02-01-2007
Rating: 7
Author: heke
Comment: got bored after lvl.. wait.. 40? i still think my char isn't deleted. but those graphics.. argh. and no customisable characters?! actually only fun thigs are pets and partying with some mages and higher lvl players!

Post Date: 01:05 31-12-2006
Rating: 7
Author: Miakko
Comment: Battling is fun.
But the graphics make me want to rip my eyes out.
:C

Post Date: 21:41 24-12-2006
Rating: 10
Author: Dredre14
Comment: This is one of the best games (mmorpg or video game) i've ever played. The 2D style graphics are amazing making it look like 3D and wonderful people are always there to help. The main quest is great becuase of your abilities to reborn, have pets ((which fight)not ordinary but dragons, undead, santa pets, many more for every occasion) and much much more still to be discovered because the game is very new but excellent.

Post Date: 10:28 10-12-2006
Rating: 10
Author: helamos
Comment: very fun game. I love the ATB battle system, very well implemented. The real good thing is the music, its AWESOME!! Great game worth a try if you need a great free mmo to pass the time with.

Post Date: 23:25 08-12-2006
Rating: 3
Author: soad553
Comment: the graphics are'nt good,it gets to boring, and its like an online pokemon game.you hve your pets attack for you.I suggest you play rune scape or WoW

Post Date: 03:21 04-12-2006
Rating: 10
Author: Shiningwiz21
Comment: This Game I Have Lots To Say =P The Graphics, Sound, Music, And Quality All Come Together Splendid ;) I Love The Fact That There's Different Sections For The Chatting System (Market, Local, World, PM, ETC) It's Really Awesome And The E-Mail A Friend When They're Offline Or Online ;) Also I Love The Battles, So Much Fun, I Rate This Game A 10/10

Post Date: 14:42 22-11-2006
Rating: 10
Author: stonenny
Comment: yes,it is a great game.I love the pets,especially saint beast.I want to get saint beast.GM ,i love it.Could you give me one:)

Post Date: 02:10 03-11-2006
Rating: 7
Author: KayMaster
Comment: good game,i love the 2d graphics.Community is really nice(maybe they dont hav any options coz the only way to lvl fast is to joining parties and get plvling or make friends with high lvls)but i hate the battle system,the sound is good,make u feel like ur in the medieval ages(whatever they call it).I just wish the chars are customizable and can change job.

Post Date: 16:27 29-09-2006
Rating: 9
Author: jackpole
Comment: its a good 2d game i wanna see it when it turns 3d will be better

Post Date: 14:31 03-08-2006
Rating: 7
Author: massiveowner21
Comment: graphics although 2d rock 5/5
sound 3/5
community ?/5 im not really sure havent been playing it long enough to know.

Post Date: 22:59 27-07-2006
Rating: 10
Author: kylecameron1
Comment: Its a great game you can have pets and lvl them up and the different races are somewhat unique because I havent seen any games that have borgs as a class and not many that have centaurs, also even though there arent a terribley high amount of armors meaning only one type per 10th lvl and weapons same thing its still fun, and also not like it matters that much but you cant see the armor on you when you put it on. Dirtyjack and yuki are crazy because those graphics are great, its nice to see that somebody put all the time into hand drawing and painting them instead of the usual 3d, you lvl up pretty quickly especiallly in a party and because the game has such a nice community its very easy to find a party lots of quests and I agree with ladyknight in the turn based thing but once I got into it it feels like turn based but at the same time it strangly doesnt .

Post Date: 20:16 16-04-2006
Rating: 8
Author: LadyKnight
Comment: If someone would have mentioned it was turn based, I could have spent my half day of waiting for the download link to appear and then waiting untill the full gameclient was downloaded untill the game was actually installed, on another game that was actually worth my time.

The 2d graphics are beautiful and so are the many characters and I have no complaints about the layouts or interface or whatever, that is all done excellent, but the turn based fighting is like in Monsters & Co so boring and dull, if you re like me and not into that, stay away from it.

Post Date: 16:07 14-04-2006
Rating: 10
Author: gbwong
Comment: Fascinating story line. Recommended to everyone. Nice people. Ok graphics... Nice and easy game play with no hassle.

Post Date: 20:20 15-01-2006
Rating: 4
Author: dirtyjack5527
Comment: The grapics make me cry(sob)boo!!!

Post Date: 09:36 02-01-2006
Rating: 6
Author: Yuki
Comment: The graphics are pretty sad.... But the battle systems pretty unique...