Age Of Speed
Review Directory Intro ...
Want to know what other gamers are saying about an online game that you are interested in? Good because this is where gamers can give their opinions about different types of games such as Online RPGs, MMORPGs, Online Shooters, and Free Games.

If you don't want to leave a review, simply click on the link or the screenshot on a game's review page to go to its website.

Signing up is free and allows you to review games, post in the forums, and submit games for review. The forums allow you to ask questions, share tips, and discuss games after you have reviewed them. Let your opinions fly !.!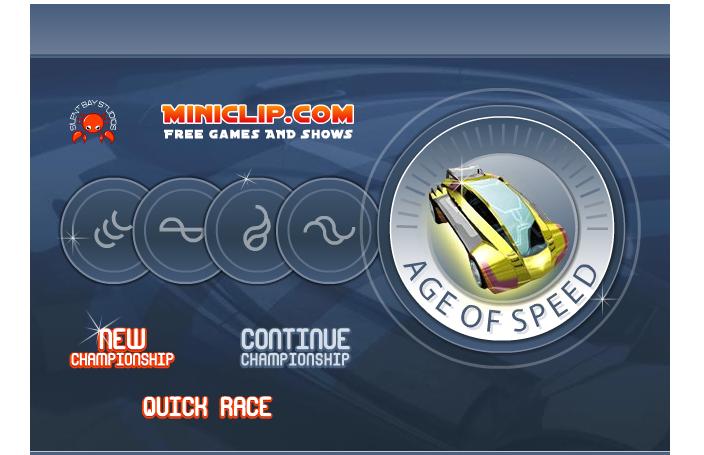 Master the race tracks of the future while mastering the turns, huge jumps, and curl curl into spirals and zig zags.

Total Rating: 6.71
Reviews: 14
Review Archive
Post Date: 11:52 20-04-2015
Rating: 7
Author: axwellshm
Comment: Good game from the miniclip. It's kinda relaxing game and i like it . 7/10.

Post Date: 17:53 27-10-2014
Rating: 8
Author: paksupro4
Comment: Age of Speed is flash racing game
you can play championship and normal quick race , you can chose cars and lot more
this game fun and you should play it you wont regretit

Post Date: 07:35 08-06-2014
Rating: 6
Author: arZ
Comment: Rly funny racing game.
At begin you can chose between quick race or a championship.
You can pick one of the for cool racing cars. The game is easy, and the track are lot of fun. Looping, jumping, collecting coins ... and finis first for the big trophy.
But you need to care ... you can drop from the track...
6/10 ... from me

Post Date: 13:41 12-05-2014
Rating: 8
Author: savicaa
Comment: here we have classic racing game , on first look i thought this game is really bad , but after i realesed on my mind that this is not simple game..
I like it , marks is 8/10.

Post Date: 10:25 11-05-2014
Rating: 6
Author: nikiwild
Comment: Good racing game.

Post Date: 20:07 26-03-2014
Rating: 10
Author: Gavra10
Comment: Good game :D

Post Date: 20:45 20-04-2013
Rating: 9
Author: Mordekaiser
Comment: This game is a very fun 3D Racing game one of the best out there its very short very hard if you ask me and very entertaing and keeps you on the edge of your chair wanting more i rate it 9/10

Post Date: 17:16 20-04-2013
Rating: 5
Author: PolanWalker
Comment: This production is a 3D racing flash game :) In which we can use one of 4 great racing cars :) This cars differs only by they look but all drive the same way and have same driving abilities. For me game is very simple and give some fun from playing. I think its a good idea to spend some free time. For me game is ok and can be recommanded. I rate this game 5/10 :)

Post Date: 02:51 20-04-2013
Rating: 4
Author: FoxWMB
Comment: This game is a nice example of good idea, done poorly. Essentially, it's a 3d racing flash game, and as such, it had a good potential, but the realization is anything but good.

The game is rather simple, the player picks one of four cars which only differ in looks, not in any stats, and race across four different race tracks per championship, which in turn are also four.

Four is also the number of controls available to the player, with standard forward, left, right and brake/reverse. However, this is one of major issues of the game, not so much lack of controls, but the fact that they're very unresponsive. This in turn makes turning left and right extremely and unnecessarily difficult. A player will hardly get the vehicle to go in the desired direction, and for a racing game, that's a very bad thing.

Another issue of this game is the sounds. Sure cars are supposed to be futuristic, but the ones in this game sound something like a modern train locomotive, which is of course not a good thing.

Visually, the game looks good and maybe it's only pro is its usage of 3d, which is not seen often in flash games. Although it should be mentioned that those that watched TRON or TRON Legacy might feel that the visuals here are kinda ripping these movies off.

Tracks are not designed bad, but they're nothing special as well, although there are some creative ideas here as well.

AI is nothing special either, they seem to be slower than player in the straight line, but able to take the turns better do to the fact they seem unaffected by handling issues that player has. Contact with AI cars is not really recommended as there's no way to damage them and it's extremely hard to even slow them down a bit.

A critical issue of this game is stability. It's prone to crashing, and it's prone to do so often. The only good news is game saves player's progress, so at the most, the biggest loss will be the progress of current race player is racing on.

The objective of the game is simple. Win races, collect coins that show on track to achieve higher score, unlock next championship and win them all. Pretty straightforward and rather simple.

Overall, this isn't exactly a bad game, but it's far from good and suffers from many issues. The idea behind the game is quite good, and if issues were resolved, this might actually be a good game, but for now, it's simply poor.

And as the game seems to revolve around number 4, it's only fair that its current rating is 4 out of 10

Post Date: 20:26 09-10-2012
Rating: 6
Author: PolanWalker
Comment: Great and short game :D 6/10

Post Date: 16:11 12-03-2011
Rating: 6
Author: Adrian
Comment: As with most flash racing games on Miniclip they are good quality, this one is probably the best one though.

Post Date: 12:02 21-02-2011
Rating: 3
Author: sasuke24
Comment: a nice racing type flash game. But there are many better flash game about racing in the net.

Post Date: 15:34 30-01-2011
Rating: 8
Author: champking5
Comment: I really love racing games, so you know this game was really fun to me. Enjoy doing tricks and racing to get in the 1st place position.

Post Date: 23:13 11-12-2010
Rating: 8
Author: EcLuD
Comment: nice cards game, god graphics god movements and god misions
8/10