Arma 3 Alpha
Review Directory Intro ...
Want to know what other gamers are saying about an online game that you are interested in? Good because this is where gamers can give their opinions about different types of games such as Online RPGs, MMORPGs, Online Shooters, and Free Games.

If you don't want to leave a review, simply click on the link or the screenshot on a game's review page to go to its website.

Signing up is free and allows you to review games, post in the forums, and submit games for review. The forums allow you to ask questions, share tips, and discuss games after you have reviewed them. Let your opinions fly !.!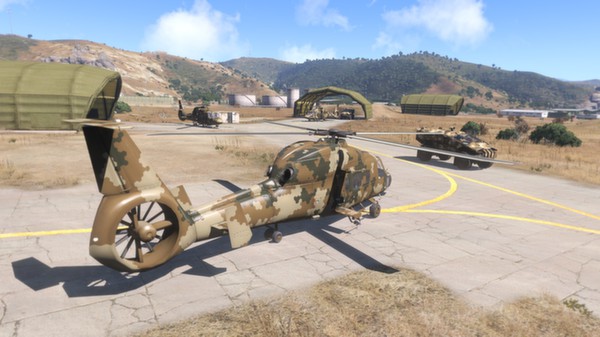 Experience true combat gameplay in a massive military sandbox. Authentic, diverse, open - Arma 3 sends you to war. Key Features in the Arma 3 Alpha Stratis Island Take your first steps in Arma 3 by exploring the 20 km² island of Stratis. Navigate its rugged terrain, expansive forests and man-made airbase.

Total Rating: 9.80
Reviews: 5
Review Archive
Post Date: 09:41 10-04-2015
Rating: 10
Author: LosmiK
Comment: For me it was a fantastic game, I play mostly Multiplayer, and fantastic fun.

Post Date: 07:44 26-06-2014
Rating: 10
Author: najdan11
Comment: This game is AWESOME!Gameplay,graphic,sound are amazing.Multiplayer is also amazing.This is game with nice story,and its really interesting.I enojyed playing it! :)

Post Date: 17:22 18-05-2014
Rating: 10
Author: Frozen
Comment: This game is really awesome! nice graphics and really interesting for play :)

Post Date: 09:15 26-04-2014
Rating: 10
Author: nikiwild
Comment: First, my rating: 10
Multiplaer 10 / 10
Gameplay 10 / 10
Graphics 10 / 10
Sound 10 / 10
I can only say one word for this game awesome! And i mean it. I have found the game i like, survive for real. But i have problems, my pc is not strong enough. My pc doesnt support this game. I have lags. Eather way i have played it in gameroom. When i get better computer i this game will be the first installed. This is a first personal shooter game, in whitch you can do whatever you want. First you need to pass the course training. On training you will learn how to walk, shoot, drive, first aid help, lead the squad, ride a plane, ride a helicopter, build a base, and many more. This game is like a strategy, you will need to think twice before you do any thing. Its really hard to shoot in this game. You can make the game in 3d mode too just pres num enter pad and it will look good. This game is pretty much awesome in multiplayer mode. There are many mods in this game. I like the mod playing aginst the zombies. Survive alone there. You can gather up with people of friends and start seaking for zombies, robbing other people, you can even have a prisoner. As i said, any thing can be done. When he is your prisoner you can make him do whatever you want. He will give you things that he owns so you will not have problems with food water, ammo, guns. In gampain mode you follow missions, leaded by some squad leader, after u get some achievments you can lead your squad by your own, tell them where to go, place them to sit there and wait, and many more, you are making your own actions on your mission. As i said before, you have to find water, food so you can stay alive, when someone is hurt u need to go to him and grab him from the field an take somewhere cover so you can give him first aid kit. Game reqirements are pretty high, i wish i had a better computer. So this was my opinion for this game i found it pretty awesome, try it you wont regret. The only thing i dont like is that i dont have a good pc for this game. I am looking forward to buy a new pc who is going to be much stronger, and i will play this game for sure. If ulike war games, that you can do whatever you want this is the right game for you. This game is pretty much like mmorpg games, you can litteraly do like i said anything. Arma 3 was released 2013 and its pretty new game. Game is pretty big, missions are really long, some of them are irritating but, this is not like other games, every shooter game, only shoot to kill every one.

Post Date: 07:41 15-11-2013
Rating: 9
Author: Thedarkboy
Comment: I really liked what they tried to do with Arma II. It was a complex, ambitious and fragrant hardcore game about military battles. It had tons of good ideas but unfortunately it turned out to have a pervasive lack of implementation. I loved the game because it tried, but longed while constantly looking for a more polished game experience.

After Arma 2 Bohemia Interactive had many loose ends hanging, but always knew how they would continue to knit together their vision. The team seems to be a bunch steadfast souls with a burning passion that truly realize the potential of its concept and has continued to pursue their vision. You can tell immidiately that Bohemia have been looking for months after game elements to simplify and innovate, step by step, without destroying the realistic part from Arma II.

Content-wise, this is a real beast. What's available to play is essentially a robust multiplayer support, a full-featured editor (and the accompanying mods that are easy to download in the game's main menu) along with a dozen demonstration courses, challenges and tutorials. Then there is a campaign too. But even without the campaign, it's still massively packed, I can't deny that. The demonstration maps are loose but stylish packaged assignments is a good way to go after you got through the tutorial courses and are usually quite short. We can call in artillery strike, flying helicopters, shiver in the water and run the cars - it's a showcase for what Arma III is, quite simply.

What you and many others will spend the most time with is probably multiplayer mode. Everything that makes Arma III, the game it is, is implemented in multiplayer, and it quickly becomes pretty obvious that it's like this the time should be be spent: that in the game's cooperative mode you come up with tactics together with strangers in repeated attempts to overpower the computer controller soldiers.This is a game that stands or falls on the insight that it instills in the player and fortunately Arma III is one of the finest examples of how this will be managed. You will keep the spirit of excitement, screaming in frustration and cry in disappointment.

The graphics have undergone a very nice improvement from its predecessor and now it looks more thorough and friendly. I would even go so far to call Arma III stunningly beautiful. The textures are, despite a good basic look, still far too low resolution, but both the lighting, animations and character models look amazing. The best part about the graphics is without doubt the enviroment, which this time is both varied and stylishly designed. If you were amazed at the surroundings of Arma 2 you will drop your jaw when you see this.

The entertainment factor have improved since Arma 2, thanks to the symbiosis of fresher effects, oppressive atmosphere and a much improved sound engine. Bohemia have even succeeded in develop and improve the game system incredibly much since Arma 2. You are for example not restricted to only stand, crouch or crawl but now there are also other positions that are surprisingly very useful. Now you can also swim under water, and even shoot the fishes. In the whole, their new game is far superior to the earlier games.

A big problem with the earlier Arma-games was the unpolished technical part that was full of crashes, graphics bugs, and a terrible uneven fluency in image update. Even here, Arma 3 have taken a step forward and during my game sessions, the game have only crashed once and the bugs are now reduced. Despite its considerably more beautiful appearance, it is easier on the hardware than Arma 2 was, but it is still too hard and uneven.

Especially in the multiplayer mode, thescreen update is quite worrying, but with that said it is still better than its predecessor. For a sufficiently large scale games like this, I don't mind simple graphic bugs as long as they don't affect the game and to avoid the game crashing is obviously really nice. In short, it feels much more polished from the start this time, which is worth a warm round of applause, but it is still lacking a lot of performance work before Bohemia reaches all the way.

Arma III isn't a game without flaws but rather a game with many flaws that are overshadowed by the ambition that the developers got. This is without a doubt Bohemias best game so far and for me, a solid 9/10. It's a big step forward for the game series but with such a massive game, it still requires some improvements. But I can't wait to see what game that Bohemia will release next.