Bloons TD 4
Review Directory Intro ...
Want to know what other gamers are saying about an online game that you are interested in? Good because this is where gamers can give their opinions about different types of games such as Online RPGs, MMORPGs, Online Shooters, and Free Games.

If you don't want to leave a review, simply click on the link or the screenshot on a game's review page to go to its website.

Signing up is free and allows you to review games, post in the forums, and submit games for review. The forums allow you to ask questions, share tips, and discuss games after you have reviewed them. Let your opinions fly !.!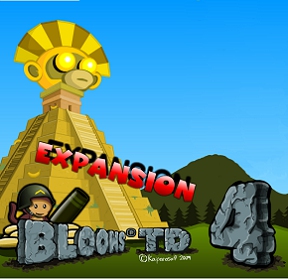 This game is a cute little game. It is awesome though even though it has no blood. The Point is to Pop all the balloons using towers and prevent them from escaping.

Total Rating: 8.06
Reviews: 18
Review Archive
Post Date: 20:06 29-10-2014
Rating: 7
Author: paksupro4
Comment: This is nice tower defense game.
game have a lot of tower and enemy units and i think you should try it :D
7/10

Post Date: 19:48 02-09-2014
Rating: 9
Author: FrendlyLeBlanc
Comment: I played a lot of games like this and this game is good... Defense with different weapon to shoot balloons..
9

Post Date: 11:54 02-09-2014
Rating: 7
Author: arZ
Comment: Bloons Tower defense is really popular flash game. They are 100 versions of tower defense. The point in this game is to pop all balloons with special weapons. Funny game. I rate it with 7/10

Post Date: 11:49 13-06-2014
Rating: 5
Author: Alekskill124
Comment: Really good expansion of, as i said in review of BTD 1, of realy nice title. Well principles are still the same but this games ads something new which i particualy liked.. So 8/10 for this game.

Post Date: 19:34 29-04-2014
Rating: 9
Author: Gavra10
Comment: Nice game .. i like it at all :D Funny and good graphics :D

Post Date: 14:53 08-12-2013
Rating: 10
Author: keller07
Comment: Bloons TD 4 is my great past time if I have nothing to do. It is the best mini game and you will enjoy playing.

Post Date: 03:44 23-04-2013
Rating: 9
Author: FoxWMB
Comment: A very neatly made tower defense game, with balloons and monkey's involved.

The goal of the game is simple, as in most tower defense games - stop enemies from reaching the exit. Player is given a set of lives which presents the number of enemies it can allow to pass without losing the game. In this game, enemies are balloons, which differ in many shapes and forms, while the defenders are various monkeys.

There are 5 different game modes in this game.
Easy mode, in which player needs to survive for 50 waves of attacks, with towers costing lowest and 200 lives available
Medium mode, in which player needs to survive for 60 waves, with towers costing a bit more and 150 lives available
Hard mode, in which player needs to survive for 75 waves, with the most expensive towers and 100 lives available
Sandbox mode, in which player has infinite lives and money, and he chooses which enemies come and when
Apocalypse mode, in which player the goal is to survive as long as possible as balloons keep coming non stop until player loses all of its lives.

Asides from regular modes, there are also 4 challenge modes in which player needs to complete a special task in order to win

The game is played on 9 regular maps, and 7 premium maps which need to be purchased in order to be played. The maps are classified by difficulty, and feature beginner, intermediate, advanced and expert level maps.
Harder maps may feature several paths on which the balloons spawn and several exit points, forcing player to divide its towers on multiple areas of the map.

In order to defeat balloons, player is given a wide selection of upgradeable towers and utilities.
The following towers and utilities are available to the player
Dart Monkey - shoots single darts at the enemy
Tack Shooter - shots 8 darts in 8 direction once enemies are in range
Boomerang Thrower - throws a boomerang that flies in a curved path and destroys enemies along the way
Bomb Tower - fires bombs at the enemy, has splash damage and kills more than one enemy with each shot
Ice Tower - freezes any nearby balloons, completely stopping them but making them invulnerable to sharp weapons
Mortar Tower - A tower which can shoot at any area on the battlefield. It fires only in targeted area
Glue Gunner - Fires glue at enemies, slowing them down significantly
Monkey Beacon - Utility tower that increases stats of nearby towers, also has a special ability to eliminate all enemies on the map when fully upgraded
Monkey Ace - Airplane flying around the map in 8's, bombards balloons
Monkey Buccaneer - shoots single heavy darts, very strong but can only be placed in water, if map doesn't have water, player can't use this tower
Monkey Apprentice - Tower that uses magical attack to eliminate enemies
Super Monkey - The most powerful tower in the game, shoots extremely fast, has massive range and gets even more powerful when upgraded. It's also the most expensive tower in the game
Banana Farm - This is an utility that generates cash after each wave has completed
Road Spikes - Utility that can only be placed on the travel path of the balloons. Spikes will kill up to 10 balloons, and any unused ones will disappear at the end of the round
Monkey Glue - Utility that can only be placed on the travel path of the balloons. Glue will slow down up to 20 balloons, and will disappear at the end of the round
Pineapple - Utility that can only be placed on the travel path of the balloons. It's a bomb that explodes after 3 seconds
Dartling Gun - A tower that fires multiple darts in the direction where player's mouse pointer is
Spike Factory - An utility tower that generates road spikes for free and throws them at random locations at its range.

It should be noted that most of these towers, and their top upgrades are locked at first and get unlocked as the player progresses and ranks up, which it does simply by playing the game and killing balloons.
The game also offers 10 upgrades to the player, one of which being free, while rest of them are considered premium content. The free upgrade is not exactly free either, as the player needs to be registered and logged in in order to use it.

The enemies come in various types, ranging from small slow easy to kill balloons, to Zeppelin style bosses. It should be noted that most higher level balloons actually spawn lower level balloons upon destruction, in some cases multiple lower level ones, with player being awarded cash for each version it kills. It should also be noted that some of the balloons are immune to sharp weapons, while others are immune to explosives. One type is even immune to slowdown glue, while bosses tend to be immune to freezing and slowing down of any sort

From sound point of view, game sounds ok, nothing impressive and the soundtrack gets boring rather fast, but it can be turned off easily so it doesn't present an issue.

Visually, the game looks great, with beautifully designed maps, and excellent design of towers and balloons. However, the game isn't optimized properly so it can cause slowdowns even on high-end PC's when a lot of action is going on in the screen.

Overall, this is an excellent tower defense game, which will be loved by anyone that enjoys playing tower defense games in general. Its various difficulty levels will allow it to be playable both by laid back players that just wanna have some fun, and the hardcore players that need their games to be challenging. The design is also child-friendly so even youngest players might enjoy this game with their parents. A truly great game, though not flawless, as the fact it has premium-only content makes it a bit less enjoyable for those that don't like to pay to play, and the performance issues are not helping its case either

Current rating - 9 out of 10

Post Date: 18:06 11-02-2013
Rating: 7
Author: PolanWalker
Comment: This production is a classic version of tower defence game. Game is very simple. We just need to def to prevent enemies get to the end of track. Game have 19 different levels each with 3 difficulty levels. We have many types of weapons to choose and all can be updated :) Graphics and sounds are very good. Graphics are more toy style for me. I think this is a good game nad can recommande it to all. I rate this game 7/10 :)

Post Date: 00:22 13-12-2012
Rating: 9
Author: Mordekaiser
Comment: This game is very fun one of the best flash games out there i really had fun with this its very cute and just about appropriate for all ages there isnt blood its just you vs balloons

Post Date: 19:18 11-10-2012
Rating: 8
Author: PolanWalker
Comment: NIce nice nice :D 8/10

Post Date: 11:17 01-09-2012
Rating: 9
Author: Clayjarema
Comment: Bloons TD 4 is a VERY addictive tower defense game. And at three later levels 150+ it causes lagg to even the greatest computers.

Post Date: 09:22 20-07-2012
Rating: 8
Author: Thedarkboy
Comment: Bloons Tower Defense 4 is a fun tower defense game. The rules are quite simple. You buy weapons/monkeys and place them somewhere. They will defend against the enemies that are going to try to get past you. There are really many weapons/monkeys you can buy which is very good. All of them aren't that good though but some of them are. The graphics are pretty nice for a browser game. Not many browser games with this good graphics. It's in 2D and not in 3D just so you know. In total it's a fun game but I only play it when I'm bored. So I would say that this is a real time killing game :p

Post Date: 17:31 06-11-2011
Rating: 9
Author: Thedarkboy
Comment: Bloons tower defense is a great game. Well, I really like tower defense game. But it's awesome like the others tower defense games.

Post Date: 16:31 06-11-2011
Rating: 10
Author: lumlehsumleh
Comment: bloons tower defense is one of my favourite flash game! there are so many towers that makes the game even more fun. there are lots and lots of upgrading. everyone should try this game. i hope they make the 5th one soon!

Post Date: 02:18 09-03-2011
Rating: 7
Author: SSC4RF4CE
Comment: however not everyone understood his tastes 7 / 10


Post Date: 05:14 08-03-2011
Rating: 8
Author: SSC4RF4CE
Comment: not understood but the images are well 8/10

Post Date: 03:11 09-01-2011
Rating: 4
Author: Adrian
Comment: Great little time waster, okay graphics. Tons of upgrades, lots of levels.

Post Date: 23:30 11-12-2010
Rating: 10
Author: EcLuD
Comment: good game to add it to my favorite all you do is not let you pass the balloons have many good weapons and it has some strategy 10/10